Media in China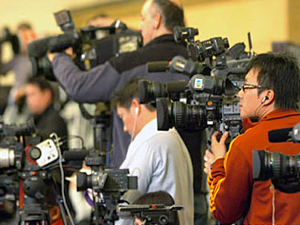 With the economic development since the economic reforms in the 1980s, China's media have become more extensive and diversified. China's media primarily consists of television, radio, newspaper and internet.
Television
China's television industry has grown into a complete system with high-tech program production, transmission and coverage. Altogether there are about 3,000 television stations across the country. CCTV (China Central Television) is the major state television station in Mainland China, with a network of 20 channels and accessibility to over one billion viewers in China.
Outside China, it is possible to receive channels such as CCTV-4 International (in Mandarin Chinese, targeting at an overseas Chinese audience), CCTV-9 International (in English, targeting at an English-speaking audience), CCTV-E (in Spanish) and CCTV-F (in French). Programs of these channels not only report important news and events that happen in China and around the world, but also give introductions to China's history, culture, landscape and so on.
Radio
There are many radio stations in China. Every province, autonomous region and city has local broadcasting stations. CRI (China Radio International) is the national station, broadcasting programs in 59 languages to the world. It aims at promoting understanding and friendship between China and the rest of the world. Various programs are broadcast every day from 6:00 till 24:00, providing news coverage and special subjects of culture, entertainment, science, economy, politics, and so on.
Newspaper
Targeting at different groups of readers, newspapers in China have become increasingly diverse. By the end of 2008, over 1,900 kinds of newspapers had been published, with over 40 billion printing copies, which is the highest figure in the world.
Xinhua News Agency is the major source of news for central and local newspapers. Local morning and evening newspapers reporting news and feature stories about local people and events are very popular. In 1981, China Daily, the national English-language newspaper, began publication. It is provided for foreigners who live and travel in China, offering sectors like news, finance, sports, education and entertainment.
Internet
Since the mid 1990s, China's internet media have been developing rapidly. In 2009, China's internet users have reached 300 million, about a quarter of the country's population. Internet cafes are found in any city, and the fees are inexpensive. Most hotels with star ratings have access to the internet.

China Highlights
Questions and Answers About Media in China
April Offer $25 Coupon
Send your inquiry before Apr. 30, 2014, and we will email you a $25 coupon.
The coupon is valid till Dec. 31, 2014, for paying tour packages worth $250 or up.
The coupon cannot be used for paying flight tickets, train tickets, hotel rooms and day trips.
Travel Advice or Question? Ask us here