China Tour Guides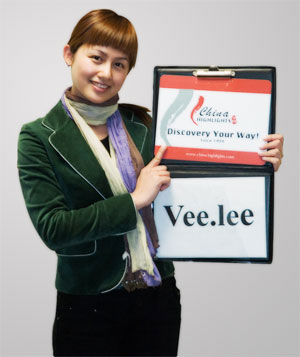 China has tens of thousands of trained and licensed tour guides. Some of them are professors, librarians, and teachers, working part time, but all must pass a strict examination to be qualified to work as a tour guide.
Classes of Tour Guides
China's travel companies are categorized into three classes. Class 1 can work directly with foreign tour operators. Tour guides working for this class are usually more experienced. English language is the first foreign language spoken by the tour guide. They work according to pre-arranged schedules arranged by the employer.
Generally speaking, tour guides in the less developed areas such as along the Silk Road, in Tibet, in parts of Sichuan and Yunnan are less qualified than those working in the East especially in terms of the quality of their spoken English.
China Highlights Tour Guides
Travelers who purchase full packages from China Highlights will receive a comprehensive guide service provided by our company.
A guide who speaks your nominated language will meet you at the airport, deliver you to your hotel and accompany you on your tour in that city. (Day tours usually begin at 8:30 or 9:00 in the morning.) They do not fly (or take train or bus) with you from one city to another. You will have a different guide in each city.
China Highlights Tour Guides meet customers at the arrival hall exit of train stations or airports. The tour guide will hold a plate with the China Highlights logo and one of the customers' names on it.

China Highlights
Questions and Answers About China Tour Guides
caroline
2012-10-18
Show Answer
Hi, I am looking for a Yunnan, Kuming Tour for 6 to 7 days for 5 persons. The departure date around 21/12/12.Can you give me a quote that including hotel and travel? I understand that Yunnan and Kuming food are awful and salty. Is that right? Anyway hope to hear from you soon.
Hi Caroline, we are very glad to arrange this tour for you.
In order to give you an accurate quotation please answer a few questions so that we can construct an itinerary that gives you what you want at the best possible price.
1. Any children in your group / how old if any?
2. Inbound/outbound city?
3. Class of Hotel: 3/4/5 star
4. Estimative total budget per person.
After getting further information from you, we will send you a tentative itinerary.
From our previous clients' reviews, the food in Kunming, Dali, Lijiang, Shangri-La in Yunnan Province is good, no complains on its saltiness or awful taste. Below are some commnets from our clients.
"good atmosphere, food so so quality"
"Attentive, smiling service with lovely food "
"fantastic choice"
"Once again the meal was extremely good "
Whitney Liao replied on 2012-10-18
lina jasin
2012-08-07
Show Answer
Me and my friend have meeting in Hangzhou, and may be visit factory in Xiamen, and we like to go to Zhangjiajie-Hunan and Chiuzhaigou, need your recommend, can we go to both place or we must choose one of it ??if we are not go to Xiamen, is there any flight go to above place ?please suggest, thanks
Hello lina, both Zhangjiajie and Jiuzhaigou are very beautiful. If you have one week for the tour, you can do both. But there is no flight from Zhangjiajie to Jiuzhaigou, so you may consider flying from Zhangjiajie to Xi'an and then to Jiuzhaigou.
Simon Huang replied on 2012-08-08
April Offer $25 Coupon
Send your inquiry before Apr. 30, 2014, and we will email you a $25 coupon.
The coupon is valid till Dec. 31, 2014, for paying tour packages worth $250 or up.
The coupon cannot be used for paying flight tickets, train tickets, hotel rooms and day trips.
Travel Advice or Question? Ask us here