Changing Money in China
Learn more about Chinese Money on video
Money Issue
The official currency in China is the Renminbi (RMB or CNY)or in Chinese "Ren-min-bi", which translates as" the people's money", and is generally used in the same way we use the word 'currency'- the Renminbi exchange rate, for instance. The basic unit is the yuan (also known as "kuai"),which is used to express all quantities including prices in shops etc. The yuan comes in paper notes of 1, 5, 10, 20, 50 and 100 yuan notes, and 1 yuan coins. 1 yuan equals 10 jiao(or mao).
Credit Cards: Credit cards are only accepted at most hotels and some tourist shops and department stores. Expect to pay in cash.
Exchanging Money: Changing Money can be done in a number of ways. Most hotels will have a foreign exchange service and will exchange cash and travelers' checks. As with hotels everywhere, the exchange rate will not be the official bank rate. Most large banks will exchange money and travelers' checks. It is a requirement that you present your passport to complete the transaction. Banks will only accept foreign bank notes that are undamaged. Notes that are even slightly torn will be rejected. Travelers' Checks can be a secure solution if traveling for a longer time.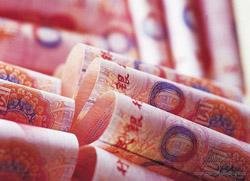 Renminbi, the official currency in China
Cash withdrawals from Visa and MasterCard: credit/debit card are possible at the main branches of the Bank of China in each city. A small fee is charged by the Bank and charges are also applied by the bank/credit card provider.
Bank of China ATM machines are compatible with Cirrus and Pulse so cash withdrawals are easy to complete using these machines. Only use ATM's that display the Visa and MasterCard symbols. An English menu will appear when you insert your card. The exchange rate that is applicable through ATM's is good and this can be a very convenient way to organize your money. Locations for ATM's are available from your card issuer. Limits for withdrawals on each transaction differ but US$250 per transaction is common.
Western Union is available in China although fees apply to transactions. Check the Western Union website for locations. http://www.westernunion.com/info/selectCountry.asp
Always carry some mall denomination cash (5,10,20 yuan) because if you use larger notes there is a small risk that you will be given counterfeit notes in your change at some of the markets or local stalls.
You should check more informations about: Chinese Money & Currency Converter
Local Currency
The yuan comes in paper notes with denominations of 1, 5, 10, 20, 50 and 100 yuan notes, and 1 yuan coins. 1 yuan equals 10 jiao (or mao).
See pictures of Chinese money notes
1 yuan coin

1 yuan

5 yuan

10 yuan

20 yuan

50 yuan

100 yuan
Any questions about traveling in China? View our Q&A page and find the answers.
China Highlights have designed a 'China Bank Notes Tour' which enables our customers to SEE IN PERSON all the sceneries printed on China's bank notes. Click the picture below for more details.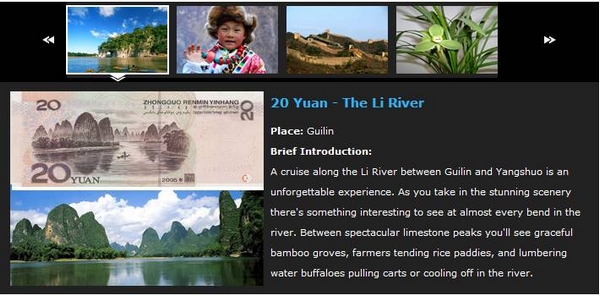 China Highlights
Questions and Answers About Changing Money in China
dean Knapp
2013-06-05
Show Answer
What are the limits and what is the least expensive way to take $10,000 (US)and convert it to Chinese Yuan when visiting China (Nanning)? I am a US citizen and my new wife is a Chinese national with a green card.
Dear Dean Knapp, I regret that I am not familiar with this thing and the exchange rate depends on the policy of different banks. In addition, if you need to take some dollars into China, you could take $5000 in cash. If the money is more than $5000, you should declare to the customs. Lussie Lu replied on 2013-06-05
S.SRIDHAR
2012-12-20
Show Answer
I am indian and would like to come to china for Business Visa for 10 days to inspect factory for dealing business. I am first time going abroad from india..I would like to know where i have to exchange m Indian money to china money..whether i can convert in indian airport itself or not necessary...is it require to change the indian money to USD in indian airport or different place..if I want to get traveler cheque...how much i can bring in travels cheque to china..how to change my money while coming back to india...where to convert china money to indian money whether in india or china itself...can you brief me about this
When are you planning on coming to China? Have you applied for a visa as yet? What cities are you planning on visiting? regards, Brian Brian Trower replied on 2012-12-20
Ronald Trickett
2012-08-25
Show Answer
how long can I stay in China when I apply for my visa? I would like to get a visa to stay one year or more is that possible and how do I accomplish that?
Dear Ronald Trickett, Different visas have different validity. Single-entry China visas are usually valid for 3 months after the issue date, and will permit you to stay in China for a maximum of 30 days. Double-entry China visa are valid for 6 months. If you would like to stay in China for one year or more, you need to extand it in China. According to applying for a visa and the details, I suggest you ask the Chinese Embassy in your country directly. We specialize in designing a tailor-made tour to China, if you need our service, please feel free to contact me. My e-mail address is lussie@chinahighlights.com Lussie Lu replied on 2012-08-27
April Offer $25 Coupon
Send your inquiry before Apr. 30, 2014, and we will email you a $25 coupon.
The coupon is valid till Dec. 31, 2014, for paying tour packages worth $250 or up.
The coupon cannot be used for paying flight tickets, train tickets, hotel rooms and day trips.
Travel Advice or Question? Ask us here