Chinese Currency Converter
Rates in the table were last updated on
12/10/2013
Choose a currency by country
United States Dollar (USD)

Please enter an amount of
USD
Choose a currency by country
Chinese Yuan (CNY)

Please enter an amount of
CNY
Yuan Exchange Rates Table
| Currency | yuan(RMB) |
| --- | --- |
| US Dollars | 6.12 |
| Australian Dollars | 5.76 |
| GB Pounds | 9.73 |
| Euro | 8.08 |
| Canadian Dollars | 5.85 |
| Yen | 0.062 |
Rates in the table were last updated on September 2, 2013.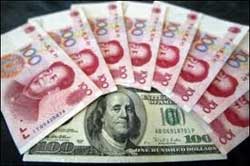 Chinese Currency Notation
The Strength of the Yuan
Withdrawing Yuan in China
Exchanging Foreign Currency for Yuan
Paying by Credit/Debit Card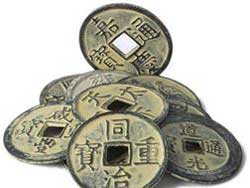 The History of Chinese Money
Denominations of Chinese Money
How to Recognize Fake Money and Other Tips
Photos of Current Chinese Bank Notes
Photos of Current Chinese Coins
Photos of Old Chinese Bank Notes
Chinese Money
The official currency in China is the Renminbi (RMB or CNY) or in Chinese "Ren-min-bi". The basic unit is the yuan (also known as "kuai"), which equals 10 jiao (or "mao"), which is then divided into 10 fen. Paper currency comes in 1.2,5,10,50 and 100 yuan notes. Paper jiao come in denominations of 1, 2, and 5. There are also 1 and 2 fen notes, but these are rarely used as they have no purchasing power. 1 yuan, 1 and 5 jiao, and 1, 2, and 5 fen coins are even common used in larger cities.
Obtaining Yuan in China from Foreign Currency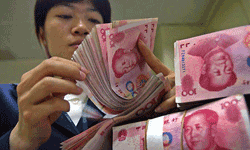 It is possible to exchange traveler's checks or cash at most banks, and large hotels usually have a money exchange counter. Hotels will usually only allow you to change money if you are guest at the hotel. You are required to present your passport to change money/travelers checks etc.
The Bank of China has an ATM network that will allow cash advances from major credit / debit cards and ATM cards. Check you credit card provider for this information before leaving your home country.
If an ATM withdrawal is not sufficient (e.g. due to your daily withdrawal limit) cash advances are available on most common credit/debit cards e.g. American Express/Visa/MasterCard, but this facility is available only from the main branch of the Bank of China in most Chinese cities. A fee of 3%-4% will apply.
Changing Yuan Back to Your Currency
The RMB is not easily convertible on the international market so it is only usable in China. (RMB is now readily convertible in Hong Kong.) It is therefore advisable to change only the money that you need for your trip, as it may be difficult or costly to change it back to your preferred currency.
You can convert unused RMB to another currency in China by producing the receipts for your original purchase of RMB in China. This exchange can be done at the airport as you leave China. There is a foreign exchange black market, but it is illegal.
Note
Exchanging traveler's checks may not available in small cities, counties and towns. Travelers are expected to use cash or bank cards when traveling in small cities, counties and towns.
Credit Cards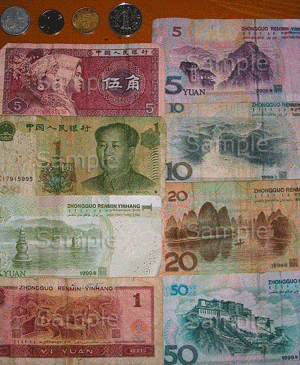 Click to enlarge the picture
Major credit cards such as Master Card, Visa, JCB and American Express are accepted in major hotels and department stores. Check on the acceptance of your credit card before you purchase. Credit cards cannot be used in most restaurants or small convenience stores. Air Travel could be purchased with credit cards. Credit cards can be used to get a cash advance in the main offices of the Bank of China.
Wire Transfers
Wire Transfer using a service called Money Transfer is available and is a joint venture between the China Courier Service Corporation and Western Union. This service allows instant money wiring to and from 100 countries.
Counterfeit Money
Although the Government is trying to eradicate this practice there are still some problems with the use of counterfeit money, although the problem is decreasing. It is very common practice for those who are receiving money to check its authenticity. Do not be offended by this practice. It is not a reflection on your character.
Currency Fluctuation
The Chinese currency is currently fixed to the value of the US Dollar, so as the value of US Dollar changes on international currency market, the relationship between the Chinese Renminbi and the US Dollar remain the same. Some countries say that this does not give a true indication of the strength of the Chinese currency internationally and there is pressure on China to change the current relationship to the US Dollar.
China Highlights Travel currently quotes tour prices in US Dollars. We are currently reviewing our policy in this matter.
Should a revaluation of the Chinese Renminbi occur, China Highlights Travel will honor all quotations for tours that have been fully paid at the time of the revaluation.
Customers who have not paid for their tour in full at the time of any revaluation will be required to pay the difference between the old and new price calculated in Renminbi.
China Bank Notes Tours
Select a packed bank notes tour or tailor make a China tour to meet your needs! We also selected the most popular tours in the past years to give you suggestions for your China tour!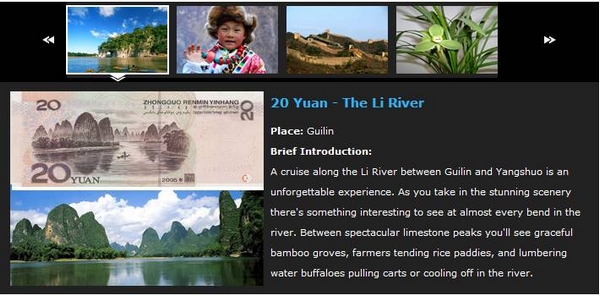 Planning a trip? Ask us here

800-2682918 (USA & CA)

86-773-2831999

1800-764678 (AU)

0800-0327753 (UK)

800-8793-007 (China)
Q:
kashif
Asked on 04:18 AM Dec. 01 2013
Reply
hi i am going back to from china to pakistan how much money can hold during travel
You can bring in or bring out 20,000 yuan of cash while entering or leaving China. Carol Wang Replied on 05:20 AM Dec. 02 2013
Q:
mwansa
Asked on 08:26 AM Sep. 20 2013
Reply
i intend to travel to china in the next three weeks.guangzhou to be specific.firstly i would like you to advice me on where i can find hair,carpet and tile factories.then a hotel that is near wholesale shopping malls but not so far from the airport and how much a guide would cost.
We specialize in tourism, so regret that we don;t have much information about the factories. The hotel in the city center provides convenient success to the shopping mall via subway or taxi. The guide service costs USD100 per day per group. This doesn't include the service fee to the Guangzhou Fair Exhibition Center. If you wish us to book the hotel for you, please advise the check in date, the check out date and your budget.
Ruby Zhao Replied on 10:52 PM Sep. 20 2013
Q:
Linda
Asked on 3:45 PM Sep. 15 2013
Reply
I will be taking an Asian cruise, which will be in port at Tianjin, China. How far is that from Beijing?
Dear Daniel,

This is Christy from China Highlights Travel.

Usually all the international cruises will be docked at Tianjin International Cruise Home Port. You can take a train from Tianjin to Beijing, about 40 minutes. We also have the pick-up service from the port to Beijing. If you are interested in it, please contact me at christyluo@chinahighlights.net
Christy
Christy Luo Replied on 03:16 AM Sep. 16 2013
Q:
Judy
Asked on 3:16 PM Aug. 28 2013
Reply
I will be traveling to China in September. I was told be Discover that I can use that credit card. Is this correct? Also should I get the money exchanged from US before I come to China? The bank said they can do this.
Credit cards are accepted only in large shopping malls and stores. Credit card symbols are displayed in the visible place in shops and hotels indicating credit cards are accepted.
General you need not take Chinese currency to China since you can easily exchange you US$ into Chinese RMB in hotels (5-star hotels) and banks. However if you would like to have local currency upon your arrival in China, it is okay that you may take a volume of Chinese currency less than 20,000 RMB without declaration at the customs. You are required to declare your import of Chinese currency exceeding 20,000 RMB.
Carol Wang Replied on 02:23 AM Aug. 29 2013
Q:
Pat
Asked on 9:02 PM Aug. 05 2013
Reply
I am coming to china in September what is a reasonable amount of money should I bring and shoul I exchange my American dollars into Chinese currency
Hi Pat, Passengers can carry RMB 20,000 in cash or foreign currencies with a conversion rate of US $5,000 into China. The amount is up to your daily expense. You can also use your credit card in China.
Whitney Liao Replied on 8:42 PM Aug. 08 2013