Chinese New Year Transportation, Chunyun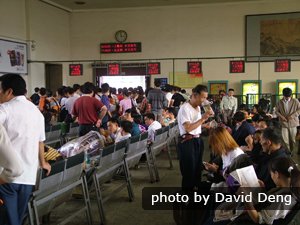 Big crowds at Chinese railway station during the Chinese New Year
China's biggest and longest national holiday is the Spring Festival or Chinese New Year. In 2014 Chinese New Year's Day is on January 31. People will try to get to their family reunions or their hometowns by Chinese New Year's Eve. The Spring Festival celebrations last for a week or two. So the rush (known as 春运 Chunyun 'Spring Movement') starts from mid-January and finishes late in February.
Most people will also get the first three days of Chinese New Year off, and many people will get the whole following week as their company vacation. Some people will take a two or three week vacation. Transportation into the country, around the country, and in the major cities and tourist destinations will be very crowded, so it is best to either avoid traveling during this time or get your tickets in advance.
Flights into China
If you plan to visit China during Chinese New Year period, or two weeks either side of it, it is best to try to get your tickets well in advance. Chinese living abroad and Chinese students at foreign universities try to get their tickets well in advance to return home during the holidays and university winter vacation periods.
China's major international airports are in Hong Kong, Guangzhou, Shanghai, Shenzhen and Beijing. If you land in Hong Kong, instead of taking flights between Hong Kong and mainland cities, it is much cheaper to go to Shenzhen's Baoan airport or to go to Guangzhou. There are direct ferries between Hong Kong's International Airport and Shenzhen's Baoan airport. An alternative way to Baoan Airport is to take the MTR to the Luohu border, and then take the airport bus from the bus station at the border.
Domestic Transportation
Trains
For those planning to travel by rail around Chinese New Year, the pre-holiday ticket sales are expected to peak around early January. Major cities such as Guangzhou and Chengdu will use a real-name ticket selling system. Some Chinese will use a telephone booking system.
However, it is best for foreigners to buy their tickets in advance from train station ticket windows. There are touts trying to sell tickets to foreigners in the stations, but they often are scamming or selling the tickets for a lot more than the window price. If possible, it is best to get a high-speed CRH train ticket or a (soft) sleeper ticket on a regular train. The hard-seat compartments are generally crowded and uncomfortable, and the no-seat tickets are a very uncomfortable choice.
Long-Distance Buses
Cities that are an overnight journey distance from each other are connected by overnight long-distance buses. Most of these buses have bunk beds and no seats. These are usually cheaper than hard-bed train tickets, but they are less comfortable. Foreigners are usually overcharged for tickets. There are both "official" buses and private buses. Both may give good service, but be careful about your belongings. The buses may not be clean, and many foreigners have difficulty sleeping. There are rarely bathrooms on the buses and toilet stops are well spaced out.
Spring Festival Travel Season Maps
Click the map to view a larger and clear version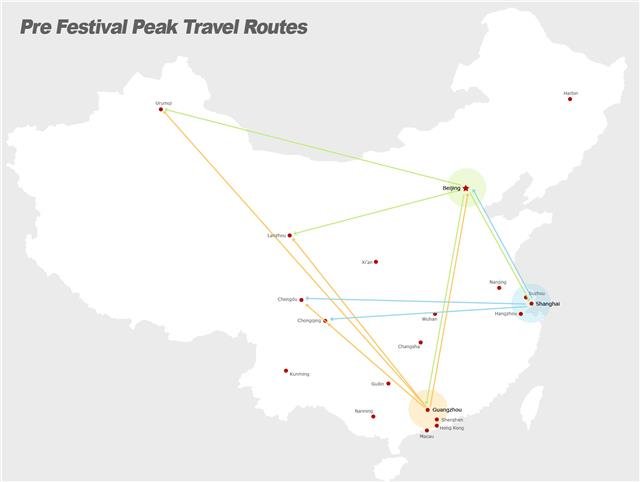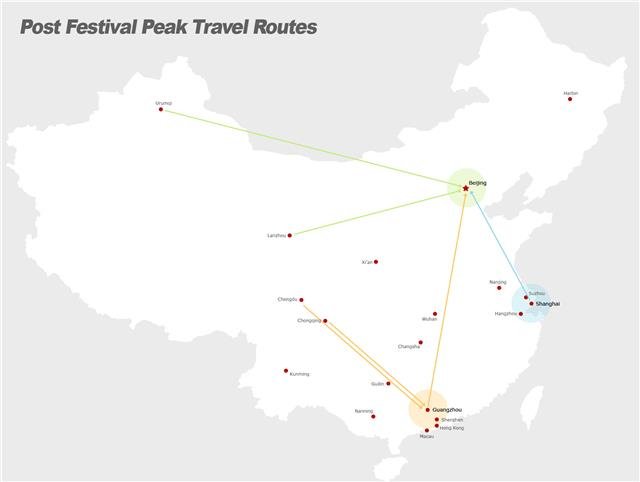 Tips for Traveling During the Chinese New Year
The Situation
Travel within China during the Chinese Lunar New Year holidays has its advantages as well as its disadvantages. On the plus side, it is one of the best times of the year to "rub shoulders" with the Chinese people (the Chinese tend to be open and friendly, but they are even more so during the Chinese Lunar New Year holidays, a time when everyone except for the most essential staff enjoy a week's paid vacation), and the opportunities to "rub shoulders" with the Chinese people are indeed many, given the many cultural activities that take place during this period. The best places to watch these cultural activities are Beijing and Hong Kong. See The 5 Best Cities for Chinese New Year 2014.
On the less positive side, it must be said that there are large crowds in transit everywhere in China at this time of year, not just at all of the major transportation hubs such as airports, railway stations and bus terminals, but also certain popular flights may be booked, trains in general are likely to be booked, and even regional and municipal buses can overcrowded. Train tickets are very hard to get. And of course shopping malls can be teeming with life, while public gatherings and processions can fill up plazas and block sidewalks. If you plan to travel during the Chinese New Year period, China Highlights recommends you travel by flight.
In addition, many hotels are booked far in advance (the lower the price the quicker they fill up, naturally, so the best strategy is to make reservations as early as possible). Restaurants can be jam-packed, and with such large throngs of people, all vying for the same limited resources, prices are naturally on the increase.
Still, the Chinese New Year holidays, with their multitudes of Chinese people "in flux", need not be viewed as a strictly negative thing — in fact some find the bustling crowds of the Chinese Lunar New Year holiday period to be a large part of the attraction of traveling in China at this time of year.
Our Top Tips

The following collection of helpful tips are conceived with you in mind. Observing them will help you to avoid the most congested travel modes and destinations, the accumulation of frustrations from a lack of proper planning (such as not having made necessary reservations), and they can help you to take it all in your stride — i .e. with good humor and holiday cheer — where a certain amount of snags and glitches are unavoidable, given the sheer numbers of travelers, like yourself, looking to get from A to B, or to find adequate and affordable accommodations.
1. If at all possible, avoid traveling by rail, as this is the preferred mode of transportation of the Chinese people, partly because it is cheap and efficient (both excellent reasons for traveling by rail at any other time of the year in China!) and partly because it is a social event in itself. With practically all of the Chinese people on holiday — and many of them on the move — the likelihood of finding space on a train is minimal, and even if space is available, it can be a daunting experience for you to be so tightly confined alongside so many people who do not speak your language. Where feasible, avoid the beaten path, i.e., stay away from the largest cities with the most popular tourist destinations, though, who would wish to avoid Beijing, Shanghai, Chongqing, or Guilin while visiting China?! If you insist on traveling to the the largest cities with the most popular tourist destinations, then heed especially the next two tips...
2. Arrange as much of your itinerary as possible beforehand, as this will save you from having to constantly juggle so many of your travel options that it spoils the fun of traveling. You should especially book as many of your flight tickets and your hotel rooms as possible, but of course you do not want to book hotel rooms unless you have booked your flight as well, otherwise you may end up paying for a hotel room that you do not occupy. If you wish to enjoy a loose, carefree, unplanned journey through China, then summertime is the best period for this, as the competition for accomodations and transportation is much less acute.
3. Try to exercise patience and maintain a cheerful spirit in adversity, for some level of snags at this time of year are almost unavoidable. Showing flexibility and maintaining a cheerful spirit will increase your chances of securing a satisfactory alternative arrangement, and it will of course make it easier on yourself. If you find yourself getting stressed over too many petty incidents, or over having too many people around you, try relaxing the Chinese way by visiting a sauna, where you can also get a relaxing massage, or attend a tai chi lesson or two; both are guaranteed to relieve stress!
4. Bring along warm clothing, and, depending on where you intend to travel (some areas of China are mild by day even if they are frigid by night, while a few are outright South-Sea-Island warm), you may find that "layered" clothing (sweaters, jackets with removable linings, windbreakers, etc.) is the best solution, as this allows you to adjust your clothing frequently, to match the frequent changes in the daily weather cycle.
Back to Chinese New Year 2014

China Highlights
Questions and Answers About Chinese New Year Transportation, Chunyun
April Offer $25 Coupon
Send your inquiry before Apr. 30, 2014, and we will email you a $25 coupon.
The coupon is valid till Dec. 31, 2014, for paying tour packages worth $250 or up.
The coupon cannot be used for paying flight tickets, train tickets, hotel rooms and day trips.
Travel Advice or Question? Ask us here