The 5 Best Cities for Chinese New Year 2014
Celebrate Chinese New Year at the Beijing Dongyue Temple Fair The Chinese New Year holidays is the best time of the year to experience traditional Chinese culture. People generally have at least three days off, and they use the time to take part in some generations-old traditions.
To help you choose the best places to experience the Chinese New Year, here are five of the biggest celebrations in 2014 in the country: Beijing has temple fairs, Guangzhou has flower fairs, Hong Kong has large extravaganzas, Shanghai has special entertainment, and Harbin has its ice lantern and snow festivals.
Beijing — Temple Fairs
Cultural performance at Beijing temple fair
As the former capital of the Yuan, Ming and Qing empires, Beijing's temples have hundreds of years of religious traditions and public entertainment. You can expect special entertainment such as martial arts displays or lion and dragon dances, special sales, and festival foods at the festival fairs at Ditan Temple, Longtan Temple and Dongyue Temple. China Highlights' Chinese New Year tour to Beijing includes a visit to a Chinese New Year temple fair. The fireworks, fairs and sports competitions are the Spring Festival highlights, but require special travel plans. See Chinese New Year in Beijing 2014 for more.
Guangzhou — Flower Fairs (January 27–30, 2014)
The big southern city of Guangzhou is sometimes billed the "Flower City" in China for its blooming gardens all the year round. Guangzhou's Spring Festival flower fairs are the highlight of the holidays. The flower fairs usually start three days ahead of the Spring Festival, and they climax on the Eve. There will be various folk performances, and local artists also demonstrate and sell their paintings and calligraphy works in the fairs.
The city was originally a Cantonese city, and they attach a lot of significance to displaying various plants on Chinese New Year. Each plant given as a gift conveys a different wish. Most of the people speak Cantonese, and in their language the kumquat is called "gamgatsue." The word "gam" rhymes with the word for gold, and the word "gat" sounds like the Chinese word for good luck. Therefore, having a kumquat tree at home symbolizes both "abundance of wealth" and good luck. The word in Mandarin ("jinqianju") has a pronunciation similar to many auspicious words. "Jin" is similar to gold, "qian" to money, and "ju" to luck.
Kumquat trees, peach blossoms and peonies are the most sought-after plants at the flower fairs. The peach is a symbol of longevity and is regarded as the strongest defense against evil. The peony is held in high regard by Chinese people. It's "the flower of richness and honor." Among their many colors, the bright red ones are particularly auspicious, bringing good luck and prosperity.
The major flower fairs in Guangzhou are the Xihu Flower Fair, the Donghu Flower Fair, the Liwan Flower Fair, and the Tianhe Flower Fair. More on Guangzhou Flower Fairs
The Lion Dance Performances
Among the traditions celebrated during the Spring Festival in Guangzhou, lion dances are performed to bring good fortune and to ward off evil spirits. The person performing the lion's head initiates the movements, and then the other performers behind him will follow so that the movements are synchronized, smooth and look catlike. The lion's movements, accompanied by firecrackers and loud music, are thought to scare away the evil spirits and to welcome in good fortune. On the first working day after the Spring Festival public holidays, many companies invite teams to perform the lion dance on their grounds hoping that it will bring good fortune and prosperity to the company. More on Lion Dances
Hong Kong — Parade, Fireworks, and Horse Racing (January 31 – February 2, 2014)
In Hong Kong, the Spring Festival is the biggest holiday, and people celebrate differently than in the Mainland. People mark the occasion with a unique fusion of modern fun and ancient customs. The three days of Spring Festival events often make it to the top of the lists of world festival events.
Night Parade and Entertainment (January 31, 6:30 to 9:30)
On the evening of Chinese New Year's Day, there is a carnival-like night parade and international Spring Festival entertainment night with performing groups from many countries. After the parade, you can hang out and have fun in the streets afterwards. More on Hong Kong's CNY Parade
Giant Fireworks Display on February 1, 2014
Victoria Harbor is the site of the magnificent fireworks display on the second day of the Spring Fest. More on Hong Kong's CNY Fireworks
Spring Festival Races on February 2, 2014
The most popular races of all...
About 100,000 excited fans will crowd into Sha Tin Racecourse on the third day of the Spring Festival holidays. There is a full program of traditional and colorful festivities, and profits are donated to charities.
More on Chinese New Year in Hong Kong
Shanghai
Known as the Paris of the East, Shanghai celebrates the Spring Festival in many ways that reflect its mixed culture. Various entertainments are held to celebrate this week-long extravaganza. Besides the indoor activities, Shanghai folks, especially the younger generation, join in the New Year countdowns at squares or beside the Huangpu River.
Live Concerts
During the Spring Festival, numerous high-quality live performances of various genres will be on in many theaters, concert halls and arts centers. You can enjoy the wonderful performances presented by world-class masters. From classical chefs-d'oeuvre to Chinese folk music, from Rock & Roll to Jazz, you have so many choices! See our article on Live Music in Shanghai.
Temple Praying and Ringing
If you prefer Chinese style, go visit Shanghai's temples where locals will be praying and ringing bells for good luck in the coming year. Big events take place in major temples like Longhua Temple, City God Temple and Jing'an Temple. People pay big money to ring the bell and burn "the first incense" at the strike of midnight.
Harbin Ice and Snow Festival (January 5 – February 28, 2014)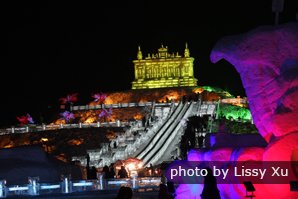 Beautiful ice sculptures during Harbin Ice and Snow Festival
Harbin is the most popular winter destination for winter activities among Chinese, expats in China, and foreign tourists. Harbin's bone-chilling winters provide the proper climate for the city's most prominent claim to fame. The festival lasts more than a month. It is comprised of two big events: an Ice Lantern Festival where ice cities sprout up every winter and a snow sculpture festival. More on Harbin's Ice and Snow Festival
Weather Tips for the Five Cities at Chinese New Year
Chinese New Year takes place in late January or early February. It is usually the coldest time in China. North China is a frozen expanse with average temperatures below 0 °C (32 °F). Take Beijing and Harbin for example. In Beijing, the temperature sometimes plummets to -10 °C (14 °F) during the New Year. It is even colder in Harbin with the lowest temperature below -20 °F (-4 °F). Snowy, icy weather is common.
South China is a warmer than the north, but it isn't generally warm at all in the real sense. Winter in the Yangtze region (Nanjing, Shanghai and Wuhan) is chilly and windy.
However the southern cities of Hong Kong and Macau are comfortable in winter. The weather in Guangzhou sometimes feels comfortable in winter, and it even gets sunny sometimes, but usually it feels cold.
Back to Chinese New Year 2014 in China

China Highlights
Questions and Answers About The 5 Best Cities for Chinese New Year 2014
Carolina
2014-01-22
Show Answer
Hi! I''ll be in Shanghai in January the 30th.... at night is ChunJie... where do you recommend me to go? Do you know which is the best activity for that day? Thanks!
Dear Carolina,
Most places are close at Chinese Spring holiday eva since many people go back home for family reunion dinner. It is suggested that you can walk along the Bund to enjoy the night view there.
Nancy
Nancy Deng replied on 2014-01-23
khalid
2014-01-07
Show Answer
I Will travel to Guangzhou from 20/1/2014 to 3/2/2014 and I want to make shopping to buy somethings like clothes and mobile accessories is the factories, markets and malls open during this time. Thanks
Dear Khalid, From the end of Jan. to early of Feb. is during Chinese Spring Festival, many wholesale markets will be closed, but the big shopping mall will be opened. Please click this link to check the shopping places in Guangzhou. http://www.chinahighlights.com/guangzhou/shopping.htm Lussie Lu replied on 2014-01-07
Kass
2014-01-03
Show Answer
I will be in Beijing for Chinese New Year - do local transport systems run as usual eg metro, buses etc, or do they stop running at anytime due to Chinese New Year?
Hi,
The transportation are still running during Chinese Spring Holiday. But some hotels, restaurants, stores would be closed since people will go home and get tegether with families. Enjoy your trip.
Good luck.
Christy Luo replied on 2014-01-04
Judy
2013-01-14
Show Answer
We are booked for a February 11-20 trip to Beijing (flight and hotel arrangements have been made). We are interested in an overnight viist to Xian by air. Are there any days during this time better suited to travel there. I am working on our itinerary and at this point our plans are very flexible.
Dear Sir or Madam, Our tours are private tour, it is flexible to design it based on your need. Would you please let me know your travel plan as below, so that I can construct an itinerary for you. 1. Which date you would like to travel to Xian 2. The number of your group 3. Which hotel do you prefer, 3,4 or 5 star I will send an itinerary to you for reference. Please check your e-mail and my e-mail address is lussie@chinahighlights.net Lussie Lu replied on 2013-01-15
claudine
2010-11-30
Show Answer
do the wholesale markets and factories close over Chinese new year. I was told from 26th Jan to 3 Feb factories close?
Hello. It depends on the decisions of the different markets and factories, so I'm afraid that there is no definite answer. In 2011, the traditional Chinese New Year is on February 3, and the new year's eve is on February 2. Usually the days before the Chinese New Year are one of the busiest time for markets, so the markets usually open. As for factories, most workers might probably have been on holiday for the Chinese New Year, so the factories might close, but I think there will be someone on duty for those days. It is suggested if you want to visit certain factories, you contact in advance the factories you plan to visit, so that they can make proper arrangements. If you plan to visit China and would like tour services, feel free to send us an email to service@chinahighlights.com, our travel advisors will reply within 24 hours. Mia Yang replied on 2010-12-02
April Offer $25 Coupon
Send your inquiry before Apr. 30, 2014, and we will email you a $25 coupon.
The coupon is valid till Dec. 31, 2014, for paying tour packages worth $250 or up.
The coupon cannot be used for paying flight tickets, train tickets, hotel rooms and day trips.
Travel Advice or Question? Ask us here