Urumqi Food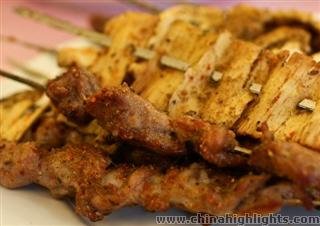 You can find delicious Baked Mutton Kebabs throughout Xinjiang.
Xinjiang people are proud of their Baked Mutton Kebabs. Kebabs can be found in the streets and bazaars throughout Xinjiang. Chunks of mutton are strung on a skewer and roasted over charcoal. The kebabs are turned continually, and when they are almost done, salt, pepper and other seasonings are sprinkled on them. Kebabs look crispy outside but are tender, slightly salty and hot. The seasonings can be different due to personal requirement.
Lamian Noodle

Lamian Noodles or Hand-pulled Noodles are a very popular dish throughout Northwest China, especially in the Hui ethnic community. Chefs stretch and double a single lump of noodle dough several times in succession to create very thin strings noodles. Lamian Noodles can be served with beef or mutton either in soup or stir-fried. Caraway is the most common herb when Lamian Noodle is served in soup and is regarded as indispensable.
Grilled Whole Lamb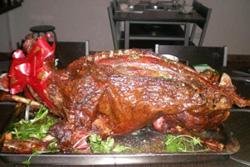 Grilled Whole Lamb, the most famous food in Urumqi
Grilled Whole Lamb is the most famous food found in Urumqi. Migrants from Xinjiang have made the food well-known throughout China but the most authentic grilled whole lamb still remains in Xinjiang, mostly in Urumqi. The food is prepared with selected ingredients and a special cooking technique.
The skillful chef first select a 2-year-old fat lamb. A mixture of flour and water with yelk, salt, ginger, pepper powder will be applied to shroud the whole carcass. Put the lamb into a specially-made oven and baked for around 1 hour.
It is trimmed with red silk around its neck and served with it mouth stuffed with fresh caraway.
Rice Taken by Hands
Rice Taken by Hands is a popular food at festivals. The main materials are fresh mutton, carrots, onions, vegetables, rice and raisins. Raisins are boiled with sliced onions, carrots and small cubes of fried beef. Rice is then added and boiled again. The ingredients are streamed for twenty minutes and then served. Before eating, one washes one's hands three times and dries them with handkerchiefs. Sitting cross-legged on cushions, people serve the rice on plates and it is then eaten with the hand.
There are more than 10 kinds of this rice dish using mutton, chicken and vegetarian, but the most common is one mutton.
Questions and Answers About Urumqi Food
Abbie
2012-04-13
Show Answer
What is the best part of Urumqi?
Benefit from its geography, the local Grilled Whole Lamb is very tasted. and Urmuqi is also the Urgy region, so try some halal meals would be good choice. Karen Yang replied on 2012-04-17
AHMEDBHATY
2011-05-21
Show Answer
is restaurents in urumqi serving halal/islamic food,like mutton/beef.
Hi AHMEDBHATY Yes, it is. As most the local Uighurs are Muslim, there is Halal food offer in Urumqi, especially mutton/beef. We could arrange you to Muslim restaurant in Urumqi. William Huo Travel Advisor William replied on 2011-05-22
April Offer $25 Coupon
Send your inquiry before Apr. 30, 2014, and we will email you a $25 coupon.
The coupon is valid till Dec. 31, 2014, for paying tour packages worth $250 or up.
The coupon cannot be used for paying flight tickets, train tickets, hotel rooms and day trips.
Travel Advice or Question? Ask us here

China Highlights
Urumqi Travel Guide