Huashan (Flower Mountain)
Hua Shan is one of the five sacred Taoist mountains in China. It got its name from Lotus Peak, which resembles a beautifully blooming lotus flower (Hua means 'brilliant' or 'flower'; Shan means 'mountain').
Things to See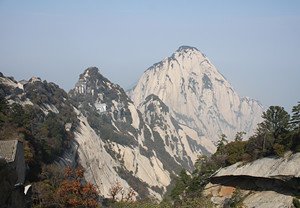 Huashan Mountain
Hua Shan boasts a lot of religious sites: Taoist temples, pavilions, and engraved scriptures are scattered all over the mountain.
Hua Mountain is well-known for its sheer cliffs and plunging ravines. It is known as "the most precipitous mountain under heaven" and is probably the most dangerous mountain in the world frequented by hikers.
Hua Mountain is located 120 kilometers east of Xi'an, about 3 hours from the city center.
There are five peaks that make up the mountain: Cloud Terrace Peak (North Peak, 1613m), Jade Maiden Peak (Middle Peak, 2042m), Sunrise Peak (East Peak, 2100m), Lotus Peak (West Peak, 2038m), and Landing Wild Goose Peak (South Peak, 2160m).
The Route to Climb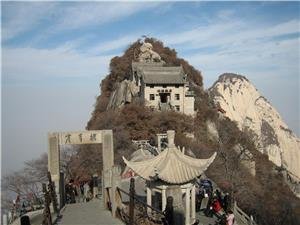 Jade Maiden Peak.
North Peak, the lowest of the five, is the starting point. There are three ways to ascend: the six kilometer winding track from Huashan village, the cable car, or the path beneath it.
Next on the route is Jade Maiden Peak. Legend has it that a jade maiden was once seen riding a white horse among the mountains, hence the name. Then hikers can choose to take a left to Sunrise Peak, a fine place to enjoy the sunrise (which would involve climbing the mountain in the dark as there is nowhere to stay on the mountain).
Alternatively visitors can take a right to Lotus Peak.
The Highest, Most-Dangerous South Summit
Finally there is a gondola which takes visitors across a steep valley to Landing Wild Goose Peak, the highest among the five summits. The path to the summit includes a foot-wide plank walkway fixed to a sheer rock face with only a chain along the rock for support.
The route continues with footholds in the rock and a chain for holding. This is followed by a vertical ladder in a cleft in the rock. Finally there are steep stone steps.
The South Peak is not for the faint-hearted and is particularly dangerous in winter. However, the views are breathtaking. The climb to its summit makes it clear how "the impenetrable mountain" kept away attackers over the centuries.
Questions and Answers About Huashan (Flower Mountain)
zyj225
2012-08-07
Show Answer
bullet train from xi''an to huashan or the bus rom xi''an tangdu bus station where many bus to huashan every 15 minutes
Hi zyj225, there is no direct train or bus from Xian to Huangshan, you can go to Hefei first, then transfer to Huangshan. Or you can go direct from Xian by air. Regards, Whitney
Whitney Liao replied on 2012-08-09
meilita
2012-04-16
Show Answer
Hi, I just wonder how to get to Huasan from Xian city if I am to travel on my own and don''t want to book a tour. Any bus route available?
Hi Meilita, In front of the Xian Train Station, there are buses go to Huashan every morning at 6:30-8:30, and they return at 11:30-15:30. Or you can take a train from Xian Train Station to Huashan Train Station, and take a taxi to Huashan. Doris Huang replied on 2012-04-17
April Offer $25 Coupon
Send your inquiry before Apr. 30, 2014, and we will email you a $25 coupon.
The coupon is valid till Dec. 31, 2014, for paying tour packages worth $250 or up.
The coupon cannot be used for paying flight tickets, train tickets, hotel rooms and day trips.
Travel Advice or Question? Ask us here
You might like

The Most Popular Night Markets in Xi'an

China Highlights
Xi'an Travel Guide