Xi'an Discovery by High-Speed Train from Beijing
China's High-speed railway network links major cities with fast and comfortable transport. Take this 3-day Xi'an tour with round-trip train ride from Beijing, explore China's most famous historical site - Terracotta Army, and not miss any other essential sites of Xi'an. Besides from Beijing, this tour can also be arranged with bullet train from Shanghai or Wuhan.
Highlights
Race with speed by riding on fast and comfortable bullet train between Beijing and Xi'an
Immerse yourself with the Ancient Terracotta Warriors
Unique atmosphere at the Muslim Quarters
Walk or bike along the Ancient City Wall
City Symbol – Big Wild Goose Pagoda
What's Included
Entrance to attractions listed in the itinerary
Private transfers between train stations, hotels and attractions.
Hotel accommodation with breakfast
Meals mentioned in the itinerary
Private local tour guide and driver service throughout the tour
Roundtrip bullet train tickets Beijing-Xi'an-Beijing
Price Per Person in US Dollars
Suggested Itinerary
Day 1
Take High-Speed Train from Beijing to Xi'an
Your Beijing guide, driver and car will pick you up and escort to train station for boarding noon train (G87, 14:00-18:25, for reference) heading for Xi'an. It takes no more than 5 hours to complete the distance of 1200 kilometers on the comfortable train. Upon arrival, meet your Xi'an guide and transfer to hotel.
Accommodation in Xi'an: Grand Noble Hotel Xi'an (superior class)/Hilton Hotel Xi'an (deluxe class)
Day 2
Xi'an: The Terracotta Warriors and Big Wild Goose Pagoda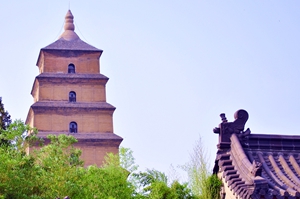 Big Wild Goose Pagoda
In the morning, you will be picked up from hotel and taken to see the notable Terracotta Army. They have guarded the tomb of the first emperor for nearly two millennium, and do not fail to impress even a seasoned traveler.
On return to the city we will visit the Big Wild Goose Pagoda, which has been a Buddhist pilgrimage site for centuries. It is also the symbol of Xi'an. If you like, climbing up the narrow and steep stairs will unfold before your eyes the panoramic view of the city.
Accommodation in Xi'an: Grand Noble Hotel Xi'an (superior class)/Hilton Hotel Xi'an (deluxe class)
Day 3
Ancient City Wall, the Great Mosque and Muslim Quarters; Return to Beijing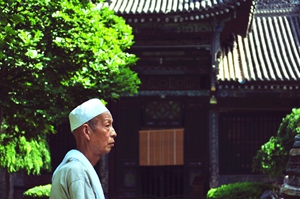 Great Mosque
The Ancient City Wall separates the city into inner and outer parts, and still stands firm after witnessing thousands of years' history. Riding a bicycle allows you to stretch your legs on a very comfortable ride along a fortification as wide as a road. A rickshaw ride is also an option, if cycling is not your style.
Not far is Muslim Quarters, a bustling area full of restaurants, stands and shops, good for food and souvenir hunting. The Great Mosque nestles deep in the lane and offers a moment of tranquility. It is a unique blend of Chinese design and Islamic faith.
In the afternoon, escort to train station for high-speed train back to Beijing (G666, 16:00-21:31, for reference), where you will be picked up upon arrival and transfer to your hotel.
Good to Know
The trains listed in the itinerary are for reference only, and we can book train tickets of another time to suit your schedule. On Day 3, if time allows, you can also add some interesting sites into your itinerary, including Shaanxi History Museum (a huge collection of historical relics unearthed from the province), and Forest of Stele Museum (a collection of over 1, 000 inscribed stones from 2,000 years ago). An ancient-style street called Shuyuanmen, behind Forest of Stele Museum has numerous local arts and crafts, replicas of antiques, paintings and paper-cuts for sale. Feel free to let us know your idea when making an inquiry.
Trip Notes
1. Tailoring your tour
This tour is very flexible. You can alter the itinerary, extend or shorten it to suit your price, interest and schedule. Feel free to tell us your requirements, and we are happy to help you arrange with our professional knowledge and experience.
There are frequet bullet trains connecting Xi'an with Shanghai and Wuhan. Shanghai-Xi'an takes about 11 hours for a single ride, and Wuhan-Xi'an takes about 5 hours for a single ride. This tour can also be arranged to depart from Shanghai or Wuhan by bullet train, or any city with transportation to Xi'an. Feel free to tell us your ideas.
2. Recommended evening activity: Tang Dynasty Show and Dumpling Banquet
Tang Dynasty Show offers you the chance to experience a traditional Chinese evening. The Tang Dynasty is regarded as the most progressive and prosperous era in the days of Imperial China and its music and dance symbolize the glory and beauty of Chinese civilization. There are over 100 artists for a performance with a colorful spectacle of traditional music and dance routines. A dumpling banquet is served while you enjoy the show. Dumplings are a staple food for people in North China, and dumplings in Xi'an are famous for its variety in terms of shape, color and fillings. If you are interested in this evening activity, feel free to ask your tour guide to obtain tickets for you at extra cost.
2. Tips for riding a bullet train in China
Arrive at the correct train station at least 30 minutes before departure time. You are required to do a security check before entering the train station, and there's a 5-8 minute walk from ticket gate to the platform. There may be long stairs and slopes without escalator, so it is suggested that you pack light.
Bring some food and drinks for the ride, which come less in varieties and higher in prices on the train.
Keep your train ticket in place. It might be checked again during the ride and at the exit of train station.