Beijing Food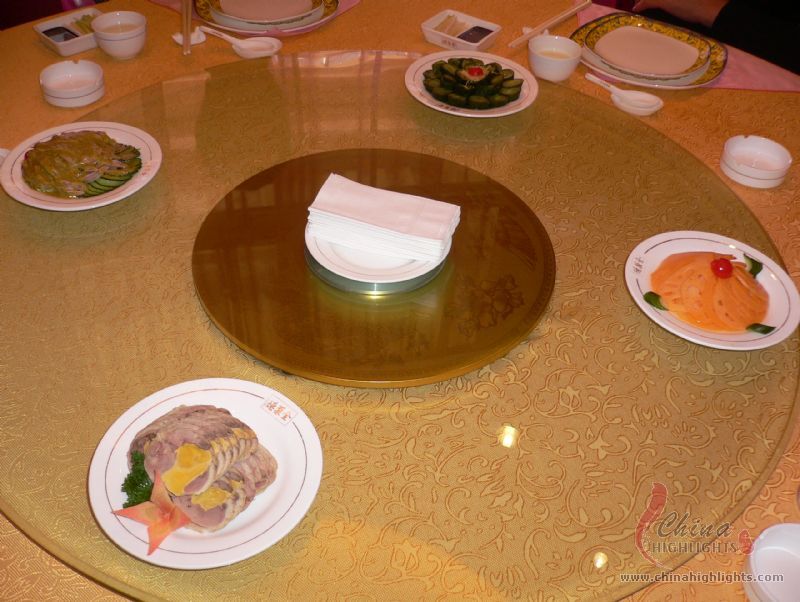 Beijing food takes from a broader category of food known as northern food. This category includes dishes from Hebei, Shandong, the lower Yangzi River, Inner Mongolia and Xinjiang.
Northern methods of cooking include barbecuing, deep-boiling, roasting, smoking and braising. Local products such as garlic, ginger, leeks, pork, spring onions, bean sauce, various spices, chilies and vegetables, particularly the northern white cabbage, together with duck, pork, chicken, seafood, beef, and lamb are used to make many varieties of gourmet dishes.
All of the foods below can be found in Beijing restaurants. Our Beijing tours, almost without exception, include a chance to eat roast duck. You can request to eat any one of these tasty dishes, or anything else you would like to eat, when customizing your tour with our travel advisors.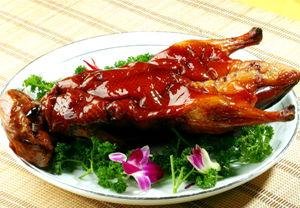 Beijing Roast Duck
Beijing Roast Duck is the epitome of Beijing cuisine and is well known both at home and abroad. The dish is mostly prized for the thin, crispy skin, with authentic versions of the dish serving mostly the skin and little meat.
Bifengtang Prawns
This dish is prepared by frying prawns in oil until golden red. Then they are cooked with Hong Kong's Bifengtang (wind shelter) restaurant chain's special techniques. This dish is delicious and slightly spicy, with a pungent garlic aroma.
Gong Bao Ji Ding - Palace Chicken Cubes
Gong Bao Ji Ding is a spicy chicken dish with peanuts and other vegetables. For some reason this dish is never the same from one restaurant to another. Perhaps this adds to its appeal, as it is very popular with foreigners.
Tudou Zi - Shredded Potato
This dish is for potato lovers. The potatoes are stir-fried with green peppers and seasoning, and can be served hot or cold.
Noodles With Soybean Paste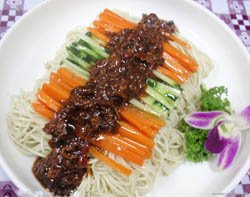 Noodles With Soybean Paste, also called Zha Jiang Mian, is very popular when it comes to traditional Beijing cuisine. As an added bonus, it is not expensive at all.
Zha Jiang Mian is consists of three main materials. They are wide hand-tossed noodles, vegetable pieces as well as pork. Local Beijing people, especially elder ones like to eat hot noodles in the cold days and to eat cold noodles in hot weather. According to different seasons, vegetable pieces are served in various types but always no less than seven kinds. In terms of nutrition, pork is rich in protein and essential fatty acids, both of which can improve iron status in iron deficiency anemia. At the same time, noodles possess characteristics of improving digestion and absorption. With a large number of Vitamin C in vegetables, Zha jiang mian is a really good choice for you.
Mongolian hotpot
With a history of over 1000 years, the hot pot has become popular throughout most of China. Mongolian hotpot originated from the Yuan dynasty (A.D.206-1368) .With rich nutrition and fantastic taste, it contains the protein and various vitamins for human body. It also has medical effects such as nourishing the liver and kidney, restoring the energy and lubricating the intestines. It can strengthen the body, improve the complexion and protect the skin if eaten regularly as well.
Rolling Donkey
Rolling Donkey refers to a kind of traditional Beijing snack, also known in south area of China as Rolling Horse (Ma Da Gun), with soft skin made of glutinous rice flour and the stuffing made of red pea.
Actually speaking, it refers to a kind of cake made with steamed glutinous millet or steamed sticky rice, filled with red pea, and then drizzled over with fried bean flour. Having been cut into blocks, the cakes will be rolled in soybean flour before being served, hence the name. The cake taste sweet and sticky with a strong fragrance of fried bean-flour.
Tuckahoe Pie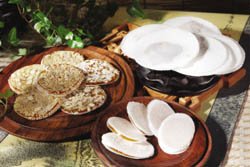 Tuckahoe pie is a traditional nourishing snack with good reputation in Beijing. In the shape of a full moon, it is paper-thin, snow-white, delicious and unique in flavor. According to legends, Tuckahoe pie originated from the South Song Dynasty (A.D.1127-1279). Both the preparation method and the required equipment are well kept to nowadays. The herb Tuckahoe has many medical effects, for example, it could invigorate the spleen, calm the nerves, enhance fluid circulation and increase the discharge of urine. Due to those good medical effects, it is popular with Chinese people, especially for women and the elder.
Related Reading


China Highlights
Planning a trip? Ask us here 800-2682918 (USA & CA)
86-773-2831999 (Int'l)
Q:
Jeffrey Runey
Asked on 2012-09-18
Reply
I would like to find a Chinese food restaurant in UK

You can use restaau.co.uk to search all restaurants around where you live. guest Replied on 2012-09-19

I tried it. Great. Thank for sharing. guest Replied on 2012-09-19

http://restaau.co.uk/ you can search related information of all restaurants around where you live. I often use it. So useful guest Replied on 2012-09-19

Thanks for your suggestion. I will try it. Best regard! guest Replied on 2012-09-19
Q:
chee hwei fang
Asked on 2012-07-21
Reply
is there any vegetarian food in beijing ''s restaurant? is it convenient for vegetarian people to go there?
Q:
shel bailey
Asked on 2012-03-06
Reply
Where can I find donkey restuantant inBeijing
Name: Donkey Reataurant (驴肉馆) Address: 4 Haiding South Road, Haidian District (海淀区海淀南路4号) Tel: 010-62553328 Lynn Ye Replied on 2012-03-09
Q:
Dorothy Cheng
Asked on 2012-02-01
Reply
Is Beijing also known for its dimsum/dumplings (such as Xiao Long Bao) or just for the Peking Duck? Could you recommend a great dimsum place that's not overly expensive.
Guangzhou and Hongkong have much more dimdums than that in Beijing. In Shanghai Lao Restaurant (上海老饭店), there are delicious Xiao Long Bao (Chinese name is 南翔小笼包), the restaurant is located in Floor 18, Zhongshang Mansion, 5 Sanlihe East Road, Xicheng District (西城区三里河东路5号中商大厦18楼), the telephone is 010-68587777 or 68524007. Lynn Ye Replied on 2012-02-03
Q:
Ganpatsinh chudasama
Asked on 2011-10-25
Reply
is there Indian Vegetarian food available
Beijing Travel Guide