How to Arrange Your Schedule in Jiuzhaigou Valley
Jiuzhaigou has been likened to a land from a fairytale. The scenery is breathtaking with its lakes, waterfalls and, above all, the plants, trees and waterscape which, in their many hues and forms, provide the landscape with a truly magical quality. One of the most popular tourist destinations in all China and one of its most photographed scenic areas, it is hard to believe the images of the area are real and not the product of some bizarre artistic imagination. However, the area is extensive and so, if you only have a few days in which to visit, how should you organize your time? Here is a recommended two-day schedule which takes in some of the more extraordinary sights Jiuzhaigou has to offer.
Two-day visit to Jiuzhaigou — Schedule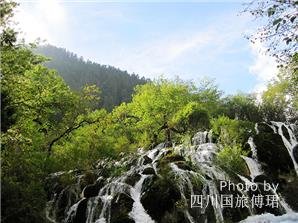 Waterfall in Jiuzhaigou Valley scenic spot
In order to maximize the time available, book your flight to Jiuzhaigou Huanglong Airport to arrive before midday, with a return flight the following evening. Pre-book your hotel and the chartered bus to save yourself some additional time. There's a lot to see here, and you want to waste as little time as possible on trip administration once you arrive.
Day One: Huanglong Scenic Area
Your pre-booked chartered bus should take you to the Huanglong Scenic Area, a journey time of just over an hour, (50 km). To do the area justice, you will require four to five hours at least; time may be saved if you use the cable car. Once you have finished your exploration of the area, take a taxi back to Jiuzhaigou and your hotel. Once again, remember to book this in advance and to have the name handy to show the taxi driver. The travel time to Jiuzhaigou is some two-and-a-half hours.
Once you arrive, take the cable car to the top of the peak. From there you will have an easy walk down through the scenic area — some three to four hours to do the area justice. If you decide to do the whole trip on foot, forgetting the cable car, then allow yourself five or six hours for a slow hike up while you take in the scenery and a faster walk back down again.
Day Two: Jiuzhaigou Valley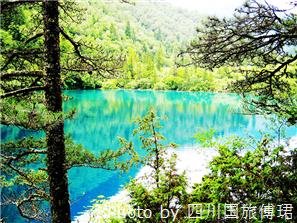 Colorful view of Jiuzhaigou Valley
Head out to Jiuzhaigou Valley around 7:00 in the morning. It will be a long day if you want to see everything, so try to book your return flight late enough that you don't leave the scenic area before 5.00 in the evening. It's some 90 minutes' drive back to the airport (90 km), so make sure you leave yourself adequate time.
The scenic spot not to be missed on your itinerary is Mirror Lake, one of the best-known and most spectacular sites in all of Jiuzhaigou. The reflections of the surrounding scenery on the still waters give the lake its name. A camera is essential. However, it's best to get there as early as possible in your day. The popularity of the lake is such that it is besieged with tourists from mid-morning onwards, and tour parties do rather tend to mar the view, not to mention the tranquility.
It is perhaps best to book a bus to the Primeval Forest, stopping off at Mirror Lake along the way. Continuing on from there, the Primeval Forest itself is best visited on foot, stopping off for lunch around noon at the Nourilang Restaurant. From there, continue on to Zechawa Valley. The longest valley in the Jiuzhaigou area at 18 km it is worth spending some time here exploring what you can before moving on to Shuzheng Valley. Known as the Gateway to Jiuzhaigou, this is another extensive valley some 14 km long. Given the extent of the area and the limited time available to you, it is perhaps best to take these two valleys with a combination of hiking and bus rides if you are to take in the best scenery the area has to offer.
Along the way, keep an eye out for some of the other scenery you will not have time, unfortunately, to visit, so try and get a window seat on the bus.Minjiang Yuan, the source of the Minjiiang River, is open wetland. In contrast to this, there is a small prairie you will pass known as the Dry Sea. Both are worth keeping your eyes open for, so don't give in to the desire to sleep on the bus.
In the Evening
Given you will be spending the night in the area; don't miss out on the entertainment and experiences Jiuzhaigou has to offer. Small villages nearby welcome visitors and are used to providing for them.
The area's local minorities, Tibetans and Qiang people, have their own culture and architecture, so these towns are well worth a visit. Traditional Tibetan architecture makes for a pleasant backdrop to the song-and-dance parties often held in these villages, so don't miss out on them if you are not too tired from your day's hiking.
A Few Warnings
It is possible, of course, to visit Jiuzhaigou in a single day if that is all the time available to you - the limited experience you have would be preferable to missing out on the area altogether. If you choose to do this, it may be best to follow Day 2's itinerary. However, the optimal experience comes from spending more time in the area than even the two days described here when more locations can be taken in at a more leisurely pace.
If following our two-day schedule, please note that it is best to be in at least moderately good health. There is a great deal of hiking involved, and though the trails through Jiuzhaigou are well-blazed, the distances you will need to walk to take in the sights you want to see will prove strenuous.
Always make sure, when getting off a tour bus, that there will be provision for you to continue your journey or to return in the evening. In some less-visited locations in particular, don't risk leaving yourself stranded.
The climate can by trying, in particular the temperature differential between cold mornings and evenings and warm afternoons. Come prepared not only for this, but also for the intensity of the sun at this altitude. Sun block and sun glasses may be necessary, as well as protection against possible rain.
Further Reading
Check out our video of some of the spectacular scenery you can expect to see in Jiuzhaigou to whet your appetite for your own visit. For more of the sights on offer, see our photos of the area. You may also want to check out our article on the area for further details.
Let China Highlights Organize Your Trip
With all the problems scheduling flights, finding hotels, making sure that the buses are where you want them to be when you want them to be, planning a trip as tight on time as this can seem daunting. Well, don't bother. Give us the job of planning it all for you, making all bookings and arrangements in advance. If you have enough time, check out our three and four day tours of Jiuzhaigou or, if the two day trip is what you want to take, let us make the arrangements through our special personally-tailored tours. Tell us what you want and when you want it, and we can arrange it for you.
Questions and Answers About How to Arrange Your Schedule in Jiuzhaigou Valley
Noreen Antill
2014-03-09
Show Answer
3 day tour of Jiuzhaigou. Please quote approximate cost of this for 2 mature age Australians. Travel period here is likely to be late April. I note to avoid 28 April -4 May for Labor Day crowds. I really dislike crowds and noise, so it this is right when it is busy, we can come just after 4 May or just before 28 April. Appreciate your urgent reply.
Hi Noreen, I have sent you a quotation via email. Please check it. Shoule you have any questions, or wish to make any change, please feel free to let me know. Thanks, Whitney Whitney Liao replied on 2014-03-10
April Offer $25 Coupon
Send your inquiry before Apr. 30, 2014, and we will email you a $25 coupon.
The coupon is valid till Dec. 31, 2014, for paying tour packages worth $250 or up.
The coupon cannot be used for paying flight tickets, train tickets, hotel rooms and day trips.
Travel Advice or Question? Ask us here

China Highlights
Chengdu Travel Guide