Bifengxia Giant Panda Base
Summary
Bifengxia Panda Base is the largest giant panda base in the world, with over 80 giant pandas. It offers volunteer programs where participants can help take care of the pandas.
Overview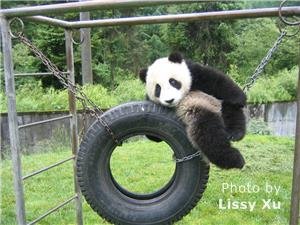 Giant panda of Bifengxia Giant Panda Base
Bifengxia (or Green Peak Valley) Giant Panda Base was established at the end of 2003, and has become a paradise for giant pandas, a national treasure, with the function of raising, breeding and rescuing giant pandas. It has over 80 giant pandas. Among them, about 30 were relocated from Wolong National Nature Reserve, which was severely affected by the earthquake in 2008.
Bifengxia has dense forest , numerous waterfalls and breathtaking scenery that make a visit very pleasant. Here visitors can see pandas more in their natural environment than at the Chengdu Panda Breeding Center . At the base, the pandas are trained in a simulated wild environment and returned to nature once researches show that they are fit enough to survive in the wild.
Volunteer Programs
Bifengxia Giant Panda Base offers volunteer programs that give a unique experience of getting close contact with the cuddly giant pandas. During the program, participants can work with skilled panda keepers to take care of the pandas.
Interesting activities include cleaning and weighing fresh bamboo to feed the pandas, cleaning panda enclosures and bathing the pandas. At the end of the program, each participant is issued a certificate which proves their volunteering at the base. Contact us to join in the volunteer program.
Location
Bifengxia Base is located in Bifengxia Scenic Area, 18 kilometers (11 miles) from Ya'an City, and 150 kilometers (93 miles) from Chengdu City. China Hihlights uses high-quality air-conditioned private transport for our customers to get to the base. Contact us for tours to Bifengxia.
Questions and Answers About Bifengxia Giant Panda Base
Ginger
2013-01-28
Show Answer
We are planning a trip to China including the city of Chengdu so that we can see thegiant pandas. We will have time to see either the Bisheng Gorge Panda Sanctuary orthe Panda Research Center in Chengdu, but not both. Which do you recommend to best see these beautiful animals?
Hi Ginger, the Bifeng Gorge Panda Sanctuary is better, also further from downtown Chengdu. Whitney Liao replied on 2013-01-29
sa
2012-08-09
Show Answer
How can i go to bifenxia from chengdu. and around 18 november i can see red leaves or snow or not?
Dear Sa, As a travel agency in China, we can arrange a private tour to Bifengxia from Chengdu. During your time in Chengdu, you may have a chance to enjoy the color leaves, but not sure if it will snow at that time. If you would like me to arrange a tour for you, please feel free let me know number of people in your group, class of hotel you prefer to stay. I am glad to offer you a detail quotation once I hear from you. Nancy Nancy Deng replied on 2012-08-10
sarah
2011-02-05
Show Answer
Dear______, i have a project on giant pandas and i am talking about captive breeding and educational programs and i mentioned your program. if you could give me some info on your base that would be great! thanks
We offer two panda programs: Bifengxia Panda Preeding Center Volunteer Experience and Panda Keeper International Internship Program. Please click below the links to learn about them:http://www.chinahighlights.com/chengdu/day-trips/panda-keeper-international-internship-program-plan.htm; http://www.chinahighlights.com/tour/chengdutour/cd-10a/ Jean Fu replied on 2011-02-05
April Offer $25 Coupon
Send your inquiry before Apr. 30, 2014, and we will email you a $25 coupon.
The coupon is valid till Dec. 31, 2014, for paying tour packages worth $250 or up.
The coupon cannot be used for paying flight tickets, train tickets, hotel rooms and day trips.
Travel Advice or Question? Ask us here

China Highlights
Chengdu Travel Guide