Chengdu Food
Introduction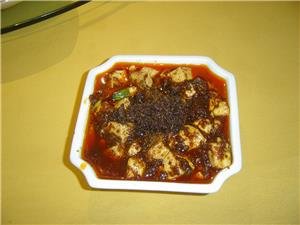 A famous dish of Sichuan Cuisine: Ma Po beancurd.
Any presentation of the dishes served in the private homes and public restaurants of Chengdu would be remiss if it did not point out that the dishes served in Chengdu, both in private homes and in restaurants, belong to the Sichuan Cuisine tradition, one of the Eight Major Cuisine Schools of China.
In the following, a brief description of the defining features of Sichuan Cuisine, also known as Chuan Cuisine, will be presented, followed by a list of the most popular/ most famous Sichuan dishes. Finally, a short, very inexhaustive (you are herewith encouraged to find your own favorite Chengdu eatery) list of restaurants in Chengdu is presented.
Chuan Cuisine In Brief
Chuan Cuisine is the most popular cuisine in all of China, defined in terms of the breadth and depth of where it is served. Of course it helps the depth parameter that the neighboring population-dense municipality of Chongqing, formerly a part of Sichuan Province, is one of the areas outside present-day Sichuan Province most enamored of Chuan Cuisine. See must-taste Chinese foods.
The dishes of Chuan Cuisine are famous for their spicy-hot flavors, a spicy-hotness that Sichuaners call "dry hot", insisting that it differs from the "wet hot" spiciness of other cuisines. The difference, say, Sichuaners, is that the spices used to achieve "dry hot" spiciness consists of a mixture of dry ingredients such as crushed peppercorns (black, red and white) and dried, crushed chili, as well as Sichuan Province's own native pepper, huajiao ("flower pepper" from the prickly ash tree, Zanthoxylum bungeanum) that is of course first dried, then crushed. According to Sichuan-Cuisine chefs, gourmets and gourmands (which covers just about everyone cooking and eating Sichuan Cuisine ), the salient features of "dry hot" spiciness consist of an instantaneous numbing effect on the tongue, and a pleasing, lingering, spicy-hot aftertaste. Continue to read more on Sichuan cuisine
Questions and Answers About Chengdu Food
arun
2012-10-06
Show Answer
please let me know couple of pure vegetarian restaurants in cheng du.
Hi Arun, here is two for you 1.Qingshui Lotus Vegetarien(Wenshu Branch)清水荷花素菜馆(文殊坊店) Add: 2nd F, No.31 Wenshufang, Baiyun Temple Street, Chengdu 成都文殊坊白云寺街31号2楼 Tel:028-86921839 2.Wenshuyuan Vegetarien文殊院素斋 Add: No. 15 Wenshuyuan Street, Qingyang District, Chengdu 成都青羊区文殊院街15号文殊院 Whitney Liao replied on 2012-10-08
vijaylakshmi
2010-09-23
Show Answer
is there any vegetarian food joint?
You may try the restuarants along the streets near Wenshu Monastery at Chengdu. Karen Karen Yang replied on 2010-09-24
April Offer $25 Coupon
Send your inquiry before Apr. 30, 2014, and we will email you a $25 coupon.
The coupon is valid till Dec. 31, 2014, for paying tour packages worth $250 or up.
The coupon cannot be used for paying flight tickets, train tickets, hotel rooms and day trips.
Travel Advice or Question? Ask us here

China Highlights
Chengdu Travel Guide