Hohhot Railway Station
Hohhot Railway Station Taxi Directions
Chinese Name: 呼和浩特

Address: The new district Hohhot City

Chinese Address: 内蒙古自治区呼和浩特市回民区

Telephone: 0471-2243222

Number of platforms:4
Where the Trains Going to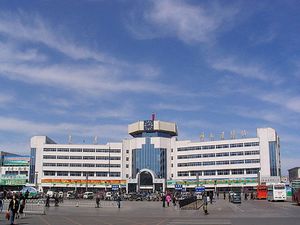 Hohhot Railway Station was built in 1921, and is located along the Beijing-Baotou railway line. There are trains available everyday departing to major cities in China, such as Beijing, Lanzhou, Chengdu, Tongliao, Xilinhot, Manzhouli, Tianjin, Harbin, Shenyang, Hangzhou , Hankou, Baotou, Guangzhou, Shijiazhuang, Xi'an, Yinchuan and so on.
What is more, Hohhot Railway Stationalso offers trains to provincial cities, like Wuhai, Erenhot, Ordos, Tongliao, Ulanhot, Xilinhot, Hailar, Manchuria, etc. The network covers almost every city within Inner Mongolia Autonomous Region. Every Wednesday and Thursday, there are international intermodal trains available for  Ulan Bator of Mongolia.
Transportation to Hohhot Railway Station
Transportation:travelers can take public buses No.1, 2, 5, 7, 13, 17, 22, 23, 24, 29, 302, 303 to get to the station.
Planning a trip? Ask us here

800-2682918 (USA & CA)

86-773-2831999

1800-764678 (AU)

0800-0327753 (UK)

800-8793-007 (China)
Q:
Elaine van der Velde
Asked on 00:37 AM May. 08 2012
Reply
Hi there, I would like to take a one-way train from hohhot to xilinhot on 3rd July, and a one-way train from xilinhot to Jiuzhaigou on 5th July. Could you plaese provide me with the info? Thank you. Elaine
From Hohhot to Xilinhot: Train K7916/7917, departing from Hohhot at 21:31 every night, and arriving at Xilinhot at 08:19 in the next morning. Price: 92 yuan for a hard seat, 159 yuan for a hard upper berth, 165 yuan for a hard middle berth, and 170 yuan for a lower hard berth. You can buy the ticket 10 days in advance of your depature day.
There are no train from Xilinhot to Jiuzhaigou. However, you can take a flight from Xilinhot Airport to Jiuzhaigou Airport.
Lynn Ye Replied on 02:04 AM May. 09 2012