Zhangjiajie Railway Station
Zhangjiajie Railway Station Taxi Directions
Chinese Name: 张家界

Address: Xixiping, Yongding District, Zhangjiajie City

Chinese Address: 张家界市永定区西溪坪

Telephone: 0744-8516883
Where the Trains Going to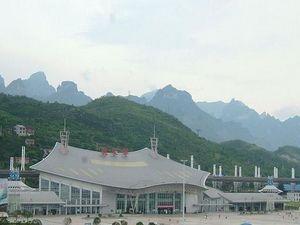 Zhangjiajie Railway Station was built in 1978. Though with only about 20 trains passing it every day, it has trains that connect Zhangjiajie with major cities, such as Beijing, Shanghai, Guangzhou, Shenzhen, Changsha, Nanning, Guiyang, Yichang, Zhanjiang and Zunyi.
1) Beijing to Zhangjiajie: There are 3 trains every day, K267, K507/K510 and K967/K966, taking about 25 hours for each ride. No trains to Zhangjiajie are available in other cities in North China, so visitors in those areas need to go to Beijing to take train to Zhangjiajie.
2) Shanghai to Zhangjiajie: Every day there is one train (K533) which departs from Shanghai South Railway Station to Zhangjiajie. The train ride takes about 20 hours. It is convenient for passengers in East China to take this train for Zhangjiajie.
3) Guangzhou to Zhangjiajie:Every day there are 2 trains (K9064/K9065 and K9072/K9073) depart from Guangzhou to Zhangjiajie, and train ride takes about 14 hours.
Transportation to Zhangjiajie Railway Station
Transportation:Passengers can take public buses 4, 5, 5, 8, 9 and 10 to reach the station. The taxi fare is about 15 yuan (2.5 USD) from the city center to the station.
Planning a trip? Ask us here

800-2682918 (USA & CA)

86-773-2831999

1800-764678 (AU)

0800-0327753 (UK)

800-8793-007 (China)
Q:
Abby
Asked on 7:28 PM Aug. 13 2012
Reply
Hi, we are a group of 4 from Malaysia and would like to visit Zhangjiajie. We will be arriving at Chengdu from Nov 12th to Nov 18th, what is the best way to go to Zhangjiajie from Chengdu?
Dear Abby,
Thank you for your inquiry.
You can take a train from Chengdu to Huaihua (怀化) first, then transfer to a train to Zhangjiajie from Huaihua.
Chengdu-Huaihua(about 15 hours): Everyday, there are six trains departing from Chengdu to Huaihua, and a cheapest ticket (for a hard seat) is 120 yuan. Check out detailed train information: http://www.chinahighlights.com/china-trains/search-result.asp.
Huaihua-Zhangjiajie(about 4 hours): Everyday, there are 13 trains departing from Huaihua to Zhangjiajie, and a cheapest ticket is 19 yuan.
Considering of saving time, I recommend you take K424/K421 or K588/K585 for your journey from Chengdu to Huaihuai, and then transfer 1806/1807, K9063/K9066 or K9068/K9069 from Huaihuai to Zhangjiajie.
Hope this will help you.
Doris Huang Replied on 06:09 AM Aug. 14 2012
Q:
PYLok
Asked on 10:33 PM Mar. 25 2012
Reply
Which one is a better choice to travel from Guangzhou to Zhangjiajie - a) get a bullet trian to Changsa then by bus. b) get a direct train straight to Zhangjiajie?
If you want to get to Zhangjiajie more quickly, a) is better. If you do not want to transfer means of transportation, b) is better. Lynn Ye Replied on 04:54 AM Mar. 26 2012
Q:
Blanka Cleveland
Asked on 8:16 PM Mar. 02 2012
Reply
Is there any train connections between Zhangjiajie and Chengdu. It can be combination of bus and train. Where can I find this information please?
Hello, there is no direct train from Zhangjiajie to Chengdu. You can first take train 1258 to Yichang East Railway Station and then take trian K696 to Chengdu. You can search the trains' schedules at http://www.chinahighlights.com/china-trains/ Iris Zhong Replied on 04:11 AM Mar. 09 2012
Q:
Francine Rizza
Asked on 11:09 PM Feb. 24 2012
Reply
Hi is there a train service from Zhangjiajie to Kunming please? If so how long does it take and how do I book please?
Yes. Train 1257 from Xiangyang to Kunming passing Zhangjiajie. But it is a slow train, and this is the only train running on this route. Expect to see large crowdes if you will take it. The journey takes around 24 hours. The best way is to ask a local travel agency to do that for you. Ruru Zhou Replied on 02:11 AM Feb. 28 2012
Q:
Goran
Asked on 04:42 AM Jan. 24 2012
Reply
Where do I find timetable (and prices) for train (sleepingtrain) from Zhangjiajie or Wulingyuan to Xian. I have really searched everywhere with no luck. Im going there in may from Sweden. Many thanks !
There is no direct train from Zhangjiajie to Xian, but you can transfer in Changsha train station, and then take either train and express bus from Changsha to Zhangjiajie. Eva Wang Replied on 03:21 AM Jan. 28 2012