Dunhuang Travel Guide
As a famous historical and cultural city of China, Dunhuang used to be an important city along the ancient Silk Road, which directly led to the Western Regions, Central Asia and Europe, and it's celebrated for its grottoes and frescoes all over the world.
Dunhuang is 1,098 kilometers (682 miles) from Lanzhou and 363 kilometers (226 miles) from Jiayuguan, which is convenient for air travel among the three cities. The mother river of Dunhuang, the Dangxiang River, is 390 kilometers (242 miles) in length and has a drainage area of 16,800 square kilometers (6,487 square miles), and runs through the city. A traditional route of the Silk Road went past Dunhuang from Xi'an, and then led to the Western countries via the current Xinjiang Province.
Highlights of Dunhuang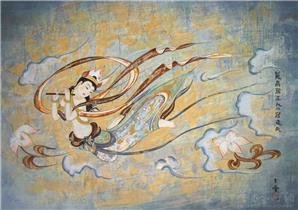 Mural painting in the Mogao Grottoes
Dunhuang is the westernmost city of the Hexi Corridor,and its long history has accumulated and bred its unique culture, for which it has become a famous city of historic and cultural interests.
The Dunhuang Mogao Grottoes were listed among the World Heritage Sites by UNESCO in 1987, where over 2,100 colored statues of Buddha of various sizes are retained.
The First Spring under Heaven –the Crescent Spring–nestles at the foot of the Mingsha Mountain (Singing Sand Mountain), both of which set each other off in the boundless desert.
The Jade Gate Pass was an important stronghold along the ancient Silk Road, which protected Dunhuang against invasion from the Western Regions in ancient times.
Yadan Landform has been created by the daedal hands of nature, showing the world the mysterious atmosphere of Dunhuang.
In addition, Yangguan Pass, Dunhuang Ancient City and the Sanwei Mountains are also wonderful sites for you to explore during your visit to Dunhuang.
Topography of Dunhuang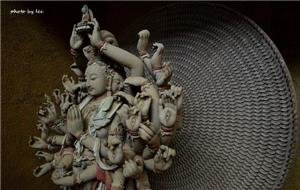 Buddha Statue in the Mogao Grottoes
Situated at the intersection of Gansu Province, Qinghai Province and Xijiang Province, Dunhuang has an average altitude of 1,200 meters (3,937 feet) with the magnificent Qilian Mountains to the south, the vast Taklimakan Desert to the west, the meandering Beisai Mountains to the north and the towering Sanwei Mountain to the east, whose topography lowers from south-west to north-east, and the Dunhuang oasis is sustained by the Dangxiang River. The boundless desert and the vast oasis form the unique landscape of Dunhuang.
Best Times to Visit Dunhuang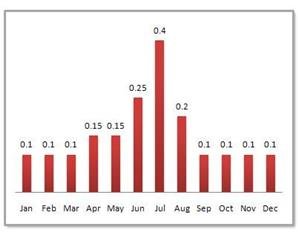 Average monthly precipitation in Dunhuang
Dunhuang has an extremely arid continental climate with four distinctive seasons, where the annual average temperature is 9.4°C, with the hottest temperature of 24.7°C in July and the coldest temperature of -9.3°C in January. Dunhuang has more than 142 frost-free days each year, where the annual even precipitation is 400 millimeters. The dry and hot wind and sandstorms always take place in Dunhuang in spring each year, so you're highly advised to avoid them for the sake of your safety.
The best times to visit Dunhuang are from May to October, during which you can taste fresh fruits, such as watermelons and grapes.
Food and Restaurants
The Dunhuang people prefer eating mutton, chicken and beef, and they are very particular about making wheaten food, including Dunhuang Yellow Noodles, Dunhuang Noodles with Minced Pork and Winter Bamboo Shoots, and Dunhuang Niangpizi. Below are some famous Dunhuang restaurants which the locals highly recommend.
Shunzhang Yellow Noodle Restaurant

With a history of over 100 years, Shunzhang Yellow Noodle Restaurant is famous for its donkey meat noodles and donkey meat spring rolls.

Location:1, Binhe Shijijiayuan, Dunhuang

Dunlaishun Halal Restaurant

Dunlaishun Halal Restaurant is known for its signature dishes such as Cold Noodles with Sauce, Stir-Fried Lettuces and Stir-Fried Chicken and Agarics with Rice.

Location:11, Mingshan Road, Dunhuang

Laozhong's Roast Mutton Chop Restaurant

Laozhong's Roast Mutton Chop Restaurant is celebrated for its deep-fried pancakes and roast mutton, and it's really enjoyable to eat roast mutton while drinking beer.

Location:76, Mingchi Square, Shazhou Market, Guandong Road, Yangguan, Dunhuang

Dunhuang Folk-Custom Garden

Dunhuang Folk-Custom Garden is courtyard-style garden, where the cuisine is based on local flavors and is very popular with the locals, and it is near the Crescent Moon Spring in Dunhuang. Yangguan Fish in Brown Sauce is the signature dish of the restaurant.

Location: Dunyuegong Road, Dunhuang

Accommodation

Dunhuang is a full-blown tourist city of China, where most hotels are distributed in the downtown area with the price ranging from 120 RMB to 180 RMB per night, and it's very convenient to appreciate the folk customs of north-west China at night there.

In addition, a number of cheap hostels and youth hostels are scattered near the Singing Sand Mountain Scenic Area, most of which are in the Dunhuang local style, attracting many backpackers each year.Below is a list of highly-recommended hotels in Dunhuang for your reference.

Silk Road Dunhuang Hotel

Location:Dunyue Road, Dunhuang

Super 8 Dunhuang Fengqingcheng

Location:East Gate of Fengqingcheng, Building 26, Dunhuang

Dunhuang Guest House

Location:151 Yangguang Middle Road, Dunhuang

Tianrun International Hotel

Location:309 Mingshan Road, Dunhuang

Fengfeisha Youth Hostel

Location:Dunyue Road, Dunhuang

Feitian Grand Hotel

Location:15 Mingshan Road, Dunhuang

Transportation

Dunhuang has a perfect transportation network of airways and highways, where the inner-city transportation is also convenient, and the most convenient way to visit Dunhuang is by air.The sightseeing trains to Dunhuang are available from Lanzhou, Xi'an and Yinchuan.

Airway

Dunhuang Airport

Dunhuang Airport is 13 kilometers (8 miles) east of the Dunhuang city center, where 38 direct flights to and from Lanzhou, Xi'an, Beijing, Jiayuguan and Urumqi are available each week, and it costs about 30 to 40 RMB from the airport to downtown Dunhuang.

Railway

There are two railway stations in Dunhuang now, Dunhuang Railway Station and Liuyuan Railway Station, both of which have direct trains to Lanzhou departing at dusk and arriving at dawn.

Dunhuang Railway Station

Situated10 kilometers (6 miles) from downtown Dunhuang, Dunhuang Railway Station is accessible by public bus 3 from the downtown area. The K591 train departs from Jiayuguan at 4:56 am and arrives at Dunhuang at 9:30 am each day. The K9667 train departs from Lanzhou at 3:33 am and arrives at Dunhuang at 8:19 am each day. The K591 train departs from Xi'an and arrives at Dunhuang each day.

Liuyuan Railway Station

Situated 128 kilometers (80 miles) north-west of Dunhuang city center, Liuyuan Railway Station has trains to Shanghai, Beijing, Xi'an, Chengdu, Lanzhou and Urumqi. The direct buses to Dunhuang city center are also available on the square in front of Liuyuan Railway Station.

Highway

There are buses to Jiuquan, Lanzhou, Xi'an, Hami, Golmud, Turpan and Urumqi from Dunhuang Bus Station (opposite the Feitian Hotel, Mingshan Road, Dunhuang). For those who want to visit Tibet, you are advised to visit Golmud from Dunhuang, and then transfer to another bus to Lhasa. The sightseeing buses to the Singing Sand Mountain,the Crescent Spring, Yangguan Pass and Jiayuguan Pass are also available from Dunhuang Bus Station.

Inner-City Transportation

The public bus routes are rather few in Dunhuang. Bus 3 departs for Mingsha Mountain (the Singing Sand Mountain) from Dunhuang city center, with a ticket fare of one yuan for the common buses and two yuan for the air-conditioned ones. The buses to the Mogao Grottoes from Dunhuang depart every half an hour with the ticket fee of 8 yuan for one person.

The starting price of a taxi is 10 yuan for the first three kilometers (1.9 miles); you'll be charged 1.2 yuan per kilometer later.
Questions and Answers About Dunhuang Travel Guide
April Offer $25 Coupon
Send your inquiry before Apr. 30, 2014, and we will email you a $25 coupon.
The coupon is valid till Dec. 31, 2014, for paying tour packages worth $250 or up.
The coupon cannot be used for paying flight tickets, train tickets, hotel rooms and day trips.
Travel Advice or Question? Ask us here
Dunhuang Travel Guide
Dunhuang Facts
Chinese Name: 敦煌
Chinese Pinyin: dun huang
English Name: Dunhuang
Location: Northwest of China
Latitude: 39° 53′-41° 35′ N
Longitude : 92° 13′-95° 30′ E
Area: 31,200 sq. km. (12,064 sq. mi.)
Time Zone : (UTC+8)
Area Code: 0937
Population: 170,000