Silk Road Travel Tips
Weather on the Silk Road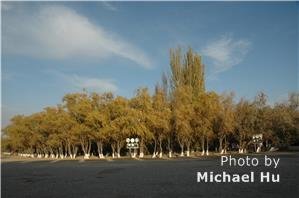 Jiayuguan Great Wall
The Silk Road becomes drier as it heads west into China, given its extreme inland location. Since the road meanders through desert and mountainous areas, be prepared for extremes in temperature. The temperature in Turpan can reach 40 °C in the summer and –20 °C in January.
The best time to travel is from May to October. Weather conditions are pleasant from late spring to early autumn, with an average temperature of 15 °C. Although summer weather can be scorching, the heat is dry and more comfortable than in the humid tropics. The scenery is ideal when the fruits ripen, the flowers are in full bloom, and green grass covers grassland areas.
What to Bring
Bring warm clothing even in the hot summer, as the temperature can change greatly between day and night in some places along the route. Jiayuguan, which sits between high mountain ranges, gets very cool in the summer after a snowfall on the peaks.
Bring shoes suitable for walking.
Use sunscreen, sunglasses, and lip creams to protect your eyes and skin from the sun. Also consider bringing a moisturizer because the air is very dry in the desert areas.
Bring some medicine for diarrhea and heat stroke.
Food on the Silk Road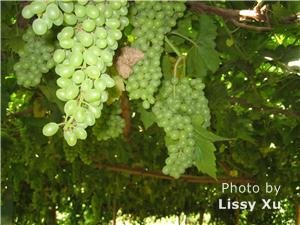 Grape Valley in Xinjiang
Xinjiang grows a rich of variety of fruit. People traveling there in the autumn have the chance to try the sweet fruits available in the region. Grapes, a specialty of Xinjiang, are always available
Xinjiang is home to most of China's Muslim population and eating pork is forbidden according to the Qur'an. The local people eat beef, mutton, and noodles, making the cuisine heavy and filling. At Urumqi, Turpan, and Kashgar, visitors may be able to find food that fits the Western palate, but in rural areas, they need to make do with local food.
Do not eat too much meat and fruit; otherwise, your digestive system may be disturbed.
Living on the Silk Road
A clear division of hotels exists during the peak (June to Oct) and low seasons (rest of the year). During March, hotels offer limited options for breakfast, and cut off air–conditioning because of the low occupancy of 5–10% during this time. When traveling around the most inaccessible areas (e.g., Kuche, Hetian), only one or two hotels may provide lodging for foreigners with basic facilities and standard rooms that include a private washing room and a simple breakfast.
The days are as long as 12 hours, and it gets dark very late, at about 23:00. Follow your daily sleep routine to avoid getting tired the next day.
Tour Guide
Most of our guides are minority, and all have graduated from university. However, given the limits to their socio–economic upbringing, their spoken English might be not as fluent as people in Beijing and Shanghai, but they are eager to help and are hospitable. Moreover, they know the local people and area. When you visit local minority families, you are appreciated and well treated by them.
Our guides are pleasant and will take you to small local markets (bazaars) to avoid long driving times to larger shops for buying provisions. You'll also stop to visit local scenic spots that provide good rest opportunities. Simple toilets can be found along the way, and bring your own tissue since there is none, nor is water provided.
Culture Considerations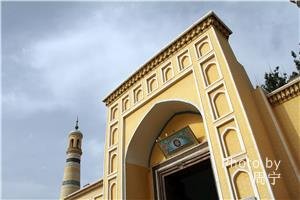 Id Kah Mosque in Xinjiang
Please do not talk about sensitive issues such as religion and politics when in Xinjiang. Sixty percent of the total population of the Xinjiang Uygur Autonomous region are minorities, and their primary belief system is Muslim. Please respect their customs (no pork) and follow your guides' advice when visiting a specific family or entering a mosque.
When visiting religious sites such as mosques, women should wear long–sleeve clothes. At certain times women are not allowed to enter mosques.
Taking photos at some attractions is forbidden; please follow your tour guide's lead. When you shop at the market, bargaining is taboo if you do not intend to make the purchase.
Road Conditions
Xinjiang comprises one–sixth of all of China, resulting in long distances between cities. When traveling to southern Xinjiang Province (Kuche, Kuele, Hetian), visitors will spend more time in a van moving from one place to the next. Road conditions are good. The following table provides a general idea of the distance and hours between cities.
| Route | Miles | Driving hours |
| --- | --- | --- |
| Urumqi–Heaven Lake | 110 | 1.5–2 |
| Urumqi–Nanshan | 150 | 2–2.5 |
| Urumqi–Turfan | 200 | 3–3.5 |
| Urumqi–Hami | 610 | 8–9 |
| Hami–Dunhuang | 420 | 5–6 |
| Kashgar–Lake Karakuli | 396 | 5–5.5 |
| Kashgar–Tashkurghan | 588 | 7–8 |
| Kashgar–Yarkent | 396 | 5–5.5 |
| Yarkent–Hetian | 644 | 7–7.5 |
| Kashgar–Akesu /Aksu | 468 | 5.5–6 |
| Hetian–Minfeng | 323 | 4–4.5 |
| Minfeng–Kuche/Kucha | 780 | 8–9 |
| Kuche–Kuerle /Kurla | 300 | 3.5–4 |
| Kuerle /Kurla–Turfan | 400 | 4.5–5 |
| Kuche–Akesu/Aksu | 289 | 3–3.5 |
| Hetian––Akesu /Aksu | 460 | 5–5.5 |

China Highlights
Questions and Answers About Silk Road Travel Tips
dorischee
2014-03-06
Show Answer
Planning a trip from September 11-21, 2014. Is the weather consider good to travel at this time?
Hi Dorischee, smart decision. The weather is very good at that time. Are you taking a tour to the Silk Road?
How many people are there in your group, please?
What is your entery/exit city?
We'd like to send you an itinerary with quotation for your reference.
Whitney Liao replied on 2014-03-07
Hazel
2013-01-14
Show Answer
Are there direct flights to Dunhuang from Shanghai?
Hi Hazel, there are no direct flights from Shanghai to Dunhuang. Whitney Liao replied on 2013-01-15
Lynn Cheah
2012-11-29
Show Answer
Hi,I''m Lynn.I''d like to know is it better to travel silk road in early august or late august?I have 10 days in china. Thks
Hi Lynn, early August is better. You can experience beautiful sunflowers in Xinjiang.
Whitney Liao replied on 2012-11-29
April Offer $25 Coupon
Send your inquiry before Apr. 30, 2014, and we will email you a $25 coupon.
The coupon is valid till Dec. 31, 2014, for paying tour packages worth $250 or up.
The coupon cannot be used for paying flight tickets, train tickets, hotel rooms and day trips.
Travel Advice or Question? Ask us here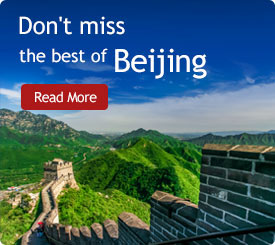 Silk Road Travel Guide
The Most Popular Articles
The Latest Travel Articles