Cathedral of the Sacred Heart of Jesus
Features
One of the architectural highlights in Guangzhou is a cathedral in Guangzhou that was built in the 1800s by the Emperor of France, the French government, and the Catholic Church. It has been recently refurbished because it was damaged in the 20th century. The stained windows, high arches and spires, and the spacious and high inner sanctuary make the building look like a European cathedral. The building was modeled after the Basilica of St. Clotilde in France, and there are other interesting features.
The granite building is big. It is said to be the biggest Gothic-style cathedral in China and Southeast Asia. The floor area is 2,754 square meters or .68 acres. It features a nave that is approximately 27 meters or 88 feet high. There are two rows of pews and 14 small side-chapels. The cathedral is 35 meters wide and 78.69 meters long, and the twin towers rise 58.5 meters or 63 yards. The west tower is a clock tower with a large Chinese-manufactured clock, and the east tower serves as bell tower and has gigantic bronze bells that were shipped from France in the 19th century.
The cathedral was built of big granite blocks shipped in from Hong Kong. The walls and the two towers were made of granite. This is why the cathedral was called "Stone House" (石室). In the 19th century, people had never seen a building built like this in Guangzhou.
History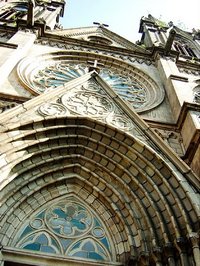 The Cathedral of the Sacred Heart of Jesus (耶穌聖心主教座堂) is also is known as the Sacred Heart Cathedral (聖心堂). It isn't a Roman Catholic church, but it is the cathedral of the Chinese bishop in Guangzhou. It is operated by the government, and they refurbished it several times and spent about 24 million RMB on the building in 2006 that was worth about 3 million USD. It was reopened in 2007.
French Catholics received the plot of land that the building is on by signing an agreement with the Qing government on January 25, 1861. Emperor Napoleon III and the French government donated funds for the building of the church. A French architect named Leon Vautrin designed the cathedral and modeled it after the Basilica of St. Clotilde.
It took the builders 25 years to finish the building. The Chinese crew was familiar with building cathedrals and working with granite blocks, and there was local opposition and communication difficulties. It was finished in 1888.
After the Cultural Revolution, the government spent 150,000 RMB for a renovation in 1984 and 1986. In another renovation in 2006, stained glass windows that were made in the Philippines were installed. Inside, the walls and ceiling are painted in rich warm colors, with bright colors added to the stained glass windows. Now, mass is held each week in several languages.
Transportation
Address: 333 Yide Road in Yuexiu District. 广州圣心大教堂, 广东省广州市越秀区一德路333号.
Metro: You can take Metro Line 2 that goes from Guangzhou Train Station to Hai Zhu Plaza (海珠广场). Go out Exit B2. Then walk about 700 or 800 meters.
Bus: Bus No. 4, 8, 61, 82 and many others go there.
Admission: Free, but you may only be able to get in during ceremony hours.
Related Links

China Highlights
Planning a trip? Ask us here 800-2682918 (USA & CA)
86-773-2831999 (Int'l)
Q:
Sina
Asked on 2013-06-15
Reply
if you mind tell me about opening hours?
Dear Sina, I contact them and realized they will open every day from 8:00am to 11:30am and from 14:30pm to 17:30pm. You could go there during this period. You also could ask them more details, here is their telephone number +86 20 83399675. Lussie Lu Replied on 2013-06-16
Q:
Charlotte
Asked on 2012-10-10
Reply
Hi, is it far to go to sacret heart cathedrals in Guangzhou to wholesale centre selling ribbons,buttons,laces etc,is there hotel nearby this two places?Charlotte11/10/2012
Hi Charlotte, It is not very far, just several km. For hotels between these two places, please check here:http://www.chinahighlights.com/hotel/guangzhou-hotels/ We are a travel agency, if you need any tour service, please feel free to contact me.
Whitney Liao Replied on 2012-10-11
Guangzhou Travel Guide
Guangzhou Top Attractions