Guangzhou Food
White Cut Chicken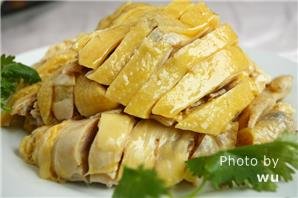 White Cut Chicken
Baiqie chicken is one of the simplest in Cantonese cuisine, using only water to boil without any extra flavor. It tastes fresh and light, keeping the original taste of the chicken. Its cooking method is easy.
Firstly, choose a local chicken below one kilogram and clean it. Then cook it in boiling water for fifteen minutes. During the boiling process, raise the chicken twice. Subsequently let it cool. When the skin of the chicken is dry, mix it with cooked peanut oil.
When you eat it, toss in ginger and green onion and sprinkle cooked peanut oil. Baiqie chicken's skin is tasty and refreshing and the chicken meat is not greasy or strongly flavored.
The Famous Baiqie chicken of Panxi Restaurant received the Golden Tripod Award for high quality production by the Department of Commerce. In addition, Qingping Chicken is an excellent version of Baiqie chicken.
Special Roasted Whole Suckling Pig
The skills for roasting this valuable and rare banquet dish go back more than 1400 years. There are two main roasting methods. The first one keeps the skin smooth, using a low fire and only a little oil. The second melts the skin. It uses a big fire and oil is smeared on it continuously.
During the cooking process the oil explodes and forms bubbles which expand the pig's skin. It deepens to a golden color and the bubbles spread over it closely like sesame.
Roasted whole suckling pig from Datong Restaurant is especially noted. Do go and try it.
Guangzhou Featured Food
Being in Guangzhou, you can relax your eyes and relax your legs, but you just cannot relax your taste buds! Guangzhou food has won fame both at home and abroad. Food is an important part of Guangzhou: its living style and its history.
Yum Cha — Morning Tea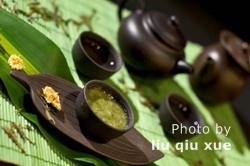 Yum cha (饮茶) is one of the most important parts of the traditional culture of Guangdong. Yum cha (饮茶), which means 'drinking morning tea', is a pleasant pastime for the Cantonese, and is an important part of the daily life of many locals.
Since its literal meaning is 'drinking tea', Chinese tea, which can help digestion, is naturally an indispensable part of yum cha. Common yum cha teas include wulong tea, tieguanyin, and Pu'er tea.
Dim sum plays a particularly important role in yum cha. Dim sum can be divided into wet and dry dim sum. Dry dim sum includes steamed shrimp dumplings, steamed buns, cakes, and so on. Wet dim sum includes guiling jelly (Chinese herbal jelly), porridge, meat, and bean curd. Dry dim sum is the most refined, and popular with most people.
Rice Rolls
Rice rolls originated in Guangdong. As early as the late Qing Dynasty (1644–1911), there were cries of selling rice rolls on the streets of Guangzhou. The filling of rice roll could be pork, beef, shrimp, fish, liver, or similar. In Guangzhou, the rice roll is a very popular homely food. It is described as "white as snow, thin as paper, oily and shiny, appetizing and delicious." It is cheap, palatable, and good for all ages, supplied everywhere, from humble restaurants to 5-star hotels.
Tingzai Porridge
Tingzai porridge uses fresh shrimps or fish as ingredients, and jellyfish, fried peanuts, liangpi, green onion, ginger are added. It is boiled before eating, aromatic, smooth, and sweet.
Hefen—Rice Noodle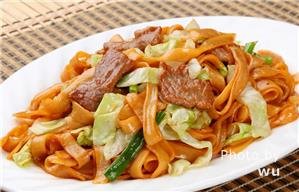 Hefen
Hefen, also called Shahefen, is a popular rice product that looks like rice noodles. It--- is sliced rice dough, made from rice soaked in Nine Dragon Spring water from Baiyun Mountain. Shahefen has a long history. It is white, thin, and ductile, can be fried, cooked with soup, or served cold and dressed with sauce.
Tangbushuai — Rice Balls Without Fillings
Tangbushuai are also called "Wishful Fruit" and are the twin brother of rice balls. They can prevent colds when served with ginger. Making tangbushuai is easy. Knead cooked glutinous rice flour into balls, boil the balls with syrup, and then put some fried peanuts or fried egg on it. The taste is crisp and smooth, sweet but not greasy.
Jiangzhuangnai — Ginger Milk Pudding
Jiangzhuangnai is a kind of dessert make from milk and ginger. It has a unique flavor, which is savory and mellow, sweet and a little bit pungent. It can warm your body and prevent colds.
Eight Bao Chinese Winter Melon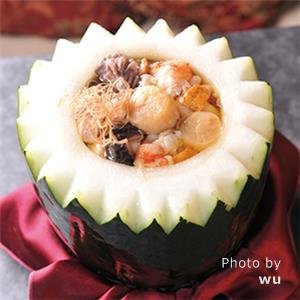 Eight Bao Chinese Winter Melon
Eight Bao Chinese Winter Melon uses Winter Melon as a bowl which is stuffed with various ingredients such as pork, turkey, ham, crab meat, frog meat, fresh oyster and more. To make it, choose a Chinese Winter Melon (24 centimeters height) and excavate its pulp. Then boil it and afterward dip it into cold water. Finally boil with chicken soup. Dig out the melon pulp with a spoon and eat it with the soup. Don't add soy sauce. The dish is pleasing to the eye and the flavor light, fresh and delicious. It is an excellent food in summer.
Guangzhou Restaurants for Muslims
Qinghai Muslim Restaurant (青海穆斯林餐厅)
Address: 71 Sanyuanli Avenue, Baiyun District (白云区三元里大道71号)
Tel: 020-86570920
Wuyang Muslim Restaurant (五羊回民饭店)
Address: 325 Sixth Zhongshan Road, Yuexiu District (越秀区中山六路325号)
Tel: 020-81303991
Check out more top Muslim restaurants in Guangzhou.
Questions and Answers About Guangzhou Food
Carmela
2014-04-17
Show Answer
We will be in Guangzhou this April 25. What are the important attractions to see in a half day tour ?
Doris Lum
2014-03-24
Show Answer
Will be in Guangzhou on 04April and intend to travel to Qing Yuan on 06April. There are 5 of us and any places of interest in Qing Yuan. If I hire a MPV from Guangzhou to Qing Yuan on a day trip how much will it cost and if include sightseeing how much. Is there any places we can visit on our way back from Qing Yuan to Guangzhou.
Dear Doris Lum, I am glad to arrange a one-day tour to Qingyuan for you. I will arrange a 9-seats vehicle with a driver, a private tour guide in Guangzhou. In Qingyuan, i will arrange an extra local guide. For the details, please check your e-mail, I've sent it to you. If you have any other questions, please feel free to contact me. My e-mail is lussie@chinahighlights.net. Lussie Lu replied on 2014-03-25
kambalah
2013-08-15
Show Answer
Hi,pls, instruct us how to rides metro line goin to panxi restaurant in liwan dstrict.ty
You can take subway line #2 from Haizhu Square then get off at Gongyuanqian station and change to subway line #1 and get of at Changshou Road (B exit). guest replied on 2013-08-16
Andrew Halas
2013-05-09
Show Answer
Are there any cheap, but outstanding quality restaurants near Haizhou square ? Also any street food stalls with great food in the same area?
Hi Andrew, you can go to the lanes or streets where people live in. The restaurants there are cheap yet with outstanding quality.
Whitney Liao replied on 2013-05-11
Lee Soi Ping
2013-04-01
Show Answer
10 of us will be in Guangzhou from 27th May to 29th May and so wish to have a full day tour of the city on 28th May with an English speaking tour guide and transport. We will be staying in Victory Hotel on Shamian Island and would like to visit the Chen Family Temple, Sun Yet-sen Memorial, Canton History Museum, Tomb of the Nan Yue King, Church of the Sacred Heart and if time permits Huaisheng Mosque and any other places of interest. Lunch at the Guangzhou Restaurant. NO SHOPPING. Regards,Lee Soi Ping
Hi Lee, I have sent you a quotation about your Guangzhou tour. If you can't find it, please check your spam. Thanks & regards, Whitney
Whitney Liao replied on 2013-04-02
April Offer $25 Coupon
Send your inquiry before Apr. 30, 2014, and we will email you a $25 coupon.
The coupon is valid till Dec. 31, 2014, for paying tour packages worth $250 or up.
The coupon cannot be used for paying flight tickets, train tickets, hotel rooms and day trips.
Travel Advice or Question? Ask us here

China Highlights