White Cloud Mountain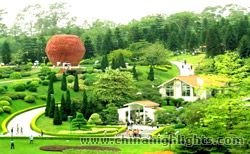 White Cloud Mountain is a famous mountain in South China. It is honored to be the first scenery of Goat City and the first mountain of Southern Yue since ancient times due to its magnificence and loftiness. It is made up of 30 peaks with the major peak of Mo Xing Ling whose altitude is 382 meters. The summit of the mountain will be wreathed by clouds whenever the sky clears after the rain or in the late spring time. The mountain is hence called Baiyun Mountain. September to November is most suitable time to climb the mountain because of the fine weather and moderate temperature.
The mountain range is full grandeur with majestic peaks and crisscrossed valleys. There remained the ancient site of mountain Stream Pu which is said to be the residence of Zheng Anqi of the Qing Dynasty when he secluded himself there. There is a Jiu Long Quan (Nine-dragon Spring), with a history of more than 2,000 years, which is said to be discovered in the Qing Dynasty. There is also the tomb of Zhang Erqiao, a singer in the Ming Dynasty, which is called Baihua Mound; a stele with the vivid Chinese charater of "Hu"(tiger) inscribed by Liu Yongfu, a general of Hei Qi Jun (Black Banner Army) in the Qing Dynasty; and the scenic spots of Dripping Rock, Baiyun Mountain Scenery in the Dawn, Baiyun Mountain Scenery in the Dusk, the First Peak on earth, Peal Tower, Shuiyue Pavilion and so on. Travelers can appreciate the overall splendid landscape of Guangzhou and especially the beautiful jade-belt-liked Zhujiang River when standing at the spot of Baiyun Mountain Scenery in the Dusk, leaning against the railings and staring as far as they can.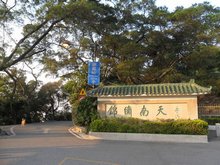 Guangzhou White Cloud Mountain is a famous historic attraction in Guangzhou, with lots of splendid scenery and places of interest, elected as the historical and new Eight Attractions of Guangzhou. The whole scenic spot consists of seven tourist spots: Pearl Tower Tourist Spot, Mo Xing Ling Tourist Spot, Ming Chun Valley Tourist Spot, San Tai Ling Tourist Spot, Luhu Lake Tourist Spot, Fei E Ling Tourist Spot and He Yi Ling Tourist Spot. Travelers can not only appreciate the natural scenes but also go grassing, take slideway, and enjoy bungee there.

China Highlights
Planning a trip? Ask us here 800-2682918 (USA & CA)
86-773-2831999 (Int'l)
Q:
eny
Asked on 2013-05-01
Reply
Hello, How to get white cloud mountain from shanqian road, yuexiu district, how far, thank you
Dear Eny, It is about 16 km from Mt. white cloud to down town. You could take line 2 subway from Guangzhou railway station to Baiyun park station(白云公园站), where is about 3 km the mountain. Then take a taxi to get there. You also could taxi a taxi to get to the mountain directly. It will be too expensive. Lussie Lu Replied on 2013-05-02
Q:
catherine
Asked on 2013-03-01
Reply
Hi. my friends and I have decided to go to macau, zhuhai and guangzhou but we have only five days. What do you recommend? Should I follow tour all the way or can i go to guang zhou on our own? Please let me know the travelling time from zhuhai to guangzhou by coach. can i take a speed train from zhuhai to guangzhouand then follow the tour there? Maybe you can plan an iterinary for us. Thank you
Hi Catherine, you can spend one day in each city, so time is enough. You can join a tour or go on your own.
You can go to Zhuhai North Railway Station to take the bullet train which takes about 1hr. Check train schedules via here: http://www.chinahighlights.com/china-trains/ or go to Gongbei Bus Station 拱北汽车站 in Zhuhai to take the bus which takes about 2hrs.
We are very glad to arrange the tour for you. Please let me know:
1. the number of people
2. class of hotel: 3/4/5 star
3. starting date
Whitney Liao Replied on 2013-03-07
Q:
Suki Soh
Asked on 2013-02-19
Reply
i plan to visit Guangzhou on 09th March to 16th March. 1. May i know what is the estimated temperature? 2. I plan to visit nearby cities such as Shenzhen and Foshan. What is your suggestion?3. May i know which Train station should i go for Shenzhen and Foshan, what is the train fares for both destination and how long the journey takes for each trip?
Hi Suki,
1. The weather is quite pleasant in Guangzhou at that time, with temperature of 14 °C (58 °F) and 21 °C (70 °F).
2. Shenzhen is wonderful with lots of interesting places. While in Foshan, you can visit the former residence of Huang Feihong, a famous Martial master, as well as other attractions.
3. From Guangzhou to Shenzhen, you can take bullet train(D train) from Guangzhou Railway Station or Guangzhou East Railway Station( second class seat: ≈CNY80, first class seat: ≈CNY100 ). The trains are available from 06:03 to 22:40, takes 80-100mins, with very good frequency.
4. You can take train from Shenzhen West Railway Station to Foshan, which takes about 3-4.5hrs, costs around CNY30 for hard seat. You can check train information here: http://www.chinatrainguide.com/
If you need any tour service, please feel free to contact me. Have a nice day!
Whitney Liao Replied on 2013-02-20
Q:
Farah
Asked on 2012-11-26
Reply
Hi there, i am planning to go to guangzhou in january. May I know is it a good time to go if i intend to go to Baiyun Mountain or theme park (Chimelong Paradise )?Since it is cold season in January, normally the clothes sell at the shopping mall or street markets are summer clothes (eg. tshirt, jeans) or winter clothes (eg. jacket, thick clothes)? I would like to shop for summer clothes. Thank you.
Hi Farah, January is a good time to go to Guangzhou. But if you wish to climb the Baiyun Mountain, it would be a little cold, to Chimelong Paradise is okay.
In January, normally the clothes sell at the shopping mall or street markets are winter clothes (e.g. jacket, thick clothes, overcoats).
Whitney Liao Replied on 2012-11-28
Q:
Su
Asked on 2012-11-04
Reply
Where can I find the tomb of the legendary Master Wong Fei Hung?Do you have the picture of this tomb?Thank you.
Hi Su, it is said in Baiyun Mountain, but the exact place can't be found.
Whitney Liao Replied on 2012-11-04
Guangzhou Travel Guide
Guangzhou Top Attractions