Guangzhou Subway Map
Our Guangzhou subway map is detailed and easy to follow, showing Guangzhou's seven subway lines with color-coded lines and station names in both English and Chinese characters.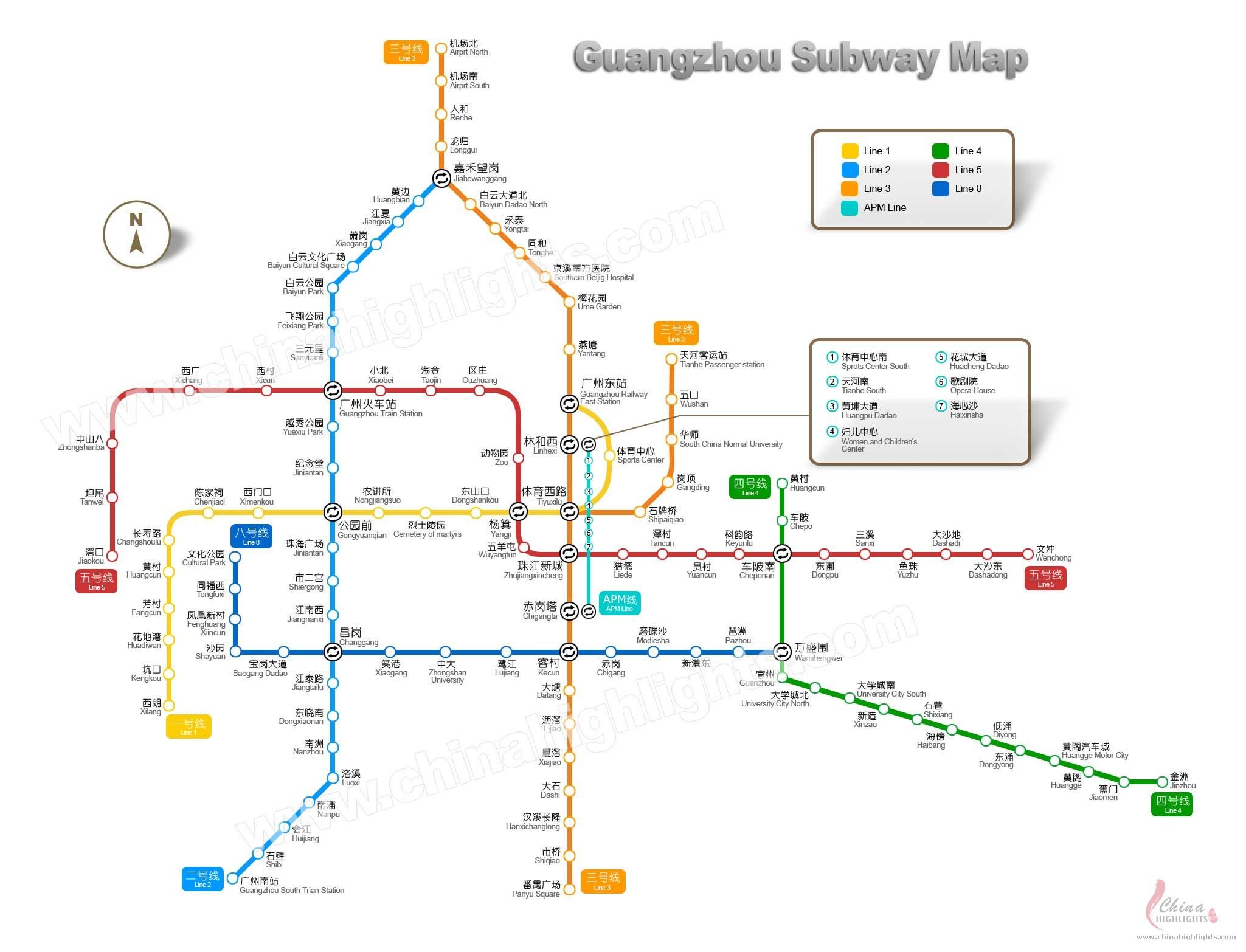 Questions and Answers About Guangzhou Subway Map
Utpala
2014-03-04
Show Answer
Hi, this is my first time in hongkong and guangzhou....I am coming to Guangzhou from hongkong for a furniture fair near pazou ...how do I travel by rail from hongkong to Guangzhou .... ( I will be staying in tsim sha tsui in Hong Kong ) .... Do I need to book in advance? And what is the city centre in Guangzhou .... Best connected to all shopping and touristy places
Hi Utpala, it is better to book train tickets in advance. You can take subway from your hotel to the train station. The subway lines in Guangzhou is conveneint to take you to your places. For shopping information, you may check our website at http://www.chinahighlights.com/guangzhou/shopping.htm for all the information we have.
Simon Huang replied on 2014-03-05
Marcus Wong
2013-10-04
Show Answer
Hi Lynn ye! have a good days,i am Marcus Wong from malaysia kota kinabalu sabah,can i go by metro from baiyun airport to fumen at 11:59pm
Hi Marcus, the last train from the Baiyun Airport is leaving at 23:05. I suggest that stay overnight in Guangzhou and take a bus to Humen the next morning. Michael Hu replied on 2013-10-05
Terry Y
2013-03-09
Show Answer
We are coming back from Xi-An to Guangzhou Baiyun. We will stay overnight in Guangzhou. Our plane to the United States will leave Hong Kong next day afternoon. Other than air, what is the best way to go from Guangzhou to Hong Kong? By turbojet? By train? By bus? Do you know the approximate time for each type of travel? Any internet link for further learning? Thanks. Theresa
Hi Theresa, please check details for transportation from Guangzhou to Hong Kong: http://www.chinahighlights.com/travelguide/transportation/guangzhou-to-hong-kong.htm Whitney Liao replied on 2013-03-11
Henry Wong
2013-02-10
Show Answer
Hi, I be going to Guangzhou end Feb 13, Can I know how to go from Baiyun Aiport to Hee Fun Apartment Hotel in Zhujiang New Town.
Dear Sir or Madam, It is about about 35 km from the airport to the hotel, you could take a taxi directly, it will be too expensive. It costs about CNY150/US$24 per car. You also could take line 3 (Beiyan section) subway(3号线北延段)from the airport to Linhe west Road station(林和西路站) where is about 4 km from the hotel. Then you take a taxi to the hotel, it costs about CNY10/US$1.6 per car. This way can save your money. Lussie Lu replied on 2013-02-10
Godfrey Stone
2013-01-08
Show Answer
I am arriving with my wife at Guangzhou Baiyun airport, and we wish to visit friends in Shenzhen, before catching a flight back to the UK1. Where is the nearest (or best) railway station to reach Shenzhen from Guangzhou? How do we get to that station from the airport?2. Can we leave our luggage securely at the Airport?3. Is there anywhere we can sleep at the airport without the cost of a hotel room for the night?
Hi Godfrey, you can take metro to Guangzhou Railway Station from the airport. Route: take Line 3 from the Airport South to Jiahewanggang Stop, then transfer Line 2 to Guangzhou Railway Station.Then take bullet train to Shenzhen.
There are luggage store-room in the airport, you can leave your luggage there. It is paid, not free.
Sorry, I don't know any place for sleep at the airport.
Whitney Liao replied on 2013-01-09

China Highlights