Guangzhou Railway Station
Where the Trains Going to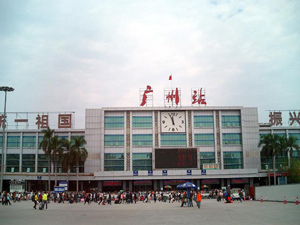 Guangzhou Railway Station handles the Beijing-Guangzhou Railway, the Guangzhou-Maoming Railway, the Guangzhou-Zhuhai Railway, and a small part of the Wuhan-Guangzhou Passenger Railway.
Transportation to Guangzhou Railway Station
Public Buses:
Buses that stop at Guangzhou Railway Station:
Bus 31, Bus 33, Bus 34, Bus 52, Bus 180, Bus 201, Bus 203, Bus 210, Bus 211, Bus 228, Bus 242, Bus254, Bus 257, Bus 269, Bus 274, Bus275, Bus 529, Bus 530, Bus 550, Bus 552, Bus 803, Bus 805, Bus 807, Bus 823, and Bus 840.
Night Buses:Night Bus 7, Night Bus 8, Night Bus 11, Night Bus 14, Night Bus 15, Night Bus 18, Night Bus 25, and Night Bus 41.
Subway Lines:
Subway Line 2:
Guangzhou Railway station is on Guangzhou Subway Line 2. It is the first stop from the Baiyun District Sanyuanli terminus. Once you are on the train at the Sanyuanli Station, the train station is only a minute away. In the end of 2009, Subway Line 2 intersected with Subway Line 5 at the Guangzhou Railway Station. To get to the subway station from Guangzhou Railway Station, use Exit D. To enter from the subway, use Exit C to get to the Railway Station Square. Transferring is actually a little confusing, and there are not enough signs. So you may have to patiently ask for directions a number of times.
For the Subway Line 2 to Wanshengwei: first train: 6:10; last train 23:30.
Using the local buses or taxis, you can get to the two long-distance bus stations: the Passenger Station of Guangdong Province and the Passenger Station of Guangzhou City (or Liuhua Station). These bus stations are not far away. 
Taxi:
Taxi Fares:In Guangzhou, taxi fares start at 7 yuan plus 1 yuan fuel surcharge within 2.3 kilometers. After that, the rate is 2.6 yuan per kilometer. Over 35 kilometers it increases to 3.5 yuan per kilometer.
Special Service on Guangzhou Railway Station
Passenger Transport:Baggage and parcels shippers.
Guangzhou Railway Station Overview
The Guangzhou-Shenzhen Railway and the Beijing-Guangzhou Railway lines intersect here. In the past, the Guangzhou Railway Station was in Dashatou, and it was the terminal station for the Guangzhou-Shenzhen Railway. In 1951, the Guangzhou Railway Station was moved to Baiyun Road. In the year 1974, a new building was completed. At the beginning, there were only 35 pairs of trains leaving or reaching the station. As early as the 1950s, the city government of Guangzhou had wanted to build a Guangzhou Railway Station. However, due to the economic problems of China at that time, this decision was put off. On April, 4th, 1979, the first Hong Kong-Guangzhou train in 30 years left Guangzhou Railway Station. In the beginning of the 1990s, industry and commerce developed rapidly in the southern part of China, and many people travelled into Guangzhou to seek opportunities. Guangzhou Railway Station is a gathering place for low paid workers eager to go home during the annual Chinese Spring Festival vacation time. During that time, there may be over 100,000 people waiting for trains, and the station is full of people sitting and camping out on blankets and newspaper. People are desperate to get home to see their family and friends. People may even resort to stealing. So though security is tight, be careful about your luggage and pickpocketing.
Surroundings:
There are lots of wholesale markets and shops near the Guangzhou Railway Station. The Guangzhou Trade Fair Center and Yuexiu Park are not far south of Guangzhou Railway Station. It only takes 10 minutes to go there from the Guangzhou Railway Station on foot.
Service Numbers:
Phone Number of the Information Office of Guangzhou Railway Station: 020-61357581.
Inquiry Number of Guangzhou Railway Station: 020-61346222 (automatic).
Phone Number of Guangzhou Railway Station (switchboard): 020-61322114.
Train Inquiry Number of Guangzhou Railway Station: 020-61357581.
Phone Number of the Luggage Office of Guangzhou Railway Station: 020-61357822.
Tickets Booking Number of Guangzhou Railway Station: 96020088, 95105105 (This is a hot line for more expensive tickets. Those who do not want to pay that much can try other numbers).
You May Like
Planning a trip? Ask us here

800-2682918 (USA & CA)

86-773-2831999

1800-764678 (AU)

0800-0327753 (UK)

800-8793-007 (China)
Q:
Agnes Wong
Asked on 0:59 PM Aug. 06 2012
Reply
Hi,I plan to visit my home town in Taicheng; I will be flying from Shanghai to Guangzhou, where can I get a bus to Taicheng or Doofuk, (Toy Shan City)? And a bus from Taicheng, or Doofuk to Macau? As for hotel, I like to spend two nights in Taicheng or Doo Fuk (Toy Shan City), and two nights in Maca...
Hi Agnes Wong,
You can take a bus from Jiaokou bus station( 窖口汽车站)to Taicheng; the bus departs at 08:10, 09:00, 13:15, 16:20. It is about 2-3 hours bus trip and the price is about CNY 60. There is no bus from Taishan city to Macau, but you can take a bus from Taishan to Zhuhai Gongbei bus station, then enter Macau from Gongbei Port. The bus departs in each 20 minutes from 06:00 to 8 pm.
Please check the hotel you want to stay in Guangzhou and Macau, which one do you want to stay in, just let me know. I will get the price for you.
http://www.chinahighlights.com/hotel/guangzhou-hotels/
http://www.chinahighlights.com/hotel/macau-hotels/
Regards,
Coco Coco Yang Replied on 10:04 PM Aug. 06 2012
Q:
Joy
Asked on 0:44 PM Jul. 14 2012
Reply
Hi! Please help me we are planning to go in Guangzhou this coming July am it will be our first time can you help us where we are going to go for example shopping for clothes and shoes and bags that are affordable. And which hotel do you recommend for us that near for it. Thank you!Salwajoy
hi, Joy. This is Sammi,there are many places for shopping clothes and shoes in guangzhou such as Tianhe shopping mall.The most famous one is Baima wholesale market that near Guangzhou train station. Have a nice trip. Sammi Dai Replied on 9:18 PM Jul. 15 2012
Q:
eddy
Asked on 11:23 AM Jul. 14 2012
Reply
Hello, i will be arriving to Guangzhou around 5pm on sunday,September 2nd, and i think i can be at the "Guangzhou Railway Station" around 6pm-7pm. I want to get to Heping(和平县) it is a city close to Heyuan City. is it possible to get bus tickets around those hours or will i need to stay in Guangzhou ...
Hello Eddy,  you can go to Passenger Transport Station of Guangzhou(广州汽车客运站) to take the coach to Heping(和平县). The coach departs at 20:40, the price is CNY133. It is about 0.2km, 15min walking from Guangzhou Railway Station.You can also go to Tianhe Coach Terminal Station(天河客运站),the coach also departs at 20:40, the price is CNY65. It is about 15km from Guangzhou Railway Station, 20-30mins by taxi. Hope it helps. Wish you a nice journey!
Whitney Liao Replied on 05:59 AM Jul. 16 2012
Q:
LAt
Asked on 11:36 AM Jul. 09 2012
Reply
I am planning to visit HK from GZ on 13thJuly2012. Can I buy train ticket at GZ East Railway station without pre-booking them first? Any restriction i.e taxes on bring in cosmetics products from HK into GZ?
Hello LAt, usually you can buy the tickets after you get to the station, but if it is during the holiday, better buy it in advance, as there will be so many people traveling.
If the cosmetics products is for personal use, and the quantity is not large, they don't tax it. Hope it helps!
Whitney Liao Replied on 06:48 AM Jul. 10 2012
Q:
Terrence
Asked on 09:29 AM Jul. 07 2012
Reply
I''m planning a trip to Zhuhai in November this year. Will arrive at Baiyun International airport. Would like to take the train from your railway station to Zhuhai. May I know how long is the journey, what''s the cost and what''s the best way to get from Baiyun Airport to your train station? Thank y...
Hi Terrence, you can take a shuttle bus from Baiyun airport to Zhuhai. The departure time are: 08:40、09:30、10:00、10:20、10:40、11:00、 11:40、12:00、12:20、12:40、13:00、13:40、 14:20、15:00、15:40、16:20、17:00、17:40、 18:20、18:50、19:10、19:50、20:40、21:30、22:20. Michael Hu Replied on 04:05 AM Jul. 08 2012