Guangzhou-Zhuhai-Macau Transportation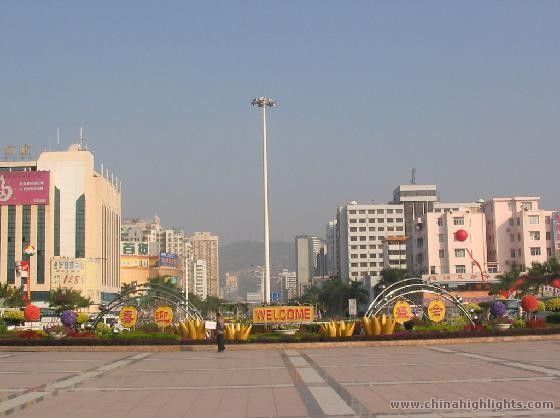 Macau is a peninsula bordering Chinese Mainland by Zhuhai city. Hence, if travelers intend to travel between Macau and Guangzhou, the most convenient way is going to Macau via Zhuhai. Between Macau and Zhuhai, there is a river: Yayong River (鸭涌河).
There are two ports in Zhuhai available for your traveling between Macau and Chinese Mainland (including Guangzhou). However, the popular one is Gongbei Port (拱北口岸), while Hengqin Port (横琴口岸) is more used for goods. There is no direct means of transportation (no flight, no ship) for traveling between Guangzhou and Macau, you need arrive at Gongbei Port in Zhuhai first (you will arrive at Macau by passing the port), and then get to Macau from Zhuhai or from Zhuhai to Guangzhou.
Guangzhou-Zhuhai Transportation
The distance between Guangzhou and Zhuhai is not far, being only about 160 kilometers (about 99 miles), and the transportation between these cities are very convenient. You can take a bus transport or by light rail (inter-city train transport) for traveling between Guangzhou and Zhuhai.
Inter-City Train Transport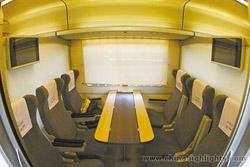 The Seats of Guangzhou-Zhuhai Bullet Train
Inter-city train transport is an economical and fast way for traveling between Guangzhou and Zhuhai, comparing with bus transport. Every day, there are 24 pairs of inter-city trains running between Guangzhou South Railway Station and Zhuhai North Railway Station. The length of the time for a voyage is about 1 hour. The ticket prices are 44 yuan for first-class seat and 36 yuan for second-class seat. You can visit China Highlights China train to check out the train schedule between Guangzhou and Zhuhai.
Bus Transport
There are lots of buses running between Zhuhai and Guangzhou every day. The length of the time for a voyage is about 2 hours, and the approximate price is 65 yuan. From Guangzhou to Zhuhai, you can catch a bus almost in every bus station in Guangzhou, such as Provincial Bus Station, Fangcun Bus Station, Guangzhou Passenger Transport Station and Tianhe Bus Station and so on (you can check out the detailed information for about the bus stations in Guangzhou). Remember that you need arrive at Gongbei Port if you want to go to Macau. The nearest two bus stations are Gongbei Bus Station (拱北汽车站) and Xiangzhou Bus Station (香洲汽车站).
Zhuhai–Macau Transportation
Zhuhai serves as the gateway for the transportation between Guangzhou (even the whole Chinese Mainland) and Macau. All visitors to Macau need hold a valid passport or a valid travel document. However, passport holders of 66 countries are except from a visa to Macau (but they are supposed to stay for a certain period of time). You can check out whether you need a visa to Macau or not by clinking visa to Macau.
Gongbei Port: the Puporlar One
Brief Introduction of Gongbei Port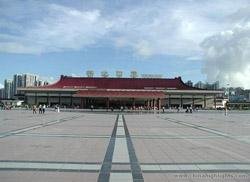 Gongbei Port
Zhuhai borders Macau to the south. One of the major gates between Zhuhai and Macau is Gongbei Port (拱北口岸), which is located in 23 Lianhua Road, Gongbei District (拱北区莲花路23号), and the telephone number is 0756-8162 538. The port is open from 07:00 to 24:00. Gongbei Port (aka Macau border crossing) is situated in the southern edge of Gongbei District, and the port has a cavernous underground shopping center, in which visitors can enjoy their shopping and tasting local snacks.
Passing the Gongbei Custom Building
It takes about 20 minutes for your walking pass the Gongbei immigration building. However, be prepared for long queues, which can make your total custom crossing time more than an hour (even 2 hours especially in weekends). When passing the Zhuhai side in Gongbei Port (take the way from Zhuhai to Macau for example), remember that the left passageway is for Macau people and Hong Kong people, and the right passageway (with the sigh of saying 'Foreigner') is for foreigners and people from Chinese Mainland and Taiwan. After that, you will arrive at the Macau side. As the same, if you are a foreigner, take the right passageway. At last, you will arrive at Macau after you getting out of the custom building.
Hengqin Port 横琴口岸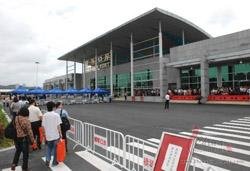 Hengqin Port
There is an alternative gate: Hengqin Port, for traveling between Zhuhai and Macau besides Gongbei Port. The port is open from 08:00 to 20:00. Hengqin Port (tel: 0756-8688 760) is located in Huandao Road, Hengqin Island.
Zhuhai's Hengqin Island (Chinese Mainland Side) and Macau's Cotai Area (Macau Side) are linked by the Lotus Bridge (莲花大桥). After passing the customs, the shuttle bus which runs between Chinese Mainland Side and Macau Side (aka the two points of Lotus Bridge) is available for you. If you arrive at Hengqin Port from Macau, you can take city bus 14 to Xiangzhou (香洲), or one air-conditioned minibus to Wanzai (湾仔) or Gongbei (拱北).
Generally, Hengqin Port is not as crowded as that in Gongbei Port, and is closer to Macau International Airport (in Taipa Area). However, there is no bus to Macau International Airport after you getting across Macau side, and you can arrive at the airport via taxi, which costs you about MOP 45.
Note
In the immigration hall, foreigners are required to fill up a blue-color slip, declaring your place of stay in Macau (or in Chinese Mainland) and your departure details.
When paying for taxi fee, Macau Patacas, Hong Kong Dollars or Chinese RMB are all available, but these currencies are treated equally (With RMB being the most expensive) during payment.
If you are to catch an international flight in Macau International Airport, remember to have more time for passing the port. However, express line is available for you when passing the customs, which means you can avoid the long queue and save more time.
Zhuhai–Macau International Airport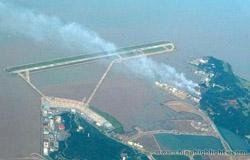 The Birds' Eye View of Macau International Airport
Bus API is available for your traveling between Macau International Airport and Zhuhai border. The bus makes stop at the ferry terminal on the peninsula on the way, and it takes MOP 4.2 per passenger and MOP 3 per luggage. The length of the time ranges from 40 minutes to 90 minutes, depending on traffic condition. Taking a taxi from Gongbei Port to the airport needs about 20 minutes.
Besides above Bus API and taxi, the airport's Express Link is a convenience choice. This special bus service directly connects Macau International Airport and Zhuhai border, and is only available from 11:00 to 18:00. If you are traveling from Macau International Airport to Zhuhai border, this special bus service can help you to skip the Macau immigration and customs altogether.
After deboarding the flight, you need to look for the Express Link sign and follow it, instead of going through immigration. You need to pick up an Express Link Card when you passing a transit security scan station. Walk upstairs into the departure hall, and go to the ticket counter at Gate 8 to buy a ticket for the bus departing to Gongbei Port, with presenting your card.
Related Links

China Highlights
Planning a trip? Ask us here 800-2682918 (USA & CA)
86-773-2831999 (Int'l)
Q:
Lilis
Asked on 2013-11-25
Reply
Hi..I am planning to visit zhuhai from guangzhou by train.Can I bring big lugage in to the train? Thanknyou
Yes, you can bring big lugage to the train. Lily Guo Replied on 2013-11-26
Q:
Hawaiian Guy
Asked on 2013-10-16
Reply
I am going from zhuhai to macau airport. what time should I leave if my flight out of macau is at 3:00pm? Also, I will exit through the Gongbei gate and then hope to take a taxi or bus to the airport. Can you give me times I need to consider for each stop? I would think one hour at the border and another hour to go to the airport. If my flight is at 3pm, then would it be a good idea to leave at 10am?
Dear Hawaiian Guy,
Your schedule is reasonable. One hour to the border is ok if there is no traffic jam. There are about 45 k from border to airport. I suggest you starting earlier(about 9:30am).
Christy Luo Replied on 2013-10-16
Q:
Betsy
Asked on 2013-10-14
Reply
I am taking bullet train from Guangzhou to Zhuhai Gongbei station. I need to go Gongbai port after get down from train. So can I walk or must take taxi?
Dear Betsy, Thank you for your inquiry. The Zhuhai Gongbei Station is just about 350m away from the Gongbei port, so you can walk there. Doris Huang Replied on 2013-10-15
Q:
manuj asked on 2013/09/19
Asked on 2013-09-19
Reply
do i need to cross china immigration to go to macau or i can transit at guangzhou airport?
Hi,
Yes, you need to cross China Immigration to enter Macau. You need first go to Zhuhai from Guangzhou, then pass the Gongbei port to enter Macau.
Regards,
Coco Yang Replied on 2013-09-19
Q:
John
Asked on 2013-08-29
Reply
I''m going to Macau from Guangzhou.does anyone knows is the zhuhai train station near to the Macau zhuhai border
Hi John, it is about 20 km from Zhuhai train station to Macao. You may take boat or bus from Zhuhai to Macao.
Simon Huang Replied on 2013-08-30