Guangzhou South Railway Station
Overview
Guangzhou South Railway Station, also called New Guangzhou Railway Station, is located at Shibi Street, Panyu District, Guangzhou, Guangdong. It has served Guangzhou since 2010, and is 17 kilometers from the city center.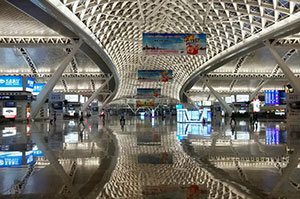 It is one the four main railway stations in Guangzhou. The other three are Guangzhou Railway Station, Guangzhou North Railway Station, and Guangzhou East Railway Station. After its opening, Guangzhou South Railway Station has been gradually taking the leading role of train transport from Guangzhou Railway Station, becoming one of the six key passenger train hubs of China.
Lines and Trains
Guangzhou South Railway Station is at the junction of Guangzhou–Shenzhen–Hong Kong Express Rail Link, Guangzhou–Zhuhai Intercity High-Speed Railway, Guizhou–Guangzhou High-Speed Railway, and Nanning–Guangzhou High-Speed Railway, and it is the terminus of Beijing–Guangzhou High-Speed Railway.
It serves G-series CRH (China Railway High-speed) trains to Wuhan, Shenzhen, Changsha, Taiyuan, Xi'an, Zhengzhou, Xinyang, and Yueyang. Less expensive D-series trains to Hengyang, Binzhou, Shaoguan, Changsha, Wuhan, Zhuhai, and Xinhui are also available. Search for train prices and schedules and book a ticket.
Guangzhou - Wuhan Bullet Trains
Guangzhou - Shenzhen High Speed Trains
Local Transport
Guangzhou South Railway Station is expected to be one of the largest interchange stations of Guangzhou Metro's Guangzhou–Foshan Line 2, future Line 7, future Line 20, and future Bai'er Tan Line.
Guangzhou South Temporary Long-Distance Bus Station is located nearby. It operates long-distance buses to the main cities in Guangdong Province, including Shenzhen, Dongguan, Zengcheng, Huizhou, Zhaqing, Jiangmen, Foshan, and Zhuhai, and Hong Kong.
Many Guangzhou public buses stop at Guangzhou South Railway Station, including 288A, 301A, 303A, 309A, and Night 61.
You May Like