Guangzhou Nightlife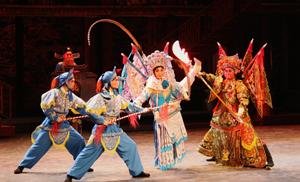 Cantonese Opera
What do you do at night in Guangzhou? If you really want a taste of Chinese culture, I guess you can try seeing Cantonese Opera. If you really want a taste of Chinese beer, then Tsingtao is a low alcohol and sweet popular Chinese brand of beer. It was originally brewed in Qingdao by Germans. You might also want to try a Pearl River cruise in the evenings.
Cantonese Opera (Yue Ju)
This style of opera is popular in Guangdong, Guangxi, Hong Kong and Macau. The dialogue and singing is in Cantonese. The voices rise and fall in ever changing rhymes, and the melodies are harmonious and graceful. The people of Guangdong Province and large parts of Guangxi Province were mainly Cantonese speaking people. Cantonese is a language that is very different than Mandarin.
Pubs and Bars
There are three famous bar streets in Guangzhou, namely Binjiang Road Bar Street, Huanshi Road Bar Street and Bai'e Tan Bar Street. Along these bar streets, there are a great number of popular pubs and bars. Here is a list:
Amigo
Address: B03, Bai'e Tan Bar Street, Fangcun District, Guangzhou
Golf Club
Address: at the north gate of Yuexiu Park, Huanshi Road Central
23 Club
Address: Floor 1, Guangdong International Electronic Mansion, No 403, Huanshi Road East, Guangzhou
Baby Face
Address: No 83, Changdi Road, Aiqun Mansion, Guangzhou
Bridge House
Address: at the south gate of the Guangdong Arts Gallery; No 38, Yanyu Road, Ersha Island
Party World
Address: Floor 1, Huihua Business Building, No 80, Xianlie Road Central
Yonghan Cinema
Address: No.186, Beijing Lu, Yuexiu District, Guangzhou
Evening Cruise on the Pearl River (珠江夜游)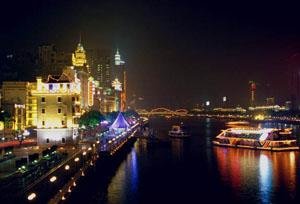 evening cruise on the Pearl River
An evening cruise on the Pearl River is one of the tourist highlights in Guangzhou. The Pearl River is China's third longest river. By the time it reaches Guangzhou, it is highly polluted. But there are lights along the river, and lit-up buildings of the Guangzhou skyline near the river make the place colorful. Some very tall buildings with interesting designs have been going up in Guangzhou recently.
Perhaps the best restaurant is a restaurant boat called the Information Times. It has buffet dining and exotic music and dance entertainment. It seats about 300 people. The Tianzi No.1 holds 250 people. The Bright Pearl of Flower City is a luxurious ship. It has a banquet hall and also holds about 250 guests.
There are three piers in Guangzhou: Dashatou Pier (大沙头码头), Tianzi Pier (天字码头), and Xiti Pier (西堤码头). If you are staying in a starred hotel, check on cruise information and getting tickets. The ships cruise between White Goose Pool and Guangzhou Bridge. The scenery along this part is fascinating with jade-colored water and colored lights on shore.
Address: The Tianzi Wharf is on Beijing South Road

China Highlights
Planning a trip? Ask us here 800-2682918 (USA & CA)
86-773-2831999 (Int'l)
Q:
Javier
Asked on 2013-05-04
Reply
HI!!! I wiil be in Guangzhou on May, is any special area where I could find cameras and lenses?

Thanks, but any place in specific as the shoping list is not clear for me guest Replied on 2013-05-10
Haiyin Electronic Market海印电器总汇in Dashatou 3rd Road, Yuexiu District. Whitney Liao Replied on 2013-05-10
Q:
Muhammad Imtiaz Shahid
Asked on 2013-05-04
Reply
I am planning a trip to Gaungzhou,China
Hi Muhammad, what attractions are you interested in? How many people are there? What class of hotel do you like? How long will you stay in Guangzhou, Please?
Whitney Liao Replied on 2013-05-06
Q:
jai naiyer
Asked on 2013-04-22
Reply
hey hi nice forum by u ol.. m coming to guangzhou on 29th of april so i want good massage....so could u suggest me..
Hi Jai, it is quite easy to find one in down town Guangzhou.
Whitney Liao Replied on 2013-04-22
Q:
Nor
Asked on 2013-04-14
Reply
Hello,We''re planning to take the Pearl River Cruise on 1 May 2013. Can u suggest the best cruise ship and it''s wharf? We can''t decide between Tianzi Wharf or Dashatou Wharf. Thanks.

Hello, Nor how was the trip and how much was it? Was it worth it? I am going to Guangzhou in June 2013. Pls do recomend, thanks. guest Replied on 2013-05-07

Hello Natt, unfortunately, we didn''t manage to take the cruise. We''re delayed in Shenzhen North Station on that day (1 May). It was Labour Day and also Canton Fair! We didn''t pre-book our train tickets to Guangzhou and have to wait for nearly 6 hours to get on the train to Guangzhou. As such, pls plan your trip properly. Below is the cruise that we plan to take for your ref: Cruise name: Dophin No. 1-3F Dock name: Dashatou Wharf Cruise time: 18:30~ 20:30 Ticket price: USD 25 per ticket Total cost for 2 ticket: USD 56 (included service charge) Cruise won''t stop except there is typhoon. Passenger who seat on roof deck need prepare umberlla himself/herself. The cruise is about 2 hours. Have fun!! guest Replied on 2013-05-07
Hello Sir/Madam, it depends on the number of people. Please check here for tour and price details. Nice day, Whitney Whitney Liao Replied on 2013-05-09
Hi Nor, Dashatou Wharf is better, with more convenient transportation. Sorry, I don't know which cruise ship is the best.
Whitney Liao Replied on 2013-04-15

Thanks Whitney. Really appreciate the info. guest Replied on 2013-04-15
Q:
pavlo
Asked on 2013-04-02
Reply
Hi. Where can I go to watch champions league football live? What pub or bar is open after midnight and shows football. Also close to Gongyuanqian station? Tnk u
Dear Sir or Madam, Jin general, the bus or pub will closed around 1-2 am. I regret that I am not sure if you could see the programm. I also searched on line, I did not find a suitable options for you. Lussie Lu Replied on 2013-04-02
Guangzhou Travel Guide