4 Ways to Explore Yangshuo Countryside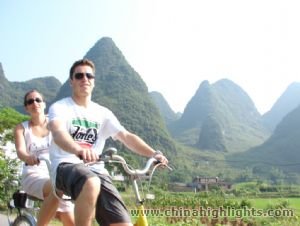 Biking in the wild nature in Yangshuo
Yangshuo's countryside is known for its idyllic scenery, oddly-shaped hills thrusting to the sky and leisurely local farming life. Visiting Yangshuo's countryside provides a great opportunity to get close to nature and real life in South China's countryside by being introduced into their house.
There are 4 ways to experience this activity, including riding a bike, tandem, electric golf cart, or electric scooter.
Bike
Biking at Yangshuo countryside is the most popular activity, so bikes for rent are available almost everywhere, such as hotels, hostels, shops and bike rental booths. Both regular bikes and mountain bikes are available.
Tandem
Tandems for 2 people are available, very suitable for couples or families. Or if one person does not ride the bike, while the other one can ride (which is more tiring) so both can experience Yangshuo countryside on a bike.
Electric Golf Cart
For those who do not opt to bike, especially in the heat of the summer, taking an electric 'golf cart' is the most comfortable way of sightseeing in Yangshuo's countryside. The golf cart can seat 6 people excluding the driver. It is electricity-powered, open at the sides but has a canopy to protect passengers from the sun and rain.
Electric Scooter
An electric scooter is like a motorcycle, but electricity powered with much less noise. It is much faster and takes less strength than a bike, and yet you still take control than an electric golf cart. Many of our customers find riding an electric scooter a new and exciting experience.
Riding Tips
Try riding a bit to see if there's any problem with the bike before you rent it.
Do not leave your belongings just on the basket in front of the bike. Tangle the bag strap on the handle bar.
Bring water and snacks in case you need these. Wear sunglasses, sunscreen and hat in summer.
Wear comfortable but not slippery shoes.
Further Reading
Questions and Answers About 4 Ways to Explore Yangshuo Countryside
April Offer $25 Coupon
Send your inquiry before Apr. 30, 2014, and we will email you a $25 coupon.
The coupon is valid till Dec. 31, 2014, for paying tour packages worth $250 or up.
The coupon cannot be used for paying flight tickets, train tickets, hotel rooms and day trips.
Travel Advice or Question? Ask us here

China Highlights
Guilin Travel Guide