Guilin Food
Guilin cuisine is a combination of Cantonese and Hunanese styles. It is characterized by its sweetness and the delicate use of spices, particularly chili. Many foods are have a sour or spicy taste. Stir-frying and steaming are the most common cooking methods of Guilin Cuisine. Wild plants and animals, which are rarely eaten in the West, are sometimes found in Guilin Cuisine.
Click here to see the list of best Guilin restaurants and bars.
The following dishes are considered to be traditional dishes in Guilin:
Lipu Taro and Pork Loaf (Lipu Yutou Kourou)
Lipu Taro and Pork Loaf is a famous traditional dish of Guilin. This dish, which is popular at weddings and other celebrations, gets its name from Lipu (a county in the south of Guilin Prefecture). It is made with taro and streaky pork with meat, fat and skin. The meat is first cooked, then steamed with the taro, pepper, mashed onion, preserved Guilin bean curd, cooking wine, sugar and other condiments.
Steamed Li River Fish (Qingzheng Lijiang yu)
The most important feature of steamed Li River fish is its tenderness. When you put the fish in your mouth, you don't even have to chew because it will melt itself and give you the best taste of fish you've ever eaten. Accompanied with a special sweet sauce, the steamed fish appears to be the best choice for people who prefer lightly flavored food.
Gingko stewed with Old Duck (Baiguo Dun Laoya)
This is one of the most famous and popular dishes in Guilin, and it often appears on family dinner tables. The most important ingredients are old duck and gingko (baiguo), which is a famous Chinese medicine. Stewing makes the soup tasty and nutritious.
Chicken and Gecko Stew (Gejie Dun Quanji)
The ingredients include a young chicken, two geckos, some lichee, and several pieces of ham. The gejie is a large nocturnal gecko, which eats insect, birds and small snakes. It is on the secondary national protected species list.
Stir-Fried Beef With Bamboo Shoots (Dongsun Chao Niurou)
Cooked using the freshest young bamboo shoots, beef and agarics (mushrooms).
Lotus Leaf Braised Duck (Guilin Heye Ya)
Deep-fried duck covered with a fresh lotus leaf, then braised, served with some pork, shrimp, mushroom and preserved ham.
Yangshuo Beer Fish (Yangshuo Pijiu Yu)
Fish from Li River cooked in a local beer with some local vegetables is very popular in Yangshuo. The fish will contain bones and is served whole, but the meat tastes delicious.
Guilin Rice Noodles (Mifen)
Taking pride of place as the most popular local snack (or breakfast, lunch or dinner) in Guilin, mifen is pliable but strong, fragrant and mellow, and cheap (2.5 yuan for a bowl). Guilin rice noodles can probably be found within 100m of any town or city area. Read more on Guilin Rice Noodles
Stuffed Li River Snails (Yangshuo Niang Tianluo)
Snail shells are stuffed with minced pork and a small amount of vegetables and mint, and then cooked in a light sauce. They're often a little spicy.
Sponge Cake (Fa Gao)
It is a traditional snack in Guilin. They are usually eaten at happy events to represent best wishes and blessings for a happy life. The Chinese fa gao (sponge cake) has the same pronunciation as words that mean to grow taller or become higher, which again has the deeper meaning of becoming more successful and prosperous. The main material of the sponge cake is sticky rice and polished japonica rice. They are soft and delicious, with a pleasant fragrance.
Water Chestnut Cake (Mati Gao)
The cakes are shaped like a horse's hoof, which is another meaning of mati (water chestnut). They are made of water chestnut, flour, sugar and milk, with cocoa as dressing. They are usually sold in the cool season.
Bowl Cake (Wan Gao)
It is mainly made of sticky rice flour, polished japonica rice flour and brown sugar. The bright food coloring is like a flower at the top of the cake.
Pickled Vegetable (Pao Cai)
Pickled vegetable often means pickled Chinese cabbage or pickled white radish, but carrots and chilies may also be served up pickled with vinegar and sugar. Pickled vegetables have a sweet and sour taste and are served as an appetizer at some restaurants.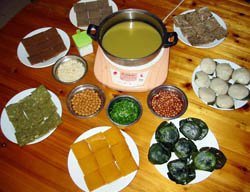 Oil Tea is a distinctive flavor of Guilin. Every county of Guilin has people who regularly drink oil tea; however the most famous oil tea drinkers are the Yao people of Gongcheng.
Oil Tea (You Cha)
Oil tea is prepared by frying tealeaves with garlic, salt, ginger, chili, possibly other ingredients and of course oil (usually peanut oil) in a wok. Water is then added and the mixture boiled. The tea, which is more like a broth, is poured through a wickerwork sieve (or tea strainer). The leaves in the strainer may be pounded with a hammer-like wooden pestle to release the flavor. Oil tea has a greeny-gray color and a strong taste.
It is good for waking one up in the morning due to the caffeine content. It is drunk or spooned from bowls, and what in the West might be regarded as breakfast cereals – puffed rice and cereal balls, along with crispy fried dough sticks and peanuts - are added to the broth.

China Highlights
Planning a trip? Ask us here 800-2682918 (USA & CA)
86-773-2831999 (Int'l)
Q:
faiz
Asked on 2012-11-09
Reply
any halal food for Muslim?
Hi Faiz, there is one in Zhengyang Pedestrian Street. It is right beside the Shenlu Rice Noodle神卤米粉, very easy to find.
Whitney Liao Replied on 2012-11-13
Q:
K L Cheng
Asked on 2012-07-26
Reply
I am planning a gourmet trip with my family of 4 to Guilin. Please advise me where to stay and where to find all the good and tasty food.
Dear K L Cheng, welcome to Guilin and taste all the delicious foods here. You can stay in Lijiang Waterfall Hotel, Guilin Bravo Hotel or The Sheraton Guilin, they are all located in the city center and with easy access to the restaurants nearby. Hotels in Guilin please check here: http://www.chinahighlights.com/hotel/guilin-hotels/
You can also go to every county to taste their local cuisine, e.g. the Steamed Li River Fish in Yangshuo, the most beautiful and popular county in Guilin, also the terminal of the Li River Cruise. If you would like, I will be very glad to design a gourmet & relaxation trip for you. Please feel free to contact me if any service you need from us. Have a nice day! Whitney whitney@chinahighlights.net
Whitney Liao Replied on 2012-07-27
Q:
S.F.YIP
Asked on 2012-06-15
Reply
I plan to visit Guilin on Dec this years. what is the weather at that time. What are the foods to be recommended for us to test.
Hi YIP, Dec. is a winter month in Guilin. It rarely snows in Guilin, though it feels very cold with the dampness. There are sharp rises and falls of temperature within a few days. It can still be very pleasant when the sun is out. Low temperatures can approach zero (32 °F), but on warm days the thermometer can reach the high teens (60+ °F). Prepare down jackets, thick jeans, sweaters, scarves and umbrella. Locals wear thermal underwear all winter as there is no heating in most places. Winter is the low season, so Guilin is less crowded and it is cheaper to travel. Guilin rice noodle, Lipu Taro and Pork Loaf ,yangshuo beer fish are recommended food here. Do you need us to arrange a Guilin tour for you? Regards, Coco Coco Yang Replied on 2012-06-15
Q:
Kathleen Toh
Asked on 2010-10-21
Reply
I will be visiting Guilin soon, can i know where to find Halal food (food without pork).
Most Islamic restaurants in Guilin are located in the Ximen (West Gate) Bridge area. You can take bus No. 22 from the railway station or No. 26 from the city center to get there. Recommended restaurants are as follows: Anhua Restaurant, or Anhua Shifu (安华食府 means Anhua (probably someone's name) Food House) Address: 9 Minzhu Road Tel: 0773 3831570 Fax: 0773 5810667 Branch Address: 9 Qixing (Seven Star) Road Tel: 0773-5810960 Guilin Islamic Restaurant, or Guilin Yisilan Fandian (桂林伊斯兰饭店) It is owned and run by the Islam Association of Guilin and five mosques. It belongs to all the Muslims in Guilin and provides high quality food. Address: 55 West City Walking Street (Xicheng Buxingjie), Guilin Tel: 0773-2819737 Contact: Mr Ma Chengrong Chaozhen Dian (朝真殿 means Dynasty True Palace) Address: close to Ximen (West Gate) Bridge Yahefu Xinjiang Restaurant, or Yahefu Xinjiang Fandian (牙合甫新疆饭店) Address: close to Ximen (West Gate) Bridge Ruru Zhou Replied on 2010-10-21
Guilin Travel Guide