Guilin Oil Tea
Oil tea is a distinctive flavor of Guilin. It originates from ethnic people living in mountainous areas, who make and drink oil tea to freshen up and keep warm in winter. Oil tea has a greenish brown color and a strong taste. Like durians, people either like it or hate it.
Lots of people like drinking oil tea in the Guilin city area and its surrounding counties, however the most famous oil tea drinkers are Yao people in Gongcheng County. Another place to drink authentic and quality oil tea is Longsheng County (e.g. at Longji's Rice Terraces), which also has a Yao population.
How Oil Tea is Made
As its name implies, the two most important ingredients of oil tea are oil and tea. Oil tea is prepared by frying tealeaves with garlic, salt, ginger, chili, and possibly other ingredients in an iron wok.
Oil is added to fry the ingredients, and the mixture is pounded with a hammer-like wooden pestle to release the flavor. Water is added and boiled for a while with the mixture, till the broth (oil tea) is ready and poured through a wickerwork sieve (or tea strainer).
How to Drink Oil Tea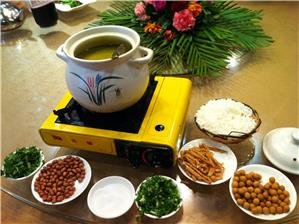 Guilin Oil Tea
At oil tea shops, oil tea is served hot in a small kettle or thermos jug, together with bowls, salt, and plates of puffed rice, chopped scallion, coriander, and crispy peanuts. Like preparing breakfast cereals in the West, when preparing oil tea, put the stuff from the plates and bowls (according to your taste) into your bowl, add hot oil tea and mix. The taste of oil tea is unique and strong: it tastes a little bitter in the beginning, but less bitter or even a little sweetish after it absorbs the sweetness of puffed rice.
Very few people would drink oil tea by itself — they usually order various fried dishes, cold dishes and snacks alongside oil tea, thus making it a breakfast or meal. Fried dishes include stir-fried vegetables, fried rice, fried noodles, and fried potato slices, among others. Cold dishes are usually black fungus, potato slices, peanuts, fern root noodles, pickled radish or kelp slices tossed in sour sauce with a chili topping. The choices of snacks are various, such as small pumpkin cakes, steamed buns, and various flavors of baba (pounded flat glutinous rice cakes, usually with a filling).
Hotpot is one of the most popular Chinese dishes. Oil tea can be used as the broth to make a hotpot with a unique flavor. Usually mild-flavored meat like fish or chicken is used for an oil tea hotpot.
People with sleeping problems are advised to avoid drinking oil tea for dinner, because the caffeine in the oil tea might keep you up.
Where to Drink Oil Tea
Being cheap and nutritious, oil tea brings friends and family together to eat and have a good time together. At oil tea shops, you will often see groups of people sitting together around a table, chatting and laughing, while enjoying oil tea, dishes, and snacks.
If you just order oil tea, the fee is usually 2 yuan per person. The environment of oil tea shops is very basic and simple, mostly without air-condition, but it is a good place to mingle with local people. At some streets you will find several oil tea shops, such as Zhonghua Road (behind Jingjiang Prince Mansion and Solitary Beauty Peak), Sihui Road (opposite Guilin Christian Church), and Longzhu Road (near Folded Brocade Hill). Our recommendations are:
Tangji Oil Tea Shop 唐记油茶店: 34-3 Yiwu Road, next to Affiliated Hospital of Guilin Medical University(翊武路34-3号,桂林医学院附属医院旁)
Laohu Oil Tea Shop 老胡油茶店: 2-4 Rongyin Road, behind Ancient City Gate (榕荫路2-4,古南门后面)
Xiaoya Oil Tea Fish Hotpot Shop 小丫油茶鱼: Sanhuang Road, opposite Guilin No. 13 Middle School (三皇路,桂林十三中学对面)
For a truly rustic taste of oil tea in its original setting, you could make a trip to Gongcheng, most famous for its Peach Blossom Festival, usually around March, though September is a good time to go to the tourist villages of Sheshan or Hongcun to see the expansive persimmon orchards laden with fruit.
Or more popular would be a trip to the rice terraces of Longsheng, where you can stay in hotels that are like (and often are) the local's houses, or even make oil tea with local farmers. See our Longsheng hiking video on the right. Contact us to create a China tour to suit your requirements.
Questions and Answers About Guilin Oil Tea
Goh sock sin
2011-12-11
Show Answer
We are going to Guilin from dec19 to dec 24. What is the weather like? Any special local delicacy to try. We are Chinese from Malaysia. I heard that is a Guilin waterlake show. Is it available during this period. Also any other places of interest
Hi Goh I guess you mean the Impression Sanjie show in Yangshuo of Guilin. It is no problem to see it during this period. It is an ourdoor show, and Guilin is a little cold now, the temperature is around 10 centigrade, so please prepare thick clothes to prevent the low temperature and strong wind. Li River cruise, Elephant trunk hill, Reed flute cave, moon mountain are all places of interests in Guilin. Why not send your inqure to my email: william@chinahighlights.net, let me know what class of hotel you want, how many people in your group, and when do you arrive and depart Guilin. William Huo Travel Advisor William replied on 2011-12-12
April Offer $25 Coupon
Send your inquiry before Apr. 30, 2014, and we will email you a $25 coupon.
The coupon is valid till Dec. 31, 2014, for paying tour packages worth $250 or up.
The coupon cannot be used for paying flight tickets, train tickets, hotel rooms and day trips.
Travel Advice or Question? Ask us here

China Highlights
Guilin Travel Guide