Longji Terraced Fields
Longji's terraced fields offer some of the most fantastic scenery in Guilin or indeed China. Beautiful when the sun reflects in the water of the paddy fields and glowing with yellow ears when the harvest is ripe, Longji (Dragon's Back) is a feast for the eyes. The rice terraces are built into the hillsides, and look like great chains or ribbons as they wind round the contours in tiered bands. In some places there are terraces from the bottom to the top of the hillside.
This ingenious irrigation method makes the best use of the scarce arable land and water resources in this mountainous area. There are about 66 square kilometers of terraced fields in southeast Longsheng County.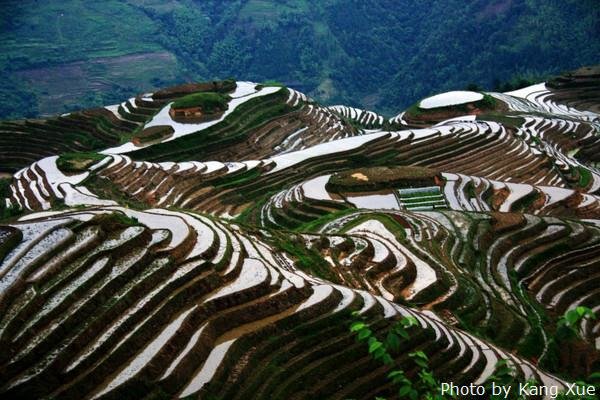 The Longji Terraces in spring
Brief History
The Terraces were first built in the Yuan Dynasty (1271–1368) and were completed in the Qing Dynasty (1644–1911) by the Zhuang people and Yao people.
Tourism

The most popular terraced fields are the Jinkeng Red Yao terraced fields and the Ping'an Zhuang terraced fields. By comparison, the Ping'an Zhuang terraced fields were developed much earlier, and are more touristy and crowded, but the Jinkeng (Dazhai) Red Yao terraced fields are more spectacular and quiet.
In Ping'an's Zhuang Villages and Jinkeng's Yao Villages, there live the Zhuang and Yao minorities. They keep their own cultures and live in their old wooden houses.
The terraced fields have three entrances: Ping'an Village, Longji Ancient Zhuang Village and Dazhai Village. There are direct buses from Guilin to each entrance. You can choose the most convenient one. If you wish to go back to Guilin on the same day, it is suggested that you leave the scenic area before 15:00.
Longji Rice Terrace refers to several village areas spanning across Longsheng County, about 2 hours northwest of Guilin. The major ones include Ping'an, Dazhai, Ancient Zhuang Village, Huangluo Yao Village, and Tiantou Village. It is not necessary to visit all of these sites. Read below and choose the ones that are suitable for you.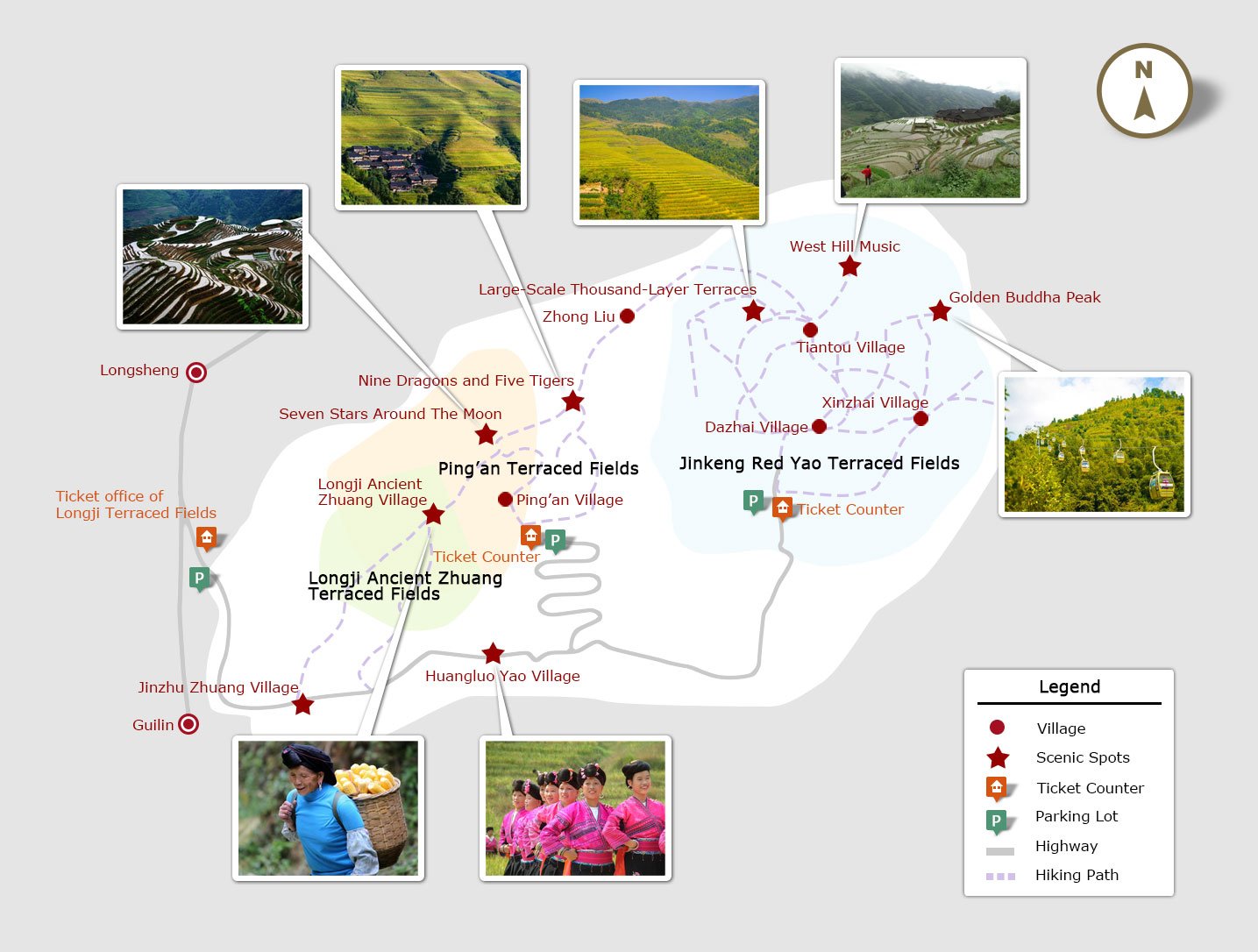 Ping'an Zhuang Village Terraced Fields 平安壮寨梯田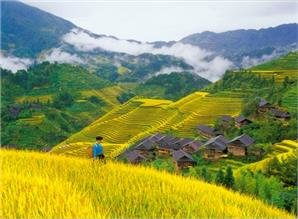 Longji Rice Terraces in autumn
Ping'an Zhuang Village Terraces are the earliest and most developed terraced fields in Longsheng and are, not surprisingly, the most touristy ones. The rice terraces there are the largest in scale.
The village is well-equipped with modern service facilities, where dining, accommodation and transportation are very convenient with over 80 hostels and hotels available, with Li An Lodge and Longji Star Wish Resort being the two best.
The Ping'an Zhuang villagers live in three-story stilted houses raised on piles over the surface of the ground. Outside the village, the terraced fields stretch from the bottom to the top of the mountains, which take on different looks seasonally. The terraced fields look like silver ribbons in spring, green waves in summer, golden towers in autumn and flying dragons in winter.
Attractions
The major attractions near the village are Seven Stars surrounding the Moon (Qi Xing Ban Yue 七星伴月), Nine Dragons and Five Tigers (Jiu Long Wu Hu 九龙五虎), and Two Dragons Frolicking with a Pearl, all of which are favorite haunts of artists and photographers alike.
Seven Stars Surrounding the Moon is comprised of seven small piles which were left when the area was developed. The piles stand separately in the middle of seven fields. It looks like there are seven shining stars guarding the moon-like field from afar. It is a perfect place for photography which can't be missed.
Nine Dragons and Five Tigers or just Nine Dragons refers to nine ridges which have branched off from the main vein. Along the terraces, you can see that the ridges look like nine dragons bending over to drink the water in the Jinsha River. Alongside, there are five tiger-like piles, guarding the beautiful land. Read more on Ping'an Zhuang Village Terraces.
The nearby Longji Old Village is also interesting. There are golden corns hanging under the roof of every family which is a sign of harvest.
Transportation
Location: Ping'an Village (Ping'an Zhai 平安寨) is 8 km east of Heping Township in Longsheng, 95 kilometers (59 miles) from Guilin, about two and a half hours' drive, by the less direct route.
We can arrange a private van and driver for you, with a private English speaking tour guide. Taking private transport directly there (missing out Longsheng County Town) takes less than 2 hours.
If you wish to go alone, you can take the express bus from Guilin to Longsheng County Town first. The price is 40 Yuan. It takes two hours. There are lots of buses from Guilin Bus Station to Longsheng which are available every 15 minutes.
The road from Guilin to Longsheng is under construction and traffic jams may happen at times. An early departure is recommended for day trips to Longji terraced fields to ensure that you can return the same day. You could get off at Heping Township to save some time, and get a bus from there to Ping'an.
Then take another bus from Longsheng to the Ping'an (Longji) Parking Lot. The price is 15 yuan and the duration is about an hour. After that, you need to walk for another 20 minutes to get to Ping'an Village. The route back is the same but do pay attention to the departure time. The last bus from Ping'an Parking Lot to Longsheng departs at 16:30. Don't miss it.
Direct buses are also available from the Guilin Train Station, but you may need to ask where to find them and bargain in Chinese.
The uncut stone path uphill has many twists and turns, and some sections are steep, so please mind your step when hiking. From Ping'an Parking Lot to 'Seven Stars Surrounding the Moon' on the mountainside above Ping'an takes about 40 minutes on foot.
Longji Ancient Zhuang Village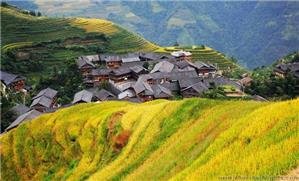 Longji Ancient Zhuang Village
Ancient Zhuang Village is the most traditional and least affected Zhuang minority village in Longsheng. It is the option for those who are interested in history and culture.
The village boasts the oldest and the largest stilted building complex in Guangxi Province, most of which are more than 100 years old. With a history of over 400 years, the village is home to 200 households of over 1,000 Zhuang people. Their costumes are vigorous and brilliant.
Architectural Attractions

It features its well-retained architectural buildings of the Ming (1368-1644) and Qing (1644-1911) dynasties, highlighted by the 'three fish with one head' stone bridge, Longquan Pavilion, the Site of the Military Camp, the Clean and Honest Politics Stele (Lianzheng Stele) and water mills. The village is very big and may take half a day to explore.
The stone bridges are their most special feature. Among the 20 kilometers of terraces, there are around 300 stone bridges, of which 57 are in Longji Ancient Zhuang Village. On the bridges, lotuses, swords and eight trigrams were carved. The most typical one is the "Three Fish Share One Head" which was carved on the Wind and Rain Bridge in front of the village administrative office.
Travel Essentials

Location: Ancient Zhuang Village (Guzhuang Zhai 古状寨) is situated 5 km east of Heping Town, and 3 km southwest of Ping'an Village; 75 kilometers (47 miles) or two hours' drive from Guilin, in Longsheng County.
Transport: Take a Bus to Longsheng County Town, or Heping District Town, then another bus up to Guzhuang Zhai. It's about 8 km on a mountain road from Heping (different to, and about 200 meters further on on the right, from the road to Ping'an and Dazhai). Alternatively hike there from Ping'an in about an hour.
Jinkeng Red Yao Terraced Fields 金坑红瑶梯田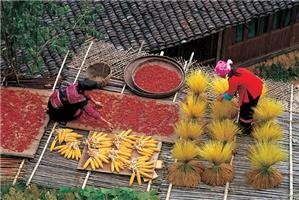 Local women dry their crops and chilis on the roof
The Jinkeng Terraces hold several Yao villages: Dazhai, Tiantouzhai, Zhuangjie, Xinzhai, and Xiaozhai. The main attractions and accommodation are located in and around Dazhai ('Big Village') and Tiantou ('Field Head') Village. Tiantou Zhai is near the first view point. Dazhai is between the second and third view points.
The main three attractions are view points scattered in the shape of a half circle.
The first view point is at 'West Hill Music' (Xishan Shaoyue 西山韶乐): it is slightly far away from the second and third sightseeing points. It is the highest point (with an altitude of 1,180 meters) and the vision there is the broadest. You can see the sunrise and sunset there. It takes two hours to get there on foot. More than 90% of the pictures in albums of the Longsheng Terraces are taken at Xishan Shaoyue view point near Dazhai.
The second view point is at Dajie Thousand-Layer Terraces (Dajie Qiancent Titian 大界天层天梯). It is relatively low and easy to climb to as the path condition is good. The terraces are fantastic and you can see the Yao people's houses from there. It is an excellent place to see a sunrise. Read more on Jinkeng Red Yao Terraces
The third view point at the Golden Buddha Peak (Jinfo Ding 金佛顶): it is the best place to take photos of a sunset. There is a cable way from the bottom of the rice terraces to the peak – Golden Buddha Peak – one of the best scenic viewing spots, which is very convenient for those who are not good at walking. The cable way takes travelers to the top in 20 minutes as opposed to three hours of walking.
Transportation
We can arrange a private van and driver for you, with a private English speaking tour guide.
If you wish to go alone, you can take the express bus from Guilin to Longsheng County Town first. The price is 40 yuan and it takes two hours. There are lots of buses from Guilin Bus Station to Longsheng which are available every 15 minutes.
Then take a bus from Longsheng to Dazhai Jinkeng Terraces. The price is 15 yuan and the duration is around one hour. Dazhai is located east of Longsheng, north of Ping'an Village, 77 kilometers (48 miles) from Guilin, taking approximately two hours' drive. Direct buses are also available from the train station, but you may need to look for them and bargain.
Dazhai Red Yao Village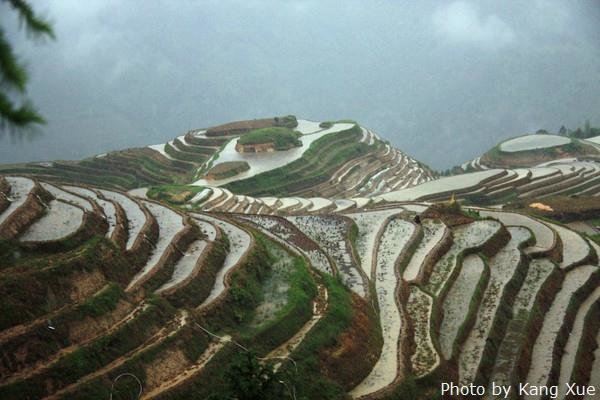 The terraced rice fields above Dazhai Village in Spring
Dazhai is quieter and far less crowded than Ping'an. The terraced rice fields and the village are more natural with less of the distractions of the tourist facilities – hotels, restaurants and souvenir stalls – found in Ping'an. There are 275 households of 1,222 people living in the village, 98% of whom are Yao ethnic people.
The terraced fields are left by Yao ancestors, maintained and modified from one generation to another, resulting in the present magnificent 'Dragon-Backbone' (Longji) fields we see today. Seen from the village, you can appreciate the Golden Buddha Peak, where the terraced fields wind their way like a huge dragon.
Over 30 hotels are available in the village.
Except for the scenery, another highlight of Dazhai is a family visit. People in the village live in their traditional way, little affected by the arrival of tourists. Visit a local family and get a glimpse of their simple local lifestyle.
Huangluo Red Yao Village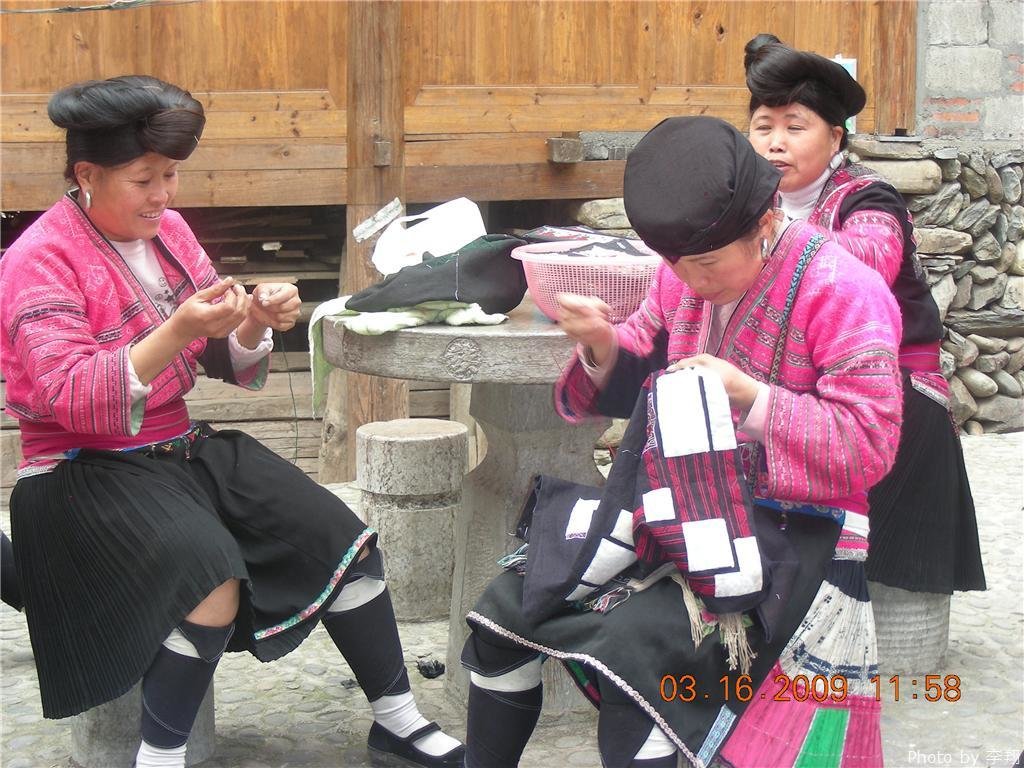 Yao women making traditional clothes
Known as the 'World's First Long Hair Village', Huangluo Red Yao Village is where over 60 Yao households of over 400 people live harmoniously.
It is a tradition for girls to wear long hair in Huangluo, and over 60 girls have over one-meter long black hair. The longest is 2.1 meters. It is said that this village holds the Guinness World Record for the group of longest hair.
Attractions

The warmhearted and hospitable Yao villagers are good at singing and dancing; they sing sweet mountain songs to welcome visitors from far and near. In addition, the 'long-hair show', 'red-stick dancing' and 'umbrella dancing' are performed in the village.
You can tell a woman's marriage status from her hair. An unmarried woman should pack all of her hair in a cloth. You are not able to see her hair A married woman will also pack her hair, but will leave a bun outside.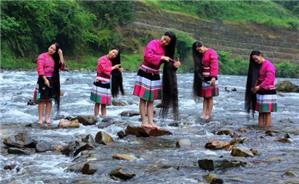 The village's women show their long hair.
The main highlights in the village are the women's long hair and the village traditions and shows; however, it is very touristy. If you are looking for something less staged, skip it.
Travel

Location: Huangluo Red Yao Village (Huangluo Hong Yao Zhai 黄洛红瑶寨) is in Longji Terraced Fields Scenic Area, 1 km south of Ping'an and 6 km east of Heping Town, Longsheng, 87 kilometers (54 miles) from Guilin.
Transport: Take a bus to Longsheng County Town, or Heping District Town, then another bus up to Huangluo Zhai. It's about 10 km up the winding but surfaced road from Heping to Ping'an and Dazhai, 1.5 km before the Ping'an turn off. Alternatively take a direct bus to Ping'an (see above), drop off your luggage, and hike down from Ping'an in about 15 minutes; or simply get off the Ping'an transport at Huangluo.
Tiantou Red Yao Village
Tiantou is located half way up from Dazhai to Xishan Shaoyue ('West Hill Music') and the 'Thousand-Layer Terraces'. 'West Hill Music' is the highest part of the rice terraces, at 1,100 meters above sea level, and the best place to take photos of the terraced rice fields.
Accommodation around Tiantou has the best views, and is the most sought after. 'Full Panorama Hotel' (Quanjinglou 全景楼) and 'Many-View Hotel' (Wanjinglou 万景楼) are the two best hotels to see the terraced rice fields from.
Travel Essentials
Best Times to Visit
From mid-April to mid-June the fields are well-watered and you can see water glittering in the sun in spring.
From July to mid-September it is the growing period for the grain seedlings. You will see green and vigor everywhere.
From September to early October, the rice on the fields is ripe; you will see layers of carpets of golden yellow. Farmers can be seen harvesting in the fields from around October 1st to 15th.
You will see nothing more than the plain scenery of brown empty fields (and maybe snow) from October 15th to April.
Entry Cost
80 yuan per person includes the entrance fees to Ping'an and Dazhai Jinkeng scenic areas. The ticket is valid for two days. Children over 1.4 meters require the full price, but it is free for those under 1.4 meters in height. The tickets have been made in the style of postcards which you can keep or send to your friends. Going to Huangluo Yao Village (Hongyao Long Hair Village) requires an extra 60 yuan per person.
Luggage Carrying Service
If you have heavy luggage, you can have it stored at the entrance of the scenic area. The price is 30 yuan per piece.
The local people will enthusiastically offer to help you with your luggage and to guide you to your hotel. If you have one, your tour guide will help you negotiate the price with them first. From Dazhai Village to Tiantou Village is about 30 yuan per basket; to the highest view point (Xishan Shaoyue) is 40 yuan per basket.
Accommodation
The accommodation is mainly around Ping'an, Dazhai, and Tiantou. It is quite basic. Most of the hotels are local stilted buildings, with a limited hot water supply. Some of the rooms have washrooms, some don't. You can really experience local life if you stay in a guesthouse.
Don't Get Lost
As the fields are built into the hillsides, the best and also the only way to view these fields is by walking up the steep mountainsides. Scenery-viewing platforms are built at the terrace tops to take in the great views.
There are a considerable number of small paths, which may easily lead to getting lost, so a tour guide may be necessary to help you find the right way, especially if you hike for a long distance. There are many good hiking trails between the villages. A more challenging route is from Ping'an to Dazhai, which takes about 4–5 hours on narrow mountain paths. See Longji Terraced Fields hiking guide.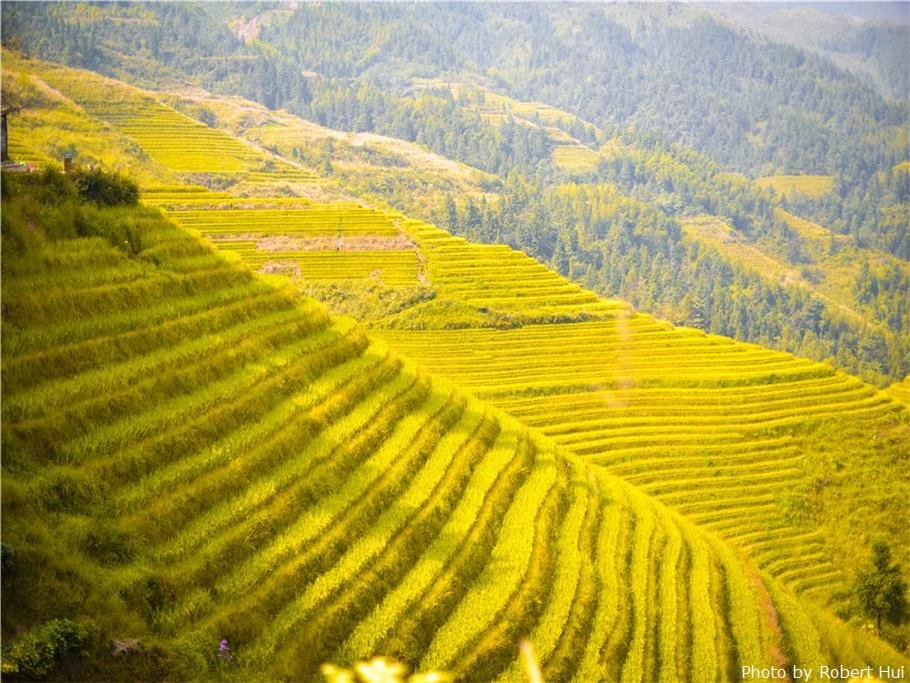 The Rice Terraces are an excellent place for photography.
Photography at the Longji Rice Terraces
Longji Rice Terraces are great scenery for photography. Check out our Photography Tips and Locations in Guilin.
Ask for permission first before taking photos of the locals, as they like to charge you for the privilege.
Further Reading
Questions and Answers About Longji Terraced Fields
Lam
2013-10-15
Show Answer
I understand that there are 2 buses daily leaving Ping An village to Guilin. Where and which station will the bus end in Guilin?
Hello Lam, There is no direct bus which departs from Ping'an to Guilin. However, some buses pass by Ping'an to Guilin. Those buses usually end at Guilin Bus Terminal. Vivi guest replied on 2013-10-15
mandylee
2013-06-25
Show Answer
How much is the join in group tour to Longji for 1 day tour?
Hi Mandylee, it is CNY452(USD74) per person. Lunch is included. When would you like to take it, please?
Whitney Liao replied on 2013-06-26
rieks hampsink
2012-04-21
Show Answer
Hello,We (my 2 sons and myself; 3 adults) arrive at Guillin airport on thursday july 12. We booked a flight through your organsiation from Kunming (120421039).We would like to visit the Longji terraced fields. Can you arrange transport from Guillin to Longji, accommodation for the night and a return on friday 13th. A possibillity is also only the tour to Longji on friday 13th. And for us staying the night(s) in Guillin
Kaja
2012-03-06
Show Answer
Me and my husband want to visit either the Ping''an or Jinkeng part of the rice terraces in Longshen this coming weekend, we are flying in to Guilin. Which part is easier to get to by public transport? And is there any easy way to get there from the airport or do we have to go to central Guiling first? Any recommendation on a nice scenic place to stay overnight near the terraces? Any info about how to get there and around will be hugely appreciated! Thanks :)
Hi Kaja, You can first take a taxi from the airport to Guilin Qintan bus station( 琴潭汽车站), then take a bus to Longsheng from there. It will be about 3 hours bus trip, the ticket price is abot RMB25. There are lots of hotels in the rice terrace, Longji Star Wish Resort is suggested. The price is from $71 per night per Merry Home, including breakfasts. Or you can see more here: http://www.chinahighlights.com/hotel/longsheng-hotels/ Regards, Coco Coco Yang replied on 2012-03-07
Martin
2012-02-26
Show Answer
Are there any entrance fee to enter or visit Longji? Which particular part is recommended to visit if I only have 1 day in Longji?
Yes, entrance fee is 50 yuan per person. we recommend either Ping'an or Jinkeng part if you have just one day. we can arrange tour to there, please let me know if you need any help. Leon Long replied on 2012-02-27
April Offer $25 Coupon
Send your inquiry before Apr. 30, 2014, and we will email you a $25 coupon.
The coupon is valid till Dec. 31, 2014, for paying tour packages worth $250 or up.
The coupon cannot be used for paying flight tickets, train tickets, hotel rooms and day trips.
Travel Advice or Question? Ask us here

China Highlights
Guilin Travel Guide