Longji Terraced Field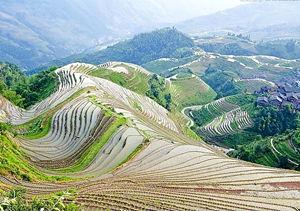 Longji's terraced fields offer some of the most fantastic scenery in Guilin or indeed China. Beautiful when the sun reflects in the water of the paddy fields and glowing with yellow ears when the harvest is ripe, Longji (Dragon's Back) is a feast for the eyes.
The Longji Terraced Fields are located in Longsheng County about two hours from Guilin. The rice terraces are built into the hillsides, and look like great chains or ribbons as they wind round the contours in tiered bands. In some places there are terraces from the bottom to the top of the hillside.
This ingenious irrigation method makes the best use of the scarce arable land and water resources in this mountainous area. There are about 66 square kilometers of terraced fields in southeast Longsheng.
The Terraces were first built in the Yuan Dynasty (1271-1368) and were completed in the Qing Dynasty (1644-1911) by the Zhuang people and Yao people.
As these fileds are built into the hillsides, the best and also the only way to view these fields is by walking to the mountain top. A scenery-view platform is often built at the mountain top to take in the great view. See Longji Terraced Fields hiking guide.
Waterfront Hotel, in Ancient Zhuang Village is a great place to live in if you want to spend a night in Longji Terraced Fields.
China Highlights has prepared a spring promotion tour including a visit to Longji Terraced Fields: Longsheng Terraced Field & Yangshuo Combo, a 4-day trip from only $415 USD.

Photography of Longji Rice Terraces
Longji Rice Terraces are great scenery for photography. You can check out our elaborate Photography Tips and Locations in Guilin to design your photography tour to Guilin including the rice terraces.
Also Read Best places for spring photography.
Note: Now the road from the shuttle bus station to Ping'an Village is under construction. The rains make it even more crowded. You can visit Ancient Zhuang Village instead. The scenery there is also gorgeous.
Latest Tips on Longji Terraced Field
When tourists reach the foot of the hills (entrance to the scenic area), they are required to get off their own vehicle and change to the scenic area's shuttle bus to get to the village.

China Highlights
Planning a trip? Ask us here 800-2682918 (USA & CA)
86-773-2831999 (Int'l)
Q:
rieks hampsink
Asked on 2012-04-21
Reply
Hello,We (my 2 sons and myself; 3 adults) arrive at Guillin airport on thursday july 12. We booked a flight through your organsiation from Kunming (120421039).We would like to visit the Longji terraced fields. Can you arrange transport from Guillin to Longji, accommodation for the night and a return on friday 13th. A possibillity is also only the tour to Longji on friday 13th. And for us staying the night(s) in Guillin
Q:
Kaja
Asked on 2012-03-06
Reply
Me and my husband want to visit either the Ping''an or Jinkeng part of the rice terraces in Longshen this coming weekend, we are flying in to Guilin. Which part is easier to get to by public transport? And is there any easy way to get there from the airport or do we have to go to central Guiling first? Any recommendation on a nice scenic place to stay overnight near the terraces? Any info about how to get there and around will be hugely appreciated! Thanks :)
Hi Kaja, You can first take a taxi from the airport to Guilin Qintan bus station( 琴潭汽车站), then take a bus to Longsheng from there. It will be about 3 hours bus trip, the ticket price is abot RMB25. There are lots of hotels in the rice terrace, Longji Star Wish Resort is suggested. The price is from $71 per night per Merry Home, including breakfasts. Or you can see more here: http://www.chinahighlights.com/hotel/longsheng-hotels/ Regards, Coco Coco Yang Replied on 2012-03-07
Q:
Martin
Asked on 2012-02-26
Reply
Are there any entrance fee to enter or visit Longji? Which particular part is recommended to visit if I only have 1 day in Longji?
Yes, entrance fee is 50 yuan per person. we recommend either Ping''an or Jinkeng part if you have just one day. we can arrange tour to there, please let me know if you need any help. Leon Long Replied on 2012-02-27
Q:
Anne Teo
Asked on 2011-03-07
Reply
I would like to go from yangshao to Longji. Are there buses that go ther. How much. Any tours. How long to spend in Longji? Any good accommodation
Hi, I think you'd better to join our Seat-in-coach day trip to Longji, because there is no bus go directly to Longji from Yangshuo. You need to go back to Guilin and take another bus to Longsheng from the bus station. Longji Ping'an inn would be a good option for tourists. Thanks for visiting our website. If you want to travel with us please feel free to contact me. KevinMa@chinahighlights.com Kevin Ma Replied on 2011-03-08
Q:
cynthia
Asked on 2010-09-27
Reply
from city centre gulin,to go to longji terrace is how much the fare,is there any transportation besides hiring a tour guide,tks-12th oct 2010 will be there
Hello Cynthia, There are buses from Guilin to Longsheng every 30 minutes, you can take the bus at Guilin bus station, the ticket is about CNY30 (US4.4). Wish you have a nice tour in Guilin! Lee Lee Li Replied on 2010-09-27
Guilin Travel Guide