Wuzhen Water Town
Wuzhen is one of China's ancient water towns, where waterways thread their way through the flagstone streets and alleys. Wuzhen in North Zhejiang Province, is a 45 minute bus ride away from Hangzhou East Bus Station.
The waterways of Wuzhen are kept topped up with water by the adjacent Hangzhou to Beijing Grand Canal, which is still used to supply the dry north with water from the wet south and local goods transport. It was a major transport artery in times gone by, which led to the rise to prosperity of water towns like Wuzhen.
Dong Zha (the East Sector) is basically one waterway, about 400 meters long sandwiched between two streets of original Qing Dynasty (1644-1911) houses. The street on the entrance side has souvenir shops and restaurants and the street on the far side has various museums exhibiting beds, clothes, blue flower printed fabric, etc. There are various exhibitions showing the old way of life in this water town. In the peak season the streets are thronged with Chinese tourists (few foreigners) and the waterway is busy with single-oar skiffs carrying up to six passengers up and down the waterway. Despite being given over to tourism Dong Zha is still inhabited by the original residents who go about their lives among the tourists.
The author found Xi Zha (the West Sector of Wuzhen) a much better experience than that of Dong Zha, and believes most non-Chinese visitors will find Dong Zha interesting, but Xi Zha positively charming. Xi Zha is quieter (during the day) and is more spacious. There is a marsh with a firefly aviary and wooden water-drawing system, and a sizable pagoda at one end by the Beijing Hangzhou Grand Canal. It is similar in layout to Dong Zha with a main waterway and streets either side, but larger at 1000 meters long, with a good number of side alleys, bridges, ancient docks and secondary waterways, which makes it a fascinating place to stroll around.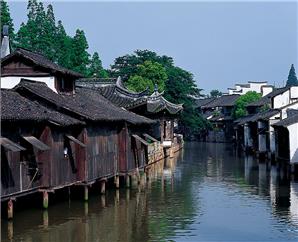 Wuzhen Water Town, Hangzhou
Xi Zha has been rebuilt and renovated in the original style (it is still being constructed (August 2009) in the western corner), with many charming architectural features: colonnades, small bridges, balconies, piers, wooden windows and doors, and gray stone walls and paving. Xi Zha has few local residents and is instead given over to accommodation for visitors. There are three main accommodation providers. The largest and cheapest is Min Su (Wuzhen Guest House), with antique style wooden furnishings and all the modern conveniences including internet access and satellite TV.
To enter Xi Zha visitors need to take a short single-oar ferry ride across a man-made lake. The streets of Xi Zha are lined with guest houses, restaurants, bars and souvenir and arts and crafts shops. Xi Zha has a similar feel to West Street of Yangshuo (the backpackers mecca and highly-developed tourist town in Guilin, South China), but it is less crowded and hasn't really been discovered yet. Xi Zha has the potential to become East China's Xi Jie (West Street).
The karaoke and bars at both ends of the waterway are noisy during the evening, though still little frequented, but the middle of Xi Zha is peaceful. Xi Zha is beautifully lit at night, subtly highlighting various architectural features and the bridges. There is a silent flow of skiffs making night cruises on the main waterway. Xi Zha is well-constructed, tastefully decorated and well-kept. The streets are immaculately clean and even the eaves of the buildings are given a dusting in the mornings. Xi Zha is pleasing to the eye and draws one in - into a forgotten time in China when waterways were used like road and rail, and life was simpler. This resort combines new and old really well.
Wuzhen Attractions
Former Residence of Mao Dun
Mao Dun is a revered writer in modern China, best known for the novel Midnight. His former home is located in the middle part of Guan Qian Street, where he lived his happy childhood. The home is a traditional Chinese style house built during the Qing Dynasty.
Xiuzhen Guan
Xiuzhen Guan is a Taoist temple which was built in the Northern Song Dynasty (960-1127). It is one of three famous Taoist temples on the south bank of the Yangtze River.
Xiuzhen Guan Stage
The stage was built in 1749. In ancient times, farmers around the town came by boat to watch plays. While the play was going on, the spectators would be in boats floating on the waterway.
Roofed Corridor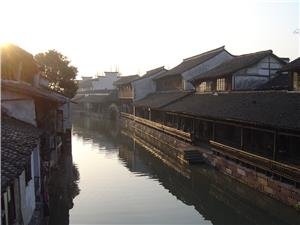 The roofed corridor along the river in Wuzhen Water Town.
A 1000-meter long roofed corridor runs along the bank of the river, which is one of the key architectural features of water towns south of the Yangtze.
Local Housing
The architectural style is from the Qing Dynasty and reflects the traditional lifestyle of the people.
Aged Ginkgo Tree
A ginkgo tree over 1000 years old has witnessed the town's history since the Song Dynasty. Formerly located in the courtyard of General Wu Temple along the river's south bank, its trunk takes three men with their arms outstretched to circle it.
Wuzhen Food
Wuzhen is a good place to treat your mouth well. Big restaurants and small street stalls offer a great variety of local flavors. In some old restaurants such as Jiujiang Lou and Shanyang Guan visitors can try the famous local dish Steamed Pork Slices with Glutinous Rice Flour Wrapped in Lotus Leaves. Travelers can also choose to dine at one of the locals' homes, provided they speak some Chinese. The food is simple, but dining informally at a Chinese family's home may provide a quite interesting experience.
Being a newly opened tourist destination, good quality accommodation is not hard to come by in Wuzhen. To meet the great lodging demand especially in peak season, many hotels and inns have been built in recent years. Many are at the "budget" level (like home stay), but there are also some star-rated hotels and boutique hotels. Hotels are in tight demand in peak travel season, so it is suggested that you place your booking in advance.
Most hotels are located at Xizha (west sector scenic area). There the commercial atmosphere is not as strong as Dongzha (east sector scenic area), and the local daily traditions are still preserved. Search and book Wuzhen Hotels.
Accommodation
Budget Level
The budget level hotels are like home stay. The rooms either face the river or the street. All of these hotels are managed by the scenic spot, and guests cannot contact the hotel owners beforehand. The managing desk is located opposite to Yusheng Restaurant, where there is a computer for you to search for budget-level hotel information. The following hotels we recommend all have platforms by the river, which provides excellent venue for evening dinner and sightseeing: Wen Gu Hotel at No. 17 (it has the largest viewing platform), Fu An Hotel at No. 22 (all the beds are 1.2 meters wide), hotels at No. 45 and No. 49, and Ju Xian Hotel at No. 50. As long as there are vacant rooms, guests usually can appoint a specific hotel at the managing desk.
Star-rated Hotels
Note that the star-rated hotels in Wuzhen do not necessarily mean that they are four or five star hotels. It means they are up to evant star rating standards. We recommend two such hotels.
Tong An Hotel
Tong An Hotel is the largest hotel at Xizha, with full facilities and various room types. Some standard rooms face Yuanbao Lake. The suites were built along the river with antique and elegant decoration. The 6 suites 405-410 are the most impressive because all the suites have a small balcony on the ground floor by the river.
Zhaoming Hotel
Zhaoming Hotel is a newly opened hotel with tranquil atmosphere and verdant trees. There is only one room type – standard room, with the two beds of each room separated by wood-carved windows.
Boutique Hotels
There are three boutique hotels (or club hotels) at Xizha, which are Shinetown, Splendid Clubhouse and Healtown. The rooms are mostly king-bedded. Splendid Clubhouse is the most luxurious among the three. Shinetown featured courtyards. Healtown is the lowest priced among the three.
Transportation
Highway
Shanghai-Wuzhen
On weekends or some major festivals, there are special buses departing from Shanghai Hongkou Football Stadium at 8:00 am or Shanghai Stadium at 7:50 and 8:45 am for Wuzhen. Shanghai West Bus Station also has buses to Wuzhen.
Hangzhou-Wuzhen
There are regular buses running from Hangzhou East Bus Station to Wuzhen. The journey takes about 45 minutes.
Local Transportation
Rickshaws and taxis provide transportation between tourist centers and the bus station in Wuzhen. There is a free bus from the entrance of Xi Zha (Wuzhen West) to Wuzhen Bus station. However, the distance between East Wuzhen and West Wuzhen is only one kilometer, so distances are also very walkable.
Questions and Answers About Wuzhen Water Town
Ellen
2012-12-13
Show Answer
Hi, me and my friend are planning a day trip Wuzhen from Hangzhou (our hotel is near to Hefang street) by ourselves. Can u please advise how we can get to Wuzhen by public transport /train? Meanwhile , when we reached Wuzhen bus/train station, what kind of local transport we should take to reach Xizha and Dongzha. p/s : Pls indicate the bus/station name as it seems there are few bus/train stations in each city. Thank you very much!
Dear Sir or Madam, You could take a bus at Hangzhou bus station(杭州客运中心)located at No.3339 East Desheng Road, Jiubao town (九堡镇德胜东路3339号). It is available from 6:30am to 18:00pm, it takes about one hour and the costs is about CNY30/US$5 per person. The bus arrive at Wuzhen bus station(乌镇汽车站), located at No.521 Qingzhen Road (乌镇青镇路521号). It is about 800 meters from Wuzhen bus station to Dongzha and 1.5 km to Xizha. You could go to the scenic area on foot, or take No.350 bus to get to the scenic area directly. Lussie Lu replied on 2012-12-14
Michelle Love
2012-11-10
Show Answer
I am planning a day trip from Hangzhou to Wuzhen. Can I take a direct bus from Hangzhou to Wuzhen? If yes, can you please give me the bus station name? How far is the bus ride? Is the bus ride save for female travelling alone?By the way I don''t understand mandarin at all.Thank you very much for your advise
Hi Michelle, there are buses from Hangzhou East Bus Station to Wuzhen from 6:25 to17:25. It takes about 0.5hr. The price is CNY20-30. It is safe for female travelling alone. If you still worry about it, we can arrange a private car and English speaking tour guide for you. What do you think?
Whitney Liao replied on 2012-11-13
Ahmad Nawwar
2012-11-08
Show Answer
hi can i ask if i can get one day tour in wuzhen while am staying in hangzhou ,am thinking about this Saturday 10-11-2012 ,and if you please inform me about the prices for this one day tour even if i was with group i think i will not mind that , and what is the names of guide companies that i can contact with their numbers and prices in hangzhou .
Sorry for the late reply,I just received your questions due to system problem. we don't have group tour to Wuzhen, but we can arrange a private one day tour to Wuzhen for you, the price is US$262 including private English speaking guide and driver , entrance fee and lunch.
Leon Long replied on 2012-11-13
Sally H
2012-10-02
Show Answer
Hi, My husband and I would like to plan a weekend trip from Changzhou. We were looking at a whole weekend in Hangzhou but now I am intrigued by Wuzhen. Would you recommend we went to Hangzhou on the friday night, stayed there the weekend with only a day trip to Wuzhen, or spend Saturday night in Wuzhen? How long does it take to go from Changzhou to Hangzhou, and then how long Hangzhou to Wuzhen please? We are looking at weekend 2/3 November 2012 and I would want to stay along the waterways if possible. Where would you suggest and what cost please? Thank you.
Hi Sally,it's about 2 hours by bullet train from Changzhou to Hangzhou and 1.5 hours drive from Hangzhou to Wuzhen. If you are interested in water town, I suggest that stay overnight in Wuzhen.What's your arrival time in Hangzhou? If you are arriving in the early afternoon,you can drive to Wuzhen upon your arrival and stay overnight there. Will you arrive in Hangzhou on November 2 and leave on 4th? Please advise. I can tailor make this tour for you. Michael Hu replied on 2012-10-04
Shani
2012-09-27
Show Answer
Hello, how can i get frim hangzhou to wuzhen for a one day trip? Thanks!
Hi Shani, we can arrange a one-day Wuzhen Watertown tour for you, with private car and English speaking guide. Whitney Liao replied on 2012-09-28
hi Whitney how much do u charge for a day trip to Wuzhen from Shanghai ? total 3 adults & 2 kids . thanks! guest replied on 2013-07-22
Hi Shani, it is CNY3017(USD493)for your group. The price includes entrance fees to Wuzhen and the cruise cost on a boat, English speaking tour guide and driver, private van, lunch. Please kindly advise if it is okay to you. Thanks, Whitney Whitney Liao replied on 2013-07-22
April Offer $25 Coupon
Send your inquiry before Apr. 30, 2014, and we will email you a $25 coupon.
The coupon is valid till Dec. 31, 2014, for paying tour packages worth $250 or up.
The coupon cannot be used for paying flight tickets, train tickets, hotel rooms and day trips.
Travel Advice or Question? Ask us here
You might like

Free Things to Do in and around Hangzhou

China Highlights
Hangzhou Travel Guide