Hong Kong Travel Guide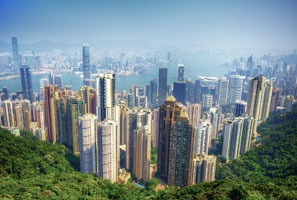 The view of Hong Kong
Hong Kong has developed from a small fishing village in the 1800s into a dynamic and thrilling 21st century cosmopolitan metropolis. The city is full of impressive high rises, has a busy harbor and is an important financial and economic center.
Hong Kong's many industries are leaders in their field, including economic, telecommunication, technology, transportation, and entertainment. The most famous one is the movie industry, which has greatly influenced the movie industry worldwide.
A Visa Free City for Many and a China Gateway City
Fusion of Cultures
Hong Kong is a fusion of many cultures. Remnants of its colonial past and the British culture and values share space with the Chinese traditions.
The gray Confucian temples edge against the western style churches, traditional Chinese festivals such as the Spring Festival and Moon Festival are celebrated along with Christmas, Chinese opera and Canto-pop music lead a peaceful coexistence.
Hong Kong is also a land of ferocious contrasts. Beneath the ornate exterior of impressive skylines and lightning-paced lifestyle beats the heart of old Hong Kong. CEOs and entrepreneurs light incense sticks at home and worship in front of a Buddha in temples for good luck and wealth.
Top Things to Do in Hong Kong
Christmas in Hong Kong is already in the air. Shops are decorated up and the festivities to come this year rival anywhere else on the planet.
The fact that many visitors come to do some serious shopping in Hong Kong may surprise many people. But if you have experienced the pleasurable shopping environment and mind-boggling shopping options, you will probably admire those discerning travelers.
Hong Kong is a shopping paradise which brings together all the world famous brands. Shopping malls, department stores, and boutiques cluster around the island.
Few visitors will have problems getting around in Hong Kong, English is widely spoken and almost all the street signs are bilingual.
Also Read: Hong Kong in One Day for Budget Travelers?
Hong Kong Outdoor Adventures
About 70 percent of Hong Kong's 1,100 square kilometer territory is undeveloped country park land and there are many large areas to hike, camp, canoe, swim, surf, and have fun in.
There are four main areas with natural parkland or islands that are big enough to really enjoy yourself and get to where you won't see people or houses: in Sai Kung in the eastern part of Hong Kong, in the country park area north of Kowloon, on Lantau Island, and on Hong Kong Island. See Hong Kong hiking guide.
See China Highlights' Hong Kong tours or how to plan a budget trip, mid-price trip and luxury trip to Hong Kong.
Also Read How to Plan a Three-Day Tour of Hong Kong.
Things to Do with Kids in Hong Kong
Ocean Park: Hong Kong's premiere theme park boasts a mix of thrilling rides, sea world exhibitions, animal performances, and lots more.
Try Dim Sum: You can stop at Dim Sum restaurants at any time. They are invariably noisy, busy and full of families, a truly authentic part of Hong Kong life.
Facts about Hong Kong
With an area of 1,110sq.km, Hong Kong consists of Hong Kong Island, Kowloon, the New Territories and a group of 260 outlying islands.
Population: 6,600,000, 96% are Chinese.
The Chinese New Year 2014 is to arrive. See our guide on How to Celebrate the Chinese New Year in Hong Kong.

Questions and Answers About Hong Kong Travel Guide
Ooi Lye Poh
2014-04-17
Show Answer
Where is the best place to do shopping for dresses, souvenirs of reasonable price? Places to eat where the price is average but food is good. What are the best places to visit on foot, buses and trams?
Daisy Hung
2014-01-15
Show Answer
Hello, my husband and I are going to Hong Kong for two weeks in March. We would like to go and visit our old village in the Pearl River Delta area. In the Taishan, Baishzhen area for two days. Where and how can we apply for the 144 hour convenient visa in Hong Kong? Can we apply the 144 days visa while we are still in Ontario , Canada?
Hi Daisy, we can help arrange the 144hr convenient visa for you, in Shenzhen, not in Hong Kong. Could you kindly let me know how many people will there be in your group and the date you will enter/leave Shenzhen from/to Hong Kong? We will have an English speaking tour guide waiting for you at the customs and help deal with all the documents and procedure. Whitney Liao replied on 2014-01-15
Zaza
2013-10-17
Show Answer
hello,i am going to Hong kong from guangzhou by train. How can I get to the Kowloon island? (Which transport should i use to make my travel cheaper?) thanks!
You can take the subway from HongKong railway station to Kowloon Island, it is the Cheapest way.
Lily Guo replied on 2013-10-18
Hallance
2013-07-22
Show Answer
Hi every one...i am a canadian, i planning a 5 months trip base stay in Hong Kong. After more travel back and fore from other countries.But i only have 90 days visa free to stay in Hong Kong, so can extend my visa to stay longer? and can apply other countries visa from Hong Kong?or what can i do Please help thank you.
Hi Hallance, sorry, I don't have the exact information on this. Please consult the OFFICE OF THE COMMISSIONER OF THE MINISTRY OF FOREIGN AFFAIRS OF THE PEOPLE'S REPUBLIC OF CHINA IN THE HONG KONG SPECIAL ADMINISTRATIVE REGION
Add: 42 KENNEDY ROAD, CENTRAL, HONG KONG香港中环坚尼地道42号
Tel: 00852 21066303
Whitney Liao replied on 2013-07-23
ct
2013-04-24
Show Answer
Hi guys...will be in hong kong in october..since im a muslim, can u suggest any muslim restaurant that didnt sell pork and alcohol..tq
Dear Sir or Madam, Here are the options for reference. 1. Qing Zhen Beef Restaurant Address: 1 Lung Kong Rd, Kowloon City,Ground Floor. Here is the address in Chinese for a driver: 九龍城龍崗道 1 號. It is near Olympic Garden and Prince Edward Road West in Kowloon. 2. Habibi Muslim Restaurant Address: 112-114 Wellington St. Shop B & D, Ground Floor in Sheung Wan west of Central District. There are any other kinds of restaurants you could have a try. Please click: http://www.chinahighlights.com/hong-kong/restaurants.htm Lussie Lu replied on 2013-04-24
April Offer $25 Coupon
Send your inquiry before Apr. 30, 2014, and we will email you a $25 coupon.
The coupon is valid till Dec. 31, 2014, for paying tour packages worth $250 or up.
The coupon cannot be used for paying flight tickets, train tickets, hotel rooms and day trips.
Travel Advice or Question? Ask us here