Victoria Harbor
Features
Among the world's most beautiful skylines with a backdrop of Victoria Peak.
Hong Kong has the tallest skyline in the world with two of the twenty tallest buildings in the world all in a small area around the bay.
The very cheap ride (25 US cents) on Star Ferry across the harbor is fun and is like a poignant mini-tour of Hong Kong. For kids with little experience on boats in the ocean, the ride on boats in the harbor is a thrill.
Wonderful and stunning views of the city and harbor area can be had in the observation decks of the tallest buildings and from Victoria Peak. During the Symphony of Lights most evenings, the view is beautiful and memorable.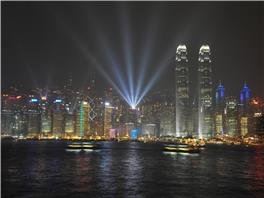 Night views of the Victoria Harbor.
The harbor is quite beautiful and is worth seeing in a tour of Hong Kong. It is a strategic location and was an important part of the British Empire. Now it plays an important part in China's foreign trade and for Hong Kong's tourism.
Victoria Harbor features on our list of The Top 10 Attractions in China.
Touring Activities
Ride the Star Ferry: The ride costs almost nothing. The ferries pass back and forth about every 8 to 13 minutes and have two passenger levels. The view from the lower level is better. The ferry boats have an old European look.
Enjoy the Avenue of Stars and the Symphony of Lights. Walk around and take pictures.
See the harbor from the tall, artistically-built skyscrapers.
Shop at the Harbour City Mall. It's Hong Kong's biggest mall.
Scenic Vantage Points
Four places to go for a special view of the harbor are the ICC Tower, the Avenue of Stars, Central Plaza, and Victoria Peak.
The 108-story International Commerce Center with its observation deck overlooks the harbor from astounding heights. It was finished in 2011. Its Sky100 deck is a local tourist highlight.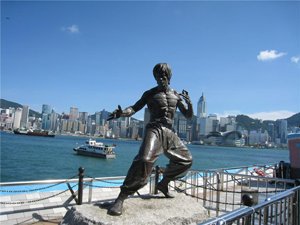 The Avenue of Stars
The Avenue of Stars is a special promenade with benches. Handprints of famous greats of the Hong Kong movie industry are inlaid. It fronts the harbor between the Star Ferry Terminal and the Hong Kong Museum of Art. It passes by the Hong Kong Cultural Center and the interesting egg-shaped dome of the Space Museum with a mockup of the front end of the Space Shuttle.
From the Avenue of Stars at dusk, you can watch the Symphony of Lights spectacle of the buildings lit up above the harbor in concert with the audio playing on the speakers behind you. No other city in the world is lit up in a concerted light and sound spectacle almost every night with lasers and skylights playing on the bottom of the clouds and colors reflecting off the wavy water.
Central Plaza is the third-tallest building in the city at 374 meters (1,227 feet) tall with 78 stories. The Hong Kong City Church meets at the top. It is known as the highest church in the world located inside a skyscraper. The chapel at the top of the building has glass walls on all sides and during services in the mornings, visitors can admire the view of both Victoria Peak and the ships passing below their feet accompanied by the great music for free.
Victoria Peak may be the most memorable place to view the harbor, especially after a half hour or hour walk through the city park above Mid-levels. If you are thirsty or hungry there is a big mall with restaurants, refreshment places and a Starbucks. The Peak Tram also goes up there, as do city buses.
Harbor Sectors
The natural harbor is quite big and long and is divided into three parts. The part most visitors see includes the area between Tsim Sha Tsui and Hong Kong Island.
The Star Ferry Terminal is located on the Tsim Sha Tsui side next to the promenade called the Avenue of Stars. Tall buildings are clustered around this part of the Harbor. The Star Ferry's pier is only about a kilometer away from Hong Kong Island.
Two miles east of this area will be a US$14,000,000,000 cruise terminal and residential and shopping complex called the Kai Tak Cruise Terminal. The first portion of this complex that is set to open in 2013 will accommodate the world's largest cruise vessels.
To the west is a large, impressive, and busy container port. The Kwai Tsing Container Port is the world's 3rd busiest container port and is in the northwestern part of the harbor. That is where much of the export wealth of Hong Kong is funneled through, and it is one of the most important ports for China.
The container port area is amazing to see if you haven't seen big ports before. See it by riding the double-decker buses along West Kowloon Highway. You can see the view better from the upper deck of these buses.
History
The Treaty of Nanking between China and Britain in 1843 stipulated that Hong Kong was a part of the British Empire. Victoria Harbor gradually became a major port because it was close to Canton and along the major shipping lines between Japan and Singapore.
According to records, in 1844 only 538 ships docked there.
From these small beginnings, by 1931 over 42,000,000 tons of cargo was shipped through.
During the 1950s and the 1960s, Hong Kong flourished as a manufacturing center.
In the1970s, containerized shipping allowed much faster throughput of manufactured products.
Reclamation projects have changed the look of the harbor. Now there is a major reclamation and construction project going on in Central next to the ferry piers. Tourist attractions are planned for the new venue beside the IFC Towers.
Travel Essentials
Location: Between Kowloon and Hong Kong Island.
MTR Trains: If you are coming from the airport, take the Airport Express MTR and get off at Hong Kong Station in Central. If you are coming from the border, you can get off at Tsim Sha Tsui station and enjoy the short walk through the crowded multicultural streets of Tsim Sha Tsui. During your walk you can maybe see faces from a hundred countries along the way.
Best Time to Visit: There is a lot of rain in the summer, but if there isn't a storm, the weather is generally warm and pleasant. Hong Kong is still fairly warm and is drier in October and November. The Symphony of Lights starts at 8 pm if weather permits.
Nearby Attractions
Victoria Harbor is a major visitor attraction for millions of people from all over the world who visit Hong Kong each year.
Both sides of Victoria Harbor have interesting tourist attractions. Enjoy the sea breeze and tour the attractions around the harbor including great museums, free public parks, zoos and amusement areas, outstanding architecture, hiking and beautiful scenery.
Most of the favorite tourist sites are around the harbor in the Kowloon area, Hong Kong Island and Lantau. Tsim Sha Tsui has four good museums and the Hong Kong Cultural Center and can be toured in a day's tour with a guide map.
Maps and tourist information are available for free at the Star Ferry Hong Kong Tourism Board's office at the Star Ferry in TST. Without a map, the area is confusing to walk around in.
Questions and Answers About Victoria Harbor
subha
2014-02-10
Show Answer
i am planning to come to hong kong for dis august can any one suggest me the way and details please
Hi Subha,
Below are some places of interesting in Hk recommended:
Disneyland, Ocean Park, Repulse Bay, Aberdeen Harbor,Victoria Peak,Lantau Island,etc.are all can't missing in HK.
I would also like to send you an itinerary for your information. Would you please kindly let me know below the information?
1. Number of people in your group including yourself? any kids or elderly people?
2. Length of stay in HK?
4. Starting date of the tour?
5. Places or attractions that you want to visit besides HK?
6. Class of hotel: 3 / 4 / 5 star economy/deluxe/superior?
After getting further information from you, I will send you a detailed itinerary, ok?
Whitney Liao replied on 2014-02-12
Rudy
2012-12-16
Show Answer
Hello, My wife and I are going to Hong Kong, arriving on Jan. 30 at 7:40 a.m. and will be staying until Feb. 6th, then, want to leave on Feb. 6th to see other most senic sites in Southern China where temperature stays above 50 degrees F. What sites are a must see for a couple that will be in HK once in their lifetime. And what sites are a must see in Southern ChinaPlease advise. Is a visit to Chengdu, to see the giant pandas, advisable for the temperature we are comforable with? Or, should we stay in HK our entire visit: Jan. 30th - Feb. 14th? Please advise
Dear Sir, During that period, it is witner season and it is cold, you need to take cotton padded clothes and sweaters. You could check the weather on this website: http://www.weather.com.cn/en/weather/101270101.shtml Besides travelling Chengdu, you also could travel to Guilin city where is nearer Hong Kong than Chengdu. From Feb.9 to Feb.16, it is in Chinese Spring Festival Holiday, I suggest you take a flight for travel, instead of taking a train. In that peroid, there are lots of Chinese people taking a train to go back home or having a tour, thus it is very difficult to buy the train tickets. We listed some tour packages on the website for reference. Chengdu: http://www.chinahighlights.com/chengdu/tours.htm Guilin: http://www.chinahighlights.com/guilin/tours.htm Lussie Lu replied on 2012-12-17
Madhu
2012-12-12
Show Answer
Hi. We are planning a trip to Hongkong from 24 th Dec until 28th and on 28th one night in Macau. We are a family of 5 with 2 girls 25 and 20 yrs and a boy of 10. Could you help us with an itenararyThanks
Hi Madhu, I have made a tour itinerary and sent it to your email box. Please check it, if anything, just contact me at coco@chinahighlights.net Regards, Coco Coco Yang replied on 2012-12-13
Marijane Co
2012-12-03
Show Answer
Hi , I''m jane...i''m planning to visit hongkong this December 28...will be staying for 5 days..at the Royal pacific hotel & towers...can you help us in our itinerary..we plan to visit Lantau island, Disneyland, Victoria Peak , Victoria harbor to watch the fireworks on dec. 31 and we also want to visit Macau...we are six in this group including two kids age 7 and 6... Hope you can help me plan my itinerary...will be arriving at HK around 8:00am and our flight home will be on Jan. 1 .we need to be at the airport around 7 pm..departure is at 9:55 pm..thanks! Hope to hear from you soon!
Hi Jane,
Thanks for your enquiry! We are glad to help you with your Hong Kong tour. We are now working on a tentative itinerary and quotation and will email it to you shortly.
Candy Wei replied on 2012-12-05
Cliff curameng
2012-10-27
Show Answer
Hi. My wife and i together with our children, migo, 5y/o and ysa, 15 months old will be arriving in hong kong on november 11 at around 10 am. We are going to stay at shamrock hotel for 4 days. Our flight back to manila is on nov 14 at 7:30 pm. Here are the places that we want to visit. Kindly help us with our itinerary day by day and the direction for transpo to these places. Thany you very much. The places we want to visit are-lantau island, victoria harbour, disneyland, ocean park, victoria peak, peak tram. Hope you can help us. Thanks
Hi Cliff,
Welcome to Hong Kong! Based on your tour requirements, I have made a tentative 4-day tour package covering the scenic spots you mentioned and emailed it to you. Please check it and see how you like it. Any queries, just feel free to email me back.
Candy Wei replied on 2012-10-29
April Offer $25 Coupon
Send your inquiry before Apr. 30, 2014, and we will email you a $25 coupon.
The coupon is valid till Dec. 31, 2014, for paying tour packages worth $250 or up.
The coupon cannot be used for paying flight tickets, train tickets, hotel rooms and day trips.
Travel Advice or Question? Ask us here

China Highlights
Hong Kong Travel Guide
Hong Kong Top Attractions