Itinerary
Day 1:
Arrive in Shanghai
Our guide will wait for you in arrival and drive with you in a private car to your hotel and help you check in.
Stay connected: A Free SIM Card Wi-Fi Rental
Day 2:
Old and New Shanghai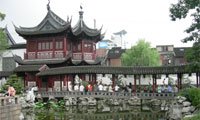 Enjoy the contrasting worlds of modern and old Shanghai, visits include the Yuyuan Garden , built in 1559 during the Ming Dynasty, with typical Chinese classic architecture and style, and the famous The Bund, the "architecture gallery" with well-preserved old European style buildings, especially magical at night. In the evening at you free time we recommend you return for a leisurely stroll. The lunch is specialties in Shanghai cuisine using the best local ingredients.

The modern Shanghai can be seen and experienced in Shanghai Urban Planning Exhibition Hall , a fascinating insight into Shanghai's future, where a 360° screen, plays a video giving the impression the viewer is flying through the Shanghai of the future, and the The Shanghai World Financial Center and the world's tallest observation deck with see-through glass flooring.
Day 3:
Suzhou and Tongli Town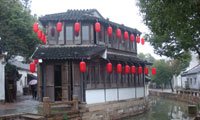 Our guide and driver will take you to the world renowned Suzhou water towns. Tongli town has a history of more than a thousand years, with hundreds of gardens established in Ming and Qing dynasties. Fifteen rivers divide the town into seven islands and historic bridges connect the town as a whole. A cruise along the river helps you to better experience this water town.

Lunch in a traditional Tea House includes entertainment by traditional performances.
Day 4:
Suzhou to Huangshan by Rail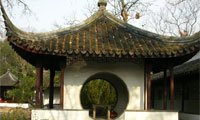 The day starts with two excellent examples of Chinese culture: the famous Humble Administrators Garden is an excellent example of Chinese classical garden and The Grand Canal, the longest man-made waterway in the world and one of China's greatest engineering achievements. Our lunch spot originally dates back to 1780 and has richly tasteful Su-style cuisine. – A Rickshaw ride through the old streets & Hutongs in Suzhou gives an insight into local people's life and wonderful photo opportunities.

In the evening our guide will escort you to the overnight train to Huangshan.
Day 5:
Huangshan and the Yellow Mountains
Our driver and guide will take you from the train station to your hotel and then on to the Yellow Mountains, known as "the loveliest mountains in China" They are famous for magnificent scenery whatever the season: granite peaks piercing the clouds, strangely shaped rocks and gnarled trees, hot springs and waterfalls. The Yungu Cable Car will make the ascent for you.

Huizhou Culture Museum brings an understanding of the local culture and life.
Day 6:
Hongcun and Xidi Village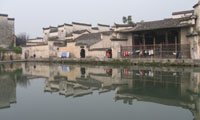 Hongcun Village, an ancient village over 800 years old where parts of the movie "Crouching Tiger and Hidden Dragon" were filmed. It really is like a landscape from a painting, leaning against Mt. Huangshan, often enveloped in the fog, surrounded by a picturesque moat with bridges to the village and a half-moon shaped pond in the centre.
Xidi Village, a World Cultural Heritage site, is also located at the foot of Mt. Huangshan. First built 900 years ago in the Song Dynasty, its traditional architecture is well preserved.

Lunch is served on the top of the Leigang hill, in Leigang Villa, with a magnificent view of Hongcun village, surrounded by a forest of bamboo and peach trees.
Day 7:
Hangzhou's West Lake, Lingyin Temple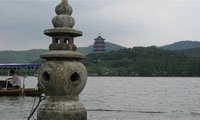 Lingyin Temple and nearby West Lake are a very special part of any China experience. The occasional pagoda and Chinese-style arched bridges add atmosphere to the tree-lined walkways, verdant islands and hills. Lunch is served at a famous restaurant with a history of more than 150 years, specializing in Hangzhou cuisine.

In the afternoon a historic tea plantation of over 600 years among lush green hills, showcases tea picking and processing. If you would rather rest or spend more time at the West Lake, just tell your guide. You're the boss.

In the evening you will be escorted to the train station in Hangzhou and to your hotel in Shanghai upon your arrival.
Your departure is made smooth by our guide and driver taking you to the airport and assisting you in the check in process, so you can enjoy your holiday to the last minute.
Just let us know your travel style!
Guide vs. Free-time ratio / Hotel Style & Interests / Dates / People
We will then adapt this tour and create a unique quote based on your individual needs.

Free Quote