Victoria Peak
Victoria Peak has about 7 million visitors a year. It is the highest peak on Hong Kong Island withan altitude of 554 meters (1818 feet) and has been considered as a landmark of the island.
It is the best spot to have a bird's eye view of the Victoria Harbor and the whole thrivingisland. Viewed from the peak, the scenes are different between day and night.
During the day, you can see high and crowded buildings and the busy Victoria Harbor. At night, lit up by colorful lights, the whole scene is dazzling like a fairly-tale world. The best spot to enjoy the scene is the Peak Tower and the Lion Kiosk beside the Peak Tram terminal.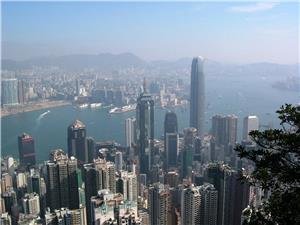 A Bird's eye view of Hong Kong from the Victoria Peak.
To reach Victoria Peak, you can take the Peak Tram. It was put into service in 1888. Itssteepest point has an angle of 27 degree which definitely can give you an unforgettableexperience.
The Peak Tram
The Peak Tram is very popular with tourists who want to see Victoria Peak or get a bird's eye view of the city. It carries about 11,000 or 12,000 people a day or 4 million passengers a year up to the top of the peak. It was first built in 1888, and it feels antique.
It is quickest and most scenic way to climb the peak. As you travel the 1.4 kilometers, you can relax as you see the sights below. You can see a lot of Hong Kong Island, Victoria Harbor and Kowloon.
Peak Tram Travel Essentials
Fares: Adults 28 HKD one way (3.60 USD), 40 HKD return; children and seniors 11 HKD one way, 18 HKD return.
Hours: 7 am to midnight.
Time needed: 5 minutes transport + about 20 minutes to 2 hours waiting in line. Lines are longest on Sundays and holidays in the late morning and lunch hours during good weather. To avoid the ticket lines use an Octopus card or buy a ticket in advance.
Transport to lower terminus: From Central MTR station, Exit J or K and follow the signs (12 minute walk). From the Admiralty MTR station, Exit C1 and follow the signs (12 minute walk). From the Star Ferry in Central, take Bus 15C from the bus lot in front.
Distance: 1.4 kilometers.
Elevation: from 28 meters to 396 meters altitude (368 meters up).
The Peak Tower
At the summit, visitors arrive at the Peak Tower, the city's most unusual building and icon. The unique "wok" shaped tower sits at an elevation of 396 metres. Viewing terraces located on different levels of the tower offer spectacular views of the Hong Kong and Kowloon skylines, including Victoria Harbour.
The Peak Tower also puts visitors in touch with Hong Kong's lesser known, but equally breathtaking natural side. Visitors can take a leisurely stroll along one of the nature trails starting from The Peak Tower and relax among the lush green vegetation while enjoying a 360-degree view of Hong Kong.
In level 2 of the Peak Tower is Madame Tussauds Hong Kong. There you can get up close and personal with your favourite stars: such as soccer David Beckham, action king Jackie Chan, actor/singer Andy Lau, etc. You and your kids will see about 100 wax figures of celebrities that look exactly like the real person.
How to Get to the Peak?
The most enjoyable and spectacular way to reach The Victoria Peak is to take a ride on the Peak Tram. The Victoria Peak Tram runs every day, including Sundays and public holidays, between 7:00 am and 12:00 midnight.
Shuttle buses operate between the Central Star Ferry Pier and The Victoria Peak Tram Terminus at Garden Road.
You can reach the terminus on foot from MTR Central Station J2 exit.
Also read Lamma Island's Family Walk.
Related Links
Questions and Answers About Victoria Peak
Monika kamal
2014-02-19
Show Answer
How can you make a 3- combo booking ? What are the ticket costs for adults and for children ? How long does it take to see Madame Tussaud''s ?
Hi Monika, the ticket is HKD20 per person, same with adults and children. Usually it takes around 2 hours to see the Madame Tussaud's, depends on your interes. Whitney Liao replied on 2014-02-21
Karen Hoyle
2012-11-14
Show Answer
We have a one night stopover in Hong Kong at the end of January. Can we book a ticket to the Victoria Peak in advance rather than waiting in a long queue as we will not have much time and this will be one of our main highlights. Can I book tickets in advance on line from UK or can you suggest another way of not having to queue.
Hi Karen, sorry, it is not available online. You can buy it after arrival, it won't take long time. There isn't any way to book it in advance.
Whitney Liao replied on 2012-11-15
there is a company nearly on every main corner dress in red shirts and yellow writing saying bus tours, if you get the 1 day package you can hope on any bus at any time of the day its circles all parts of hong kong, part of the tickets your get two fairy pass's and the victoria peak ticket no queues and the bus drops you of their and picks you up. each bus runs on hour by hour so no taxis needed Damian replied on 2013-01-05
Tai
2011-11-19
Show Answer
Is tram or mini bus best for 3 adults to go to Victoria Peak?
April Offer $25 Coupon
Send your inquiry before Apr. 30, 2014, and we will email you a $25 coupon.
The coupon is valid till Dec. 31, 2014, for paying tour packages worth $250 or up.
The coupon cannot be used for paying flight tickets, train tickets, hotel rooms and day trips.
Travel Advice or Question? Ask us here

China Highlights
Hong Kong Travel Guide
Hong Kong Top Attractions