The Best Places to Eat Seafood in Hong Kong
Hong Kong is one of the world's biggest port cities. Cantonese-style seafood has been a tradition. Some seafood restaurants are classy and are known around the world, others are special for being in scenic or travel highlights. Out of hundreds of choices, here is a list of suggested restaurants to select from to match your tastes, mood, and budget.
Whether you are looking for a family fun attraction, starred quality at low prices, a luxury seafood restaurant, a tourist landmark, or a Halal restaurant for Muslims, here is a list of 5 choices.
We can help you book restaurants of your choice and arrange travel in Hong Kong.
Landmark Boat Restaurants in Aberdeen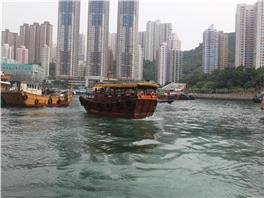 Aberdeen
Hong Kong's best known seafood restaurants are the floating restaurants in Aberdeen called the Jumbo and the Tai Pak. They are owned by the same company. The Jumbo seats 2,000 diners and the older Tai Pak seats 400.
Famous people have eaten on these ships. Enjoy the fine food and the splendid decor.
Take a sampan ride through the floating village offered along the promenade (70 HKD, 30 minutes).
Scenic Location
The bay and the restaurants have been settings for scenes of well known movies, and Victoria Peak is part of the backdrop.
Types of Seafood: Cantonese Chinese style (Both of these restaurants also offer many non-seafood dishes.)
High Prices: Main dishes, HK$100 to HK$1000+ (for the choicest seafood); dim sum HK$30 - HK$48. The seafood is expensive, and an average meal may cost 600 HKD. Table charge HK$10 per person
Reputation: the quality of the food isn't the best, but the landmark location makes it a favorite.
Location: Aberdeen Harbor, Hong Kong Island
Transportation: Taxis go from the Peak to the restaurant boat docks. They go down the south slope of the mountain (80 HKD or 11 USD). You might also enjoy the long walk down through the country parks to Aberdeen. Bus 7 or 70 from Central, 72 or 77 from Causeway Bay, or 973 from Tsim Sha Tsui to Aberdeen.
Hours: Monday - Saturday 11:30am - 11:30pm; Sunday and holidays 7am - 11:30pm.
Luxurious Ming Court
This sophisticated and luxurious Cantonese restaurant received Two Michelin Stars and is known for its large seafood selection. It is in the Langham Hotel in Mong Kok. Expect about the best seafood in the city.
Types of Seafood: Cantonese
Preparation: internationally recognized quality.
Prices: 300 to 900 HKD+ depending on selection.
Reputation: It is famous for it expensive decor and the Two Star Michelin ranking.
Location: Langham Place Hotel, 555 Shanghai Street, Mongkok
Transportation: Exit C3, Mongkok MTR station.
Hours: 11am to 11:30pm
Star-Rated Seafood at Loaf On in Sai Kung
Loaf On was rated One Michelin Star in 2011, and the prices are unusually low for the good quality seafood. This means gourmet food at economy prices! The small restaurant is in a noted scenic highlight area too.
The restaurant is near many other seafood restaurants that are along a tourist boardwalk.
Non-seafood dishes are available as well.
See your food live in tanks before your eyes before you eat it!!
Scenic Environment
Sai Kung is noted for its scenic natural environment including fine big beaches and hiking paths.
Types of Seafood: Cantonese and Hakka Chinese style
Preparation: freshly prepared. Many selections are swimming in tanks.
Low Prices: 32 HKD to 200+ depending on selection.
Reputation: the quality of the food is very good, but the restaurant's decor isn't ritzy. It's simple. The location makes it a favorite for locals, backpackers and hikers.
Location: 49 Market St., Sai Kung, New Territories
Transportation: Take the MTR to Choi Hung (Kwun Tong line). Exit through at Exit C2. Take Bus 92 or 96R at the bus stop (arrives every 5 minutes). Get off at the end of the line (25 minutes).
Hours: 11am to 10:30pm
Harvest House on Ma Wan Island
This is a good family restaurant. Harvest House is a big seafood buffet restaurant with good quality, good selection and low prices, but the best thing especially for families is its location on Tung Wan beach next to the free Ma Wan Park and Noah's Ark theme park on Ma Wan Island.
There is a wide variety of both seafood and non-seafood selections of various styles including Japanese, Chinese and Western.
There is an excellent desert selection and good presentation, and the restaurant is clean.
Attractions
There is a wonderful view of the water, the Tsing Ma Bridge, and another big bridge.
Next to Tung Wan beach and Ma Wan Park for an outing.
Types of Seafood: Western, Chinese, Japanese, and other Asian
Service: good.
Prices: lunch averages 40-120 HKD; a seafood buffet is ~350 HKD (45 USD) including service charge, ~200 HKD for kids, free for children under 3.
Reputation: generally good, especially for its location.
Location: 33 Pak Yan Road, Ma Wan Island.
Transportation: Bus from Tsing Yi Airport Railway Station leaves every 8 minutes (9.50 HKD, 1.20 USD). Once off the bus, go to the direct restaurant entrance on the beach.
Ferry from Tsuen Wan costs 10 HKD (5 for kids under 12). Ferry from Central Pier 2 costs 22
HKD (11 HKD for kids under 12).
Dinner Hours: 6:15 to 9:30pm.
Islamic Center Canteen
Many of the thousands of Muslims visitors in Hong Kong consider it important to eat only Halal-certified food or "Qing Zhen" (清真, qīngzhēn, "pure truth"). The place to go to eat the unique Halal Cantonese seafood is the Islamic Masjid in Wan Chai.
The Islamic Center Canteen serves a limited choice of seafood every day. To enjoy a wider range of choices such as grouper (~500 HKD per fish), people must make a reservation and order beforehand.
Enjoy dim sum for lunch. The restaurant is known for it.
Most of the selections are non-seafood items such as lamb.
The restaurant is a favorite for business travelers because it is close to starred hotels and the Central business district (CBD).
Types of Seafood: Cantonese Halal Muslim style
Preparation: Halal; people should book in advance.
Prices: lunch (until 3 pm) averages 40-100 HKD; a seafood dinner averages 80+ HKD.
Reputation: generally good, especially for its religious location.
Location: 5th floor, Islamic Center Masjid (Mosque), 40 Salvation Army Street, Wan Chai.
Transportation: from the Wan Chai MTR, take a taxi because it is hard to find.

Hours: 9am to 10pm
Related Pages
Questions and Answers About The Best Places to Eat Seafood in Hong Kong
April Offer $25 Coupon
Send your inquiry before Apr. 30, 2014, and we will email you a $25 coupon.
The coupon is valid till Dec. 31, 2014, for paying tour packages worth $250 or up.
The coupon cannot be used for paying flight tickets, train tickets, hotel rooms and day trips.
Travel Advice or Question? Ask us here

China Highlights
Hong Kong Travel Guide