Christmas in Hong Kong
Celebrated: Nov.&nbsp29,&nbsp2013 to Jan.&nbsp06,&nbsp2014
Location: Hong kong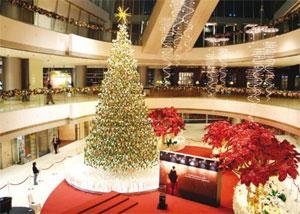 For your Christmas holidays, where in the world could you go to enjoy Christmas? Surprisingly, Hong Kong often makes it among the top of the list in the world. If you are looking for entertainment, shopping, food, and glitz, and not a primarily religious experience, Hong Kong might be best for you.
Hong Kong is known for major cultural and amusement events, special, fantastic, and large Christmas displays, the lighting up of Victoria Harbor, markets and special Christmas sales, and specially prepared Christmas dinners in hotels and restaurants: check them out!
Hong Kong churches take the holiday seriously though, and whether you are Orthodox or Evangelical, most churches focus on events and special presentations on Christmas Eve and Christmas Day and welcome visitors.
A special treat for tourists arriving in December is to find mild weather. It never freezes, and you might find it warm and dry!
Major Christmas Events
Hong Kong Disneyland's Christmas (November 14, 2013 – January 5, 2014)
Disneyland on Lantau Island hosts Christmas-themed amusement and entertainment starting before Thanksgiving and ending after New Year's Day. This is a good amusement for kids especially. Main Street is transformed into a sparkling fairytale Gingerbread Village with houses plastered with sugary sweets like candy canes and gingerbread.
There is a "Let it Snow" Christmas parade with floats, dancers, and entertainers, and a "Parade of the Toys" with Mickey Mouse, Donald Duck, etc.
The Nutcracker — Hong Kong Ballet (20th–29th December, 2013)
The Nutcracker is a world-renowned operatic ballet, and it is also a special Yuletide tradition enjoyed by audiences of all ages. Set to a joyous score by the famed composer Tchaikovsky, this fairytale ballet invites the young and old alike to rediscover Christmas.
The tale begins at a party when a young girl named Clara receives a Nutcracker as a Christmas gift. The Nutcracker is transformed into the handsome Prince of Bonbon Land. The Hong Kong Ballet features sumptuous sets and costumes and live music by the Hong Kong Sinfonietta.
Now there is a jazzy 21st century choreography inspired by Austrialian Terence Kohler in collaboration with Australian dramaturge Clair Sauran. The Hong Kong Sinfonietta provides concert music. The performances are featured at the Grand Theatre in the Hong Kong Cultural Centre next to the Star Ferry Terminal in Tsim Sha Tsui in Kowloon.
Times: December 20–22 and 24–28 at 7:30 pm, and 21–22, 25–26, and 28–29 at 2:30 pm
Christmas with the Hong Kong Philharmonic (December 23rd and 24th)
The Hong Kong Philharmonic presents Christmas Around the World with selections of classic Christmas carols and exotic songs you probably have never heard. The Hong Kong Philharmonic orchestra is a professional HK government-sponsored orchestra.
Christmas Carollers
In the days before Christmas and on Christmas Eve, groups of carollers from churches and schools walk around and sing in the parks and malls. You might spot them in Central, in Kowloon Park or elsewhere, joyously singing!
Hong Kong WinterFest (November 29, 2013 – January 1, 2014)
Hong Kong puts on a winter festival after Thanksgiving that is a highlight of the Christmas season. The American CNN network named Hong Kong's WinterFest as one of the Top 10 places in the world to spend Christmas. Hong Kong's Symphony of Lights and Avenue of Stars pedestrian walk along the bay is known around the world.
Every night of the season, weather permitting, about 40 buildings along the harbor put on a light show called the Symphony of Lights with Christmas and New Year's decorations. During WinterFest, most of the the city is aglow with festive lighting, and Victoria Harbor is a dazzling sight especially when the fireworks burst on New Years Eve.
If you're there on December 31, 2013, you can take in the fireworks spectacular in the New Year's countdown. Some of the same buildings involved in the Symphony of Lights take part in this spectacular, and large crowds line both sides of the harbor. So far, either the IFC Towers or the Hong Kong Convention Center have been the center of the show. The buildings involved changes from year to year, but you can expect the display to be spectacular and accompanied by music and a laser light show lighting up the atmosphere.
Christmas Displays and Decorations
Every shopping mall dons Christmas decorations, and the ritziest malls put up spectacular and expensive displays to draw crowds. In the recent past, 1881 Heritage near the Star Ferry Terminal, Harbour City, Langham Place, Elements Mall and the IFC Mall put up dazzling, intricate and large displays.
The Best Christmas Display
The Hong Kong Tourism Board puts on a free treat for the tourists at Statue Square, about 200 or 300 meters from the IFC Mall. The small plaza is sided by a British colonial building that affords a fine Christmas background to an epic Christmas tree. In 2010 for example, the Swarovski jewelry company put up 20,000,000 pieces of crystal on their 30 meter-tall glass tree. Computer controlled lightning made the tree dazzling and glamorous. Last year, Tiffany erected a giant 18-meter-tall deep blue tree.
Against the background of brightly lit skyscrapers with their own syncopating lightning decorations, the scene is a special one. The Bank of China Tower skyscraper forms a shiny backdrop on one side with its own crystal-like designs.
Transport: MTR Central Station Exit K
Christmas Symphony of Lights Along Victoria Harbor
A lot of visitors like to sit along the shore at the pedestrian walk called Avenue of Stars, have a meal on a restaurant boat, or simply ride the Star Ferry during the Symphony of Lights display. Along the shore, you can hear the music from loudspeakers and the accompanying narrative. A lot of buildings put up special Christmas light displays to complement the usual lightning and visual effects architectural choreography.
A special treat might be taking the Star Ferry across the harbor. Going across takes about seven minutes and costs only about 25 US cents. Kids might enjoy the ferry ride and watching the lights shimmer on the waves. The performance starts at 8 pm and last for about 25 minutes unless the weather is stormy.
Christmas Sales and Markets
Unfortunately, unlike in other countries, there aren't pre-Christmas sales with lower prices to attract shoppers. Prices actually go up. However, the malls try to to attract customers through special Christmas displays, decorations, and entertainment. And the places to find bargains like the outdoor markets still try to compete on prices.
If you are looking for Christmas gifts on regular electronics, clothing, and other common items, the places to go to bargain for deals are the street markets such as Ladies Market in Mongkok (clothing, electronics, souvenirs, pets, jewelry, etc.), Temple Street in Mongkok (a variety of products plus many open-air restaurants for Chinese food), and Stanley Market in Stanley on Hong Kong Island (souvenirs).
Christmas Dinners and Food
Hong Kong is known for having more good restaurants than perhaps any other similarly-sized location in Asia (as ranked by Michelin and other such ratings bodies). Michelin listed about 257 Hong Kong restaurants on their 2011 list. The world-class 4-star and 5-star hotels in Hong Kong serve special Christmas dinners from about the 22nd of December until Christmas Day.
Many Michelin starred restaurants are quite affordable for the average tourist, though they might not have special Christmas fare per say. Check our list of restaurants on our restaurant guide.
If you'd like a luxurious meal, after seeing the Christmas tree in Statue Square, head over to the Four Season Hotel that is part of the IFC Towers complex. Now it has two Michelin 3-Star restaurants: Caprice for French cuisine and Lung King Heen for Cantonese cuisine. At least according to the Michelin guide, these are the finest Cantonese and French restaurants in Hong Kong.
For an especially Christian Christmas atmosphere for your Christmas celebration, a place to go is the Salisbury YMCA. It may be the world's ritziest YMCA. You can hear Christmas music playing in the background. There are two restaurants that feature buffets. Guests can also enjoy a great harbor view and the extensive sports facilities including a swimming pool and rock-climbing room that make the hotel fun for kids. Several churches meet there on Sundays, and there is a Christian bookstore.
Touring Hong Kong During Christmas
Contact us for a Christmas tour of Hong Kong, China, or SE Asia, customized to your requirements
Free Christmas E-cards
China Highlights has designed some exquisite Christmas e-cards. Check them out and send cards to your family or friends for free.
Read more about Christmas in China.
Planning a trip? Ask us here 800-2682918 (USA & CA)
86-773-2831999 (Int'l)
Q:
Samantha
Asked on 2013-11-25
Reply
Hi. My friend and I will be in HK this Christmas (2013) - where do you recommend to go for dinner on xmas day? We don''t mind whether it''s Chinese restaurant or ex-pats style bar/restaurant or hotel restaurant. Thanks
Hi Samantha, you may get some idea of where to have dinner from our website at http://www.chinahighlights.com/hong-kong/restaurants.htm. Let me know if you need us to arrange any tour service for you. Simon Huang Replied on 2013-11-25
Q:
Alison Ho
Asked on 2013-07-21
Reply
Hi, When will the fireworks held in Dec 2013 and where will it be held? We are planning to go from 23rd Dec 2013 to 2nd Jan 2014. Please help me out here as mother-in-law really want to see the fireworks in Hong Kong.
Hi Alison,
It will be held on 31st December at IFC SHOPPING MALL before, however, the accurate location for countdown ceremony has not yet been released this year.
China Highlights is an on-line tour operator, which offers varied of tour services, such as tour package, hotel rooms and air tickets, please feel free to let me know if you are interested in any of these services.
Kind regards,
Cecilia
Cecilia Peng Replied on 2013-07-22
Q:
Timothy
Asked on 2013-06-18
Reply
Hi,when does christmas lights or decorations actually goes up?We are planning to visit hong kong on the 11th Nov 2013 until 18th Nov 2013 hoping to see the lights and decorations.Please advise.
Hi Timothy, they will go up on Christmas Eve and Christmas Day.
Whitney Liao Replied on 2013-06-18
Q:
Liza
Asked on 2013-04-24
Reply
I''m plan to do company trip this Nov 14 ..for 10person adult where should I go or visit +shopping ? Which hotel r u recommended ? Need ur advise plz.
Hi Liza, for hotels in HK, I recommend below the hotels:
3 star: Metropark Hotel Mongkok - Hong Kong
• Address: 22 Lai Chi Kok Road, Mongkok, Kowloon, Hong Kong, China
• Tel: 00852-23976683 (Book this hotel, call 800-2682918)
Hotel Concourse is conveniently located in Mongkok, the city center of Hong Kong, 40 kms from Hong Kong International Airport.
4 star: YMCA of Hong Kong
• Location: Tsim Sha Tsui
• Address: 41 Salisbury Road, Tsimshatsui, Kowloon
• Tel: 00852-22687000 (Book this hotel, call 800-2682918)
The YMCA of Hong Kong is situated at the tip of Kowloon Peninsula and the business center of Tsimshatsui, with magnificent views of Victoria Houbour and Hong Kong Island.
5 star: Harbour Plaza Hong Kong
• Address: 20 Tak Fung Street, Hung Hom, Kowloon, Hong Kong
• Tel: 852-26213188 (Book this hotel, call 800-2682918)
Situated along the Whampoa waterfront, the Harbour Plaza offers spectacular views over Victoria Harbour towards Hong Kong Island and the South China Sea.
More hotels in Hongkong, please check here:http://www.chinahighlights.com/hotel/hong-kong-hotels/

Whitney Liao Replied on 2013-04-24
Q:
Lee
Asked on 2012-12-13
Reply
We are travelling to HK in January. Wondering if we should per purchase tickets for HK Disneyland or whether they will be easy to obtain when there. We are staying in a main hotel . Have been told we may come across long queues if we don''t book from home. Is this true?Travelling with young children in January - please advise best area to see symphony of lights .Other highlights and tourist venues that would be suited to 5 year olds.Thank you
Dear Sir or Madam, You could buy the tickets on line or on arrival, but I suggest you buy it on line, it can save your time and you don't need to line up. Here is their official website:http://park.hongkongdisneyland.com/hkdl/en_US/home/home?name=HomePage Avenue of Stars is a good place to see symphony of lights. Besides Disneyland park, Ocean park, Lantau Island, Victoria Peak Tram are interesting places for Children. Please click here to check more details: http://www.chinahighlights.com/hong-kong/things-to-do-with-kids.htm Lussie Lu Replied on 2012-12-14