Ocean Park
Overview
Hong Kong has two big amusement parks, and Ocean Park is the older of the two. It has an area of about 200 acres on the hills and shore of the southern part of Hong Kong Island. It is Hong Kong's favorite park, and attracts the most visitors. It is currently in the top 15 of the world's most visited parks. There are a lot of attractions related to displays of animal species such as dolphin shows and a jellyfish aquarium as well as big amusement park rides. The view of the sea along the coast is beautiful and fun when viewed high up on the roller-coaster rides or other thrill rides or the tram that passes over the sea that is a highlight in itself. Hong Kong Ocean Park can be a fun day with your family and friends.
Detailed Descriptions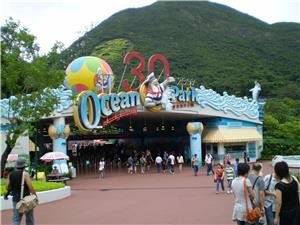 Ocean Park
Hong Kong Ocean Park is a marine park/amusement park/animal laboratory/zoo combination. So while you can watch amusing dolphin shows in the poolside public stands, there is a serious research program for breeding and care of animals going on in the same area. The park's laboratory was the first to artificially inseminate and breed a bottlenose dolphin. The park is large enough to require several means of mass transit. It is divided into the Waterfront section and the Summit section. The rides are among the best in the world, and the animal exhibits including both land and water animals are world-class.
The water animal exhibits include a walk through shark aquarium where you walk through an underwater tunnel and see species of sharks from around the world. In the Atoll Reef aquarium area, there are perhaps 2,000 fish of scores of species in an aquarium four stories tall. The stars of the underwater displays were rare giant Chinese sturgeons that were sent by the government of China. But several died, and the remaining two were sick and were sent back to China in 2009. It is estimated that there are only about 1,000 Chinese sturgeons left.
The land animal exhibits include aviaries, the Amazing Birds Show, and the Amazing Asian Animals Exhibit. In the Amazing Asian Animals Exhibit, you can find rare and interesting land animals. There are currently four pandas that are almost extinct in the wild. These animals are probably China's favorite, and mainland Chinese visit to see them. They are named An An, Jia Jia, Ying Ying, and Le Le.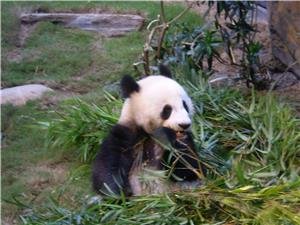 A panda in Ocean Park
There may also be "small pandas", also called red pandas, when you arrive. These smaller animals are even more interesting than pandas in my opinion because they look like large, unusually long house cats. But their coloring and way of moving is extraordinary and non-catlike. I was amazed when I saw some. Most people don't know that this type of animal exists. They are not feline animals. Like pandas, they seem to sleep a lot.
There are about 20 amusement rides. The rides includes a large Ferris wheel, two roller coasters including The Dragon that reaches a top speed of 77 kilometers an hour, a water ride, and a free fall drop deck called The Abyss that that is a tall steel girder tower 20 stories high that has two cabins that drop down to the ground in about 5 seconds. The newer rides are being built to attract young people looking for thrills.
In order to get around in the park and see the views, there are also transportation rides including Ocean Express, a tram system, and the world's second longest outdoor escalator that transports people in the area. It is expected that there will be an MTR route to the park.
Location
Near Wong Chuk Hang in the Southern District on Hong Kong Island. It is on the other side of Victoria Peak from the main Hong Kong city urban area.
History
The park was opened on January 10, 1977. It was founded by Hong Kong Governor Sir Murray MacLehose and funded, built and managed by the Kong Kong Jockey Club that is a large private charity, horse racing, recreation, gambling, and sports organization.
It is kind of unique because it is a non-profit and private large amusement park that also conducts laboratory research on breeding animals. Other things that make the park unique is that it has 4 giant pandas that are rare in the world and also a unique large jellyfish aquarium. China's government sent the pandas, and they are included in the Amazing Asian Animals exhibit.
On July 1, 1987, the government established a trust fund with money from the Jockey Club under the Ocean Park Corporation Ordinance (Hong Kong Law Cap. 388). The park administration was separated from the Jockey Club, and it became a non-profit entity of its own then.
In the fiscal year 2007-2008, Ocean Park received about five million visitors so that it was among the top 15 theme parks in annual attendance that year. In 2005, Hong Kong Disneyland opened and is giving the park some stiff competition, but it is still the most popular park. To attract more visitors, it has had a 6 year plan for large scale development and adding land property. This development plan may cost as much as almost a billion US dollars.
One of the newest attractions that opened in 2009 is a new rail system that can transport thousands of people in an hour. It is called the Ocean Express, and it runs parallel to a previously built cable car system. It is similar to the Victoria Peak Tram that transports people from Central District to the peak on Hong Kong Island.
Features
Fun new modern rides including the new The Dragon roller coaster and the The Abyss.
World class facilities including a panda exhibit, transportation systems, the huge four storey aquarium and the walk-through shark aquarium.
It is a non-profit facility so ticket prices are moderate. The elderly and disabled can enter for free.
Not as commercialized as other large theme parks, so there is less high-pressure sales tactics.
Beautiful coastal scenery.
Besides being an amusement park, Ocean Park Hong Kong also operates well developed laboratories for research, has an education department and operates funds for wildlife preservation and research.
The park has good restaurants and shops for souvenirs.
Touring Activities
Ride in the amusement rides.
Tour the area on the transportation sy
Buy souvenirs.
Dine in the restaurants.
Traveling Information
Best Time to Visit: Hong Kong is still fairly warm and is drier in October and November.
Hours: 10 am - 6 pm; 10 am – 11 pm in the summers.
Ticket prices keep changing and are increasing. But tickets cost about 27 USD for adults and 14 USD for children.
Tel: (852) 2580-9092
In Park Transport: Between the Summit and the Waterfront sections, you can take the Ocean Express rail system or the cable car. The cable car gives you good views of the ocean and area, and the Ocean Express has interesting underwater excitement. To get around on the Summit area, you can take the world's second longest outdoor escalator.
Transportation: Bus 629 from MTR Admiralty Station Exit B.
Octopus Card: Hong Kong is fairly unique in the world because you can purchase cards that you can swipe to pay for MTR and bus fare, and it can be used to pay for many other things as well such as purchases at supermarkets, convenience stores and restaurants. The card allows people to travel without standing in line to buy tickets. Card holders simply swipe their cards and their fares are deducted electronically. You can buy these at the MTR station ticket windows.
Nearby Attractions
The city and territory of 7 million has another zoo, a large aviary (bird zoo), two other large amusement parks, and lots of natural areas for hiking and swimming.
Though Ocean Park is Hong Kong's favorite amusement park, Hong Kong Disneyland that was opened in 2005 is the biggest with about 300 acres of land and ambitious development plans. It is located on Lantau Island and is near Hong Kong's airport.
Lantau Island itself is an interesting place to visit if you want to go hiking on long trails through natural surroundings. You can climb the small mountains, stay in the hotels or hostels, eat in the restaurants and hike along the seashore and on the beaches. The hiking paths are not crowded. You can go there via ferry from Central Pier.
About 40% of Hong Kong is protected in 23 parks, including three marine parks and one marine reserve. Hiking trails, waterfalls, clean swimming spots, places to fish, lakes, rivers and some of Asia's best beaches are within walking distance from the modern rapid transit train stations or a public bus station, and they are often empty or have few visitors each day. Some of Asia's best beaches and natural ocean areas are empty, but easily accessible. The 10 tallest mountain peaks all have hiking trails. Books and trail guides are easy to find in book stores and information kiosks.
The Hong Kong Zoological and Botanical Gardens is the largest zoo and is also a botanical garden, and it is easily accessible right above Central District on the other side of Hong Kong Island from Ocean Park. Admission is free.
Right by the Zoological and Botanical Gardens is Hong Kong Park with one of the world's largest walk-through aviaries where you walk through a very large cage filled with many species of birds flying around and perched. It is a public park where there is also a large plant conservatory, museums and interesting exhibits and recreational facilities. Admission to almost everything except the squash courts and restaurants is free.
Noah's Ark is Hong Kong's newest theme park. It was opened in May of 2009 and contains a huge replica of Noah's ark that is 137 meters long. It contains an exhibit of Hong Kong's biggest meteorite, a rope obstacle course, full scale mock-ups of large animals, large screen theaters, restaurants and a hotel.
Latest Tips on Ocean Park
Panda Room in Ocean Park will be closed until August for renovation!
Questions and Answers About Ocean Park
pop n.
2012-09-09
Show Answer
I`ll arrive in hong kong in 2 weeks. where can I see panda ..and if is possible to touch them, to take picture? I`m waiting your reply.thx in advance, Pop N.
Hi Pop, there are pandas in HK Ocean Park. You can see it, but not allowed to touch it.
Whitney Liao replied on 2012-09-10
Swapnali
2012-08-07
Show Answer
I''ll stay in City Garden Hotel'' Hong Kong at the end of august, is it any direct bus to Ocean Park?
Hi Kirtana, yes, you can take Bus 629S to get there.
Whitney Liao replied on 2012-08-09
carol
2012-04-02
Show Answer
is the train and cable car inside ocean park free of charge ??? included in the entrance fee??? is there free water cooler inside ocean park. if i buy food in ocean park can i pay by credit card? how far is it from ywca garden view.is there a mtr station near ywca which i can take to ocean park ? or there is direct bus from ywca nearby mtr station. i read that u mention if i come on sunday is it i can take bus 630.tqvm and may i know how much.
Hi! The cable car is free. I guess there is no free water cooler inside, but I am not sure. You can buy food by credit card. It's about 8-km from ywca garden view to the Ocean Park. There is no direct MTR to Ocean Park. If you go to the part, I think the best way is taking No. 629 bus. BTW No. 630 was canceled. You can walk to Admiralty (west) stop (金鐘西站) and take the No. 629 bus and get off at Ocean Park stop. Peter replied on 2012-04-05
Yati
2011-05-14
Show Answer
How do I go from Anne Black YWCA to Ocean Park. Travelling with 4 adults 2 child.
Hi, I think you could take Bus N170 from your hotel to 香叶道(Xiangyedao), then take a short walk to get there. If you need more information please ask the front desk of the YWCA. Wish you a nice trip at Hong Kong. Kevin Ma Kevin Ma replied on 2011-05-15
karen jane berbesada
2011-04-14
Show Answer
how much is the entrance fee today
Dear Karen Jane Berbesada, There are some kind of the tickets. You can check the fare and book the tickets on the official website. Click here:http://www.oceanpark.cn/html/en/buy-and-book/ Lussie Lu replied on 2011-04-15
Dear Karen Jane Berbesada, There are some kind of the tickets. You can check the fare and book the tickets on the official website. Click here:http://www.oceanpark.cn/html/en/buy-and-book/ Lussie Lu replied on 2011-04-15
April Offer $25 Coupon
Send your inquiry before Apr. 30, 2014, and we will email you a $25 coupon.
The coupon is valid till Dec. 31, 2014, for paying tour packages worth $250 or up.
The coupon cannot be used for paying flight tickets, train tickets, hotel rooms and day trips.
Travel Advice or Question? Ask us here

China Highlights
Hong Kong Travel Guide
Hong Kong Top Attractions