Hong Kong Food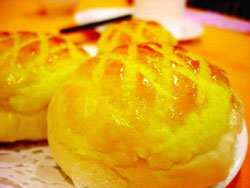 Dining out is one of the most popular things to do as a tourist in Hong Kong. The city is known as the "World's Fair of Food." From roadside stalls to world-class restaurants, Hong Kong offers a wide variety of choices when it comes to dining out.
Many of the restaurants in Hong Kong have been influenced by both eastern and western cultures. In just this one city, food enthusiasts can indulge in all kinds of authentic cuisines that are commonly found in restaurants in Japan, Korea, Thailand, Malaysia, Singapore, Vietnam, India, Europe, and America. With such a wide variety of food, Hong Kong has truly become a gourmet eating paradise.
At least 98% of the residents in Hong Kong are Chinese, Cantonese, Teochew, Hakka, and Shanghainese. Many of them enjoy a traditional breakfast that includes congee and yau cha kwai (oil fried ghosts). However, western breakfasts that include bread, sausage, pancakes, and eggs are becoming more popular.
For mid-day and evening meals, most people serve Chinese cuisines in their homes with rice being the main course for the meal. Popular dishes such as pineapple bread, shark fin soup, sago mix, fish balls, wontons, rickshaw noodles, and roast goose are common meals in most homes. Some of the most common ingredients used in Cantonese cuisines include shiitake mushrooms, Chinese cabbage, salted duck eggs, kai-lan, red beans, dried shrimp, hoisin sauce, dried scallops, jujube, and lotus seeds.
The History of Restaurants in Hong Kong
19th Century: British Colonial Origins
When the first British colony in Hong Kong was formed in 1841, businessmen from all corners of the world flocked to the city. As the colony grew larger, the need for restaurants that could entertain the businessmen grew as well.
1920s: Influences from Canton
Many chefs in Hong Kong learned how to cook gourmet Cantonese food in Canton. Canton (Guangzhou) is a city known for its traditional Cantonese food that catered to both businessmen and peasants. Peasants ate affordable char siu and boat congee, while businessmen ate braised shark fin at 60 yuan per dish. The braised shark dish was only afforded by the rich as it was equivalent to 6 months of wages for a peasant.
1949: Influences from Shanghai and the Western World
The Chinese Civil War in 1949 forced non-Cantonese refugees to seek out a place to escape the Communist rule. Many came from Shanghai. Many of these refugees settled in Hong Kong. After the British colonial segregation had ended, expatriate Westerners influenced the Chinese to include Western food in their restaurants. At this time, Hong Kong style milk tea and egg tarts became popular and restaurants started offering catering for wedding banquets.
1960s – Present: Prosperity and Growth
After Hong Kong made it past its economic depression, restaurants in Hong Kong became more prosperous as more and more people started dining out on a regular basis. Seafood became one of Hong Kong's most delectable delicacies, followed by other types of meat in the 1970s.
With such a large boost in the demand for restaurants, many restaurant owners became more willing to try foreign ingredients in their cuisines. Yet it wasn't until some time in the 1980s when the food styles of South Asia and Japan became more prominent in Hong Kong.
Pineapple Bread
Pineapple Bread is one kind of sweat bread originated in Hong Kong. After some time of baking, the appearance of Pineapple Bread tends to turn to golden and become concavo-convex crisp, looking much like a pineapple, hence gaining this name. A baking mixture of sugar, eggs, flour and lard is placed on the surface of the pineapple. These crisp skins, as the essence of plain bread, deliver the best flavor while they are hot. The most delicious Pineapple Bread is the perfect combination of sweat crisp surface and soft bread.
Tips:
1.Pineapple Bread is very popular in Hong Kong. One can nearly find them in every bakery.
2.Containing high Calories, fat and cholesterol, Pine Bread should not be eaten too much.
Roast Goose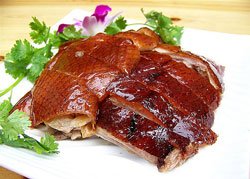 Roast Goose is a traditional specialty of Cantonese cuisine. Roasting the whole goose with secret ingredients, this dish contains rich brine and mellow taste. Cut the delicious goose into small pieces, and each piece consists of skin, meat as well as soft bone. The specific advantages of this delicacy are the crisp skin, tender meat and fragrant bones, and they taste fat but not greasy. Eating with plum juice can give you an extract amazing flavor.
Generally speaking, the supreme choice of making Guangdong-style Roast Goose is a kind of special goose growing in Guangdong region. With moderate size, those gooses can grow up within a short term and is characterized by their thick meat as well as small bones.
Tips:
1.Roast Goose has become the attractive point of tourism catering in the New Territories. Both tourists at home and abroad are addicted to this dish.
2.There are many workshops making Roast Goose. Yung Kee, situated in the central, with a history of over several decades, is famous for Roast Goose. Their Roast Goose has been served as a dish in some business cabin in 2003.
3.With over 40 yeas history, the most notable restaurant in Hong Kong which serves this delicacy is Yue Kee. The former U.S. Consul General in Hong Kong, Li Chi, was a regular customer of this restaurant.
Cheating Shark Fin Soup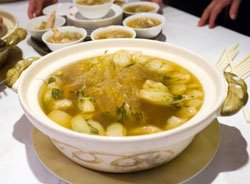 Cheating Shark Fin Soup was rife at Mosque Street in the 1980s. As one of the street snacks, Cheating Shark Fin Soup used to be served in small bowls and sold by vendors along the streets; hence it obtained another name "Shark's Fin in Bowls".
In the past, a lot of hawkers took fragmented shark from restaurants as principle material of this snack. Add mushrooms, black fungus, pork, MSG, along with some other ingredients into the pot, and then all these materials are boiled together. Several seasonings are provided to accompany the meat, typically pepper, Zhejiang vinegar and sesame oil. You can also choose fish and shredded lettuce as you like.
Nowadays, shark fin has been replaced by vermicelli as the main material of this snack.
Tips:
1.Eaten with vinegar, sesame oil and white pepper powder can deliver you a better taste.
2.To enjoy this snack, you can go to Lvzaiji Restaurant, located at A 121 Shau Kei Wan Main East Street.
Rickshaw Noodles
The so-called Rickshaw Noodles is mainly made of instant noodle with a lot of ingredients such as hog skin, fish balls, sirloin, carrots and so on. Added some soup and sauce, all of the above materials can become a kind of fast food and be popular with the Hong Kong people in the 1960's. In the past, vendors always sold this food in street corners with wooded cars. It is a good way to serve grassroots. That's why Rickshaw Noodles obtained its name.
Even today, Rickshaw Noodles is still very popular in Hong Kong. Selling in street corners has become the past of Rickshaw Noodles. Modern shops have taken the place of wooded cars. Due to the various ingredients, they can have many flavors and the price can change in a wide range.
Rickshaw Noodles is really value for money, not only because of its convenience but also accordance with the taste of Hong Kong people. Perhaps that is why it is so welcomed in this region.
Sago Mix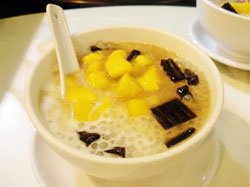 Sago Mix is a traditional desert with a good reputation in Hong Kong. Its main ingredients are Sago and a variety of seasonal fruits. Pieces of colorful fruits adrift amid white pearl-like sago in beautiful container bring you magnificent visual effects. Combining the sweet and sour taste of fruits, strong milk fragrance and tenacity of sago, Sago Mix is a top choice in summer as leisure food.
Starch contained in this dish could strengthen the spleen and remit weakness of stomach and indigestion. Sago also could moisturize skin to natural smooth. That is why it is especially popular with women.
Tip:
There are many workshops making Sago Mix. Xuliushan (a sweets shop), with a history over 40 years, is the best of all. It is regularly seen in Hong Kong next only to the convenience stores.
Fish Ball
Fish Balls is a kind of typical Hong Kong snack which made of fish meat. According to a statistic in 2002, the daily average consumption of Fish Balls in Hong Kong is 55 metric ton (about 3.75 million Fish Balls).
Fish Ball in Hong Kong can be divided into two categories. One is the well-known cooked food sold along streets by venders. Its history can be tracked back to 1950s. This type of Fish Balls is made of fried fish meat. Food stalls often sold them with spicy or sweat sauces.
The other kind is not cooked food but available in traditional markets and super markets. With higher price and different taste from the first type, this kind of Fish Ball is usually served as an important ingredient of hot pot. Another popular way to eat Fish Ball is to cook them with noodle in hot soup. Read more about Fish Ball.
Hong Kong-style Milk Tea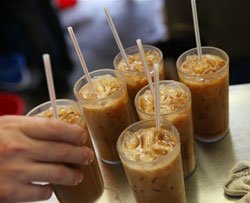 Hong Kong-style Milk Tea,a beverage originating from Hong Kong, is a popular part of many Hong Kong daily life. It is typically served as part of afternoon tea. By and large, milk tea is of standard fare in Hong Kong-style western restaurants and Cha Chaan Teng, as well as Hong Kong's historic Dai Pai Dong (A Hong Kong Style Restaurant). Nowadays, Hong Kong-style Milk Tea has become a symbol of Hong Kong culture. In Hong Kong films, players have mentioned it frequently in dialogues.
Hong Kong-style Milk Tea consists of Ceylon black tea, evaporated milk and sugar. In this drink, Ceylon black tea is inside while evaporated milk is on the surface. Hong Kongers like to say that a cup of superior milk tea is supposed to possess such qualities as "thin tea and fat milk", meaning that the taste of milk should be stronger than tea. Its consistency is like a heavy silk. The fragrance of milk and tea should be combined together. At the same time, they should have distinct arrangement. Due to the ingredients and cooking methods of milk tea, it is possible produce various flavors. Continues to read Chinese tea.
Tips:
1.here are two criterions to pass judge on quality milk tea. The first criterion of a good cup of milk tea is its "smoothness". In other words, how creamy and full-bodied it is. Another criterion for tasty milk tea is some white frothy residue inside the lip of the cup after some of it has been drunk. This white froth means that there is enough concentration of butterfat used in the evaporated milk.
2.Lan Fong Yuen (a Hong Kong style Cha Chaan Teng), situated in the central, is famous for its original Hong Kong-style Milk Tea and has a history of over 50 years.
Wonton
Semi-pentagonal Wonton is known as chāo shǒu (literally means "Crossed hands"). To make a Wonton, you should spread a single wrapper square across the palm of one hand, place a small clump of filling in the center, and seal the Wonton into the desired shape by compressing the wrapper's edges together with fingers. Added clear soup, red oil along with other ingredients before enjoy it. This snack is characterized by its tender skin, fresh taste, light spicy soup and strong fragrance.
Sichuan-style Wonton is famous for its thin skin, tender fillings as well as fresh soup. Superfine flour plus some selected ingredients after necessary process: rub, knead and roll it to form translucent paper-thin and silk-fine wrapping. The meat fillings are smooth, rich and tasty. Soup is made of chicken, duck along with pork. All these ingredients are simmered for a long time. At last the thick soup shows a white color with pleasant incense.
Cooking methods
Wontons are commonly boiled and served in soup, sometimes deep-fried. Several shapes are common, depending on the region and cooking methods. The most famous kind is called Wonton of Sichuan style, is honored as a noted Chinese snack and celebrated snack in Chengdu.
Continue to read Hong Kong restaurants.

China Highlights
Planning a trip? Ask us here 800-2682918 (USA & CA)
86-773-2831999 (Int'l)
Q:
Nv Diva
Asked on 2012-12-27
Reply
I''m planning to visit HK in early January . Need to buy sequince materials n accessories for stage shows at reasonable prices. Boots n leather jacket, warm fur coats . All in reasonable prices . Thk q.
Dear Sir or Madam, I regret that I am not familiar with the markets for selling show dress and so on. I also searched on line and did not find out any other useful information. Here is an weebsite and you could search it and buy it on line. Please click: http://www.alibaba.com/trade/search?fsb=y&IndexArea=&CatId=&SearchText=show+dress Lussie Lu Replied on 2012-12-28
Q:
ashish
Asked on 2012-12-18
Reply
hi, i am ashish, will travel in jan 1st week to hongkong and maccau...any jain food indian restaurant near grand harbour kowloon and near venitian at maccau......
Hi Ashish, below are two recommended:
1. The Delhi Club 新德里餐厅
Address: C Building of Chongqing Mansion, No. 38-44, Nathan Road, Tsim Sha Tsui, Kowloon, Hong Kong
( 九龙尖沙咀弥敦道38-44号重庆大厦C座3楼3室)
Tel: 00852-2368 1682
2. Aruna Indian Curry & Cafe House
Add: Avenida da Amizade 779B, Edificio Chong Yu, Macau, China
Tel: 853-28701850
Whitney Liao Replied on 2012-12-19
Q:
cynthia clorina
Asked on 2012-12-12
Reply
hello will be there on dec21-24. will stay @silka far east hotel. we will arrive @12nn and leave the country at 2pm. can u hel us maximize tour plan. disney, ngo ping, ocean park, peak tram, avenue will be on the list. who can make plan for us and how much?
Dear Sir or Madam, You could have a 2-day tour to visit the attractions: 1-day Disneyland park tour 1-day tour to Ocean park, peak tram, Star avenue Could you please let me know how many people in your group, so that I can give you an exact quote. My e-mail address is lussie@chinahighlights.net Lussie Lu Replied on 2012-12-13
Q:
adi
Asked on 2012-12-08
Reply
hi people,i am planning to stay in kowloon area...is there any halal restaurant food in that area?
Hi Adi, glad to offer you some information:
Muslim Restaurant
Qing

Zhen

Beef Restaurant
This Xinjiang-style restaurant has a good reputation among both foreigners and Chinese considering that the prices are economical and they serve take-out. However, it isn't certified as Halal by the local board. This isn't gourmet Uigher food, but ok for a regular lunch or dinner. Many people love Xinjiang-style Uigher food because there is a greater range of ingredients, more meat and dairy products is served, and there is a greater variety of dishes than in a typical Lanzhou Lamian noodle restaurant. At the crossroads between east and west in far northwestern China, the Uigher people have a cuisine style that is a combination of Chinese-style food and Western Asian-style food. So Westerners find the tastes more familiar. A low-cost specialty at this restaurant is Beef Bread Bun (牛肉餅) and the curry is said to be good.
Specialty: Beef Bread Bun 牛肉餅, about 22

HKD

or 3 USD.
Address: 1 Lung Kong Rd,

Kowloon

City,Ground Floor. Here is the address in Chinese for a driver:

九龍城龍崗道

1 號. It is near Olympic Garden and Prince Edward Road West in

Kowloon

.
Bus Transport: Bus 5C from Tsim Sha
Price:

HKD

41 - HKD100
Number of Seats: 70
Hours: 11am-11pm
Tel: 00852-2382 2822, 2718 3809
Habibi

Muslim Restaurant

The halal food is good, and the setting is special: the restaurant is decorated like Cairo of the 1930s with mirrors, arches, tassels, cushions, and ceiling fans.

Next to the restaurant is the auxiliary Habibi Cafe where the food is cheaper and take-out food is available. Pita bread, tehina, and falafel are served.
Meze

-

HKD

25 to 40;

meze

platters

HKD

85 to 105
Weekday set lunch- about

HKD

65 (9 USD)
Main dinner:

HKD

145-200
Address: 112-114 Wellington St. Shop B & D, Ground Floor in

Sheung

Wan west of Central District.
Hours:

11am-3pm

Mon-Fri,

5pm-midnight

Mon-Sat
Nora Ou Replied on 2012-12-09
Q:
Danny
Asked on 2012-12-06
Reply
Hi I am will be in HK between 28th december to 1st january. What is a good chinese restaurant in the areas of Harbour City, mongkok market, and central hk (new years eve night)?
Hong Kong Travel Guide