Stone Forest
Being one of the National Scenic Resorts in China, Stone Forest Scenic Resort is 83km from Kunming and has a complete range of karst formations. Among the most wonderful attractions in this area are the following eight scenic spots: Large & Small Stone Forests, Naigu Stone Forests, Large & Small Zhiyun Caves, Qingfeng Cave, Long Lake, Moon Lake, Fairy Lake, Feilong Falls. Standing upright in the Stone Forest are innumerable cliffs and peaks, lofty and majestic, steep and precipitous, charming and enchanting.
An interesting legend related the attraction goes that a heroine Asham of the Sani( the Sani people are a branch of the Yi nationality living in Yunnan province) was bore into a poor family in today's Yunan region. The girl was very clever and she began helping her father herd sheep at the age of 12. One day in the mountains she saved a boy named Ahei who had lost his way while picking wild fruit. Ahei, a 12-year-old orphan, had to toil for the landlord. Sympathizing with the poor boy, Ashma took him home. Ashma's parents took pity on Ahei and fostered him. Ahei and Ashma grew up together and they fell in love with each other. They got married and lived a happy life. But Ashma was later abducted by the man, Azhi, the landlord's son who was eager for the lady's beauty. When Ahei-the husband learnt the event, he killed the landlord and his son and rescued his wife-Ashma. The lovers went into the stone forest and lived happily there ever after, giving birth to fine sons and daughters who are said to be the ancestors of the Sani people.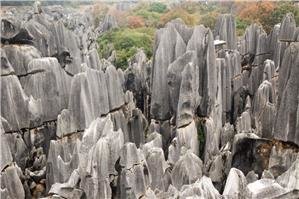 Large & Small Stone Forests is a famous scenic spot of Stone Forest Scenic Resort.
From afar, it really looks like a dense forest but as you walk closer, you will find "trees" are all slender stone pinnacles. The sight is vast covering some 350 kilometers. The Yi and Sani ethnic group who live there are hardworking and good at singing and dancing. Their folklore and culture are colorful and multifarious, backed up by a long history.
This area's altitude is 1760 meters. This results in perennially pleasant weather, with the annually average temperature of 15.6 Celsius. The Stone Forest is connected with Kunming both by highway and railway, enjoying an easily accessible transport.
Travel Essentials
Food: Tourists can taste the delicious local food, such as the edible wild mushrooms, Yi people's Tofu feast, and so on.
Shopping: Tourists can buy the handicraft works, minority clothes and the folk paintings in Stone Forest.The best time to visit: the Stone Forest, especially the Greater and Lesser stone forests, is September to May next year.
Latest Tips on Stone Forest
The Stone Forest Scenic Spot has limited catering facilities so the range and quality meals are limited. Our guides will do all they can to arrange the best possibly selection.
Questions and Answers About Stone Forest
mukunda
2013-05-08
Show Answer
1 day tour in stone forest
Hi Mukunda, how many people and which day, please?
Whitney Liao replied on 2013-05-09
hilyati
2013-02-24
Show Answer
hi, can u quote me for a half day private tour (2 adults & 1 children 2.y.o) for the stone forest. pick up from hotel in Kunming. thx!
Hi Hilyati, thanks for your inquiry. I have sent you a quotation via email. If you can't find it in your inbox, please turn to your spam. Kind regards, Whitney
Whitney Liao replied on 2013-02-25
Caroline
2012-11-22
Show Answer
Ni Hao! I have a question about one day tour from Kunming to Stone Forest and Diadieshu waterfall... After that I would like to catch the train from Kunming at 6pm...
Hi Caroline,we could arrange Stone Forest and Dadieshu waterfall sightseeing for you but I don't think the Diadieshu Waterfall is beautiful in low water season. Please let me know your exact travel date and I could give you a detailed proposal. Please contact me by lilylee@chinahighlights.net. Lily Lee replied on 2012-11-23
Hi Caroline, we could arrange the transfer service to railway station. Please let me know your train No. and then I will give you details. Lily Lee replied on 2012-11-25
Siew
2012-11-05
Show Answer
One day stone forest & western hill tour for 4 persons. No shopping.next day will join 7 days Yunnan tour.a lot of shopping during my tour.
Hi Siew, I would like to arrange a Yunnan tour including one day Stone forest and western hill in Kunming. Only private tours with your own English speaking guide and van are available in Yunnan. We promise non-forced shopping tour in a private tour. Would you spend 8 days on this trip? When would you want to take the tour? About the 7-day Yunnan tour, do you mean the tour package below? http://www.chinahighlights.com/tour/kunmingtour/km-4/ If anything about the trip, please contact me at coco@chinahighlights.net. Regards, Coco guest replied on 2012-11-06
April Offer $25 Coupon
Send your inquiry before Apr. 30, 2014, and we will email you a $25 coupon.
The coupon is valid till Dec. 31, 2014, for paying tour packages worth $250 or up.
The coupon cannot be used for paying flight tickets, train tickets, hotel rooms and day trips.
Travel Advice or Question? Ask us here
China Highlights
Kunming Travel Guide