Dongchuan Red Land near Kunming
Summary
Luoxiagou, or Luoxia Valley at Dongchuan Red Land near Kunming is considered to be the most magnificent red land in the world besides the red land in Rio de Janeiro, Brazil, with its beauty more sublime than that in Brazil. It is the most massive red land with typical features of Yunnan highland plateau. With gorgeous and colorful hues, Dongchuan Red Land is praised as a palette on earth, and is more and more favored by backpackers, hikers and photographers.
Overview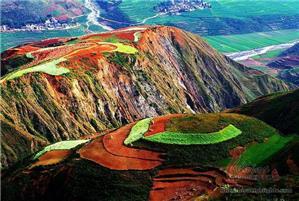 Charming view of Dongchuan Red land
Yunnan is located in the warm and humid area of Southwest China. The soil there is rich in iron mineral, and after many years of oxidization and sedimentation, it gradually takes on beautiful reddish brown colors.
Dongchuan Red Land refers to a large area of red land located in Xintian Town northeast of Kunming City. Every year from September to December, part of the red land is ploughed for planting, while another part of the red land has already been planted with crops. The whole multi-colored land with the blue sky, white clouds and changing hues create a magnificent view.
Viewed from afar, the hills and fields appear in all kinds of red colors. Flowers blossom on the hill peaks and slopes, together with golden blades of wheat waving with breeze, creating layers of colors that reach far away. People visiting Dongchuan are suggested to get up early and come back late, because the sunrise and sunrise are all so engaging.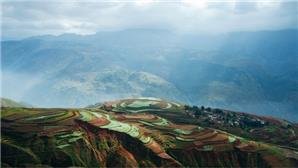 Sun shines on Luoxiagou, one of the most beautiful sites at Dongchuan Red Land.
Luoxiagou (Sunset Clouds Ditch) is considered one of the most beautiful sites at Dongchuan Red Land. As its name suggests, Luoxiagou is where sunset clouds dwell. Its beauty is beyond description or drawing. Its beauty changes with winds, clouds, sunlight, plantation and viewing angles.
Luoxiagou being the most beautiful sight of Dongchuan Red Land is for 3 reasons. Firstly, it has breathtaking views. Luoxiagou is in fact a ridge, with steep mountains standing at both sides; a village is situated between the high and steep slopes, and its trees, buildings and roads are orderly arranged. Surrounding the village is the vast field. Secondly, it has beautiful curves. The field on the ridge is ploughed according to the terrain contour lines, forming numerous large and small beautiful circles. Thirdly, it has red surfaces. The whole ridge in red shows the typical features of this red land.
Location
Dongchuan Red Land is located about 250 kilometers (155 miles) northeast of Kunming, with an altitude of 1800-2600 meters above sea level.
Best Time to Visit
The best time for photography there is from mid-May to early-June and from mid-October till November each year. In the winter when it snows, the scenery will be quite different, but the road most likely to be frozen and blocked.
In fact, different seasons offer different views. In summer, potato flowers blossom and wheat is ripe, while in autumn some parts of the red land are ploughed, waiting to be seeded while others are covered with green barley or wheat or other crops. Besides, the unique white Cole Flowers are in bloom. According to local villagers, the scenery is the most beautiful on the third day after raining, because then the land is saturated with rain water, which makes the colors look richer, and sometimes rainbows appear above the red land.
Questions and Answers About Dongchuan Red Land near Kunming
Patty
2014-04-08
Show Answer
Interested in taking a private one day tour from Kunming to Donchuan Red Land, May 27th, 2014 for two people or we can join another one with max 4 people, can you please recommend a company to organize this?
Tao
2014-02-23
Show Answer
How''s Dongchuan Red Land in March? Worth to go?
Hi Tao, there would be beautiful rape flowers in March. It is definately worth a visit. Whitney Liao replied on 2014-02-24
Dr SAraf
2013-11-15
Show Answer
6 of us arriving kunming airport 12-31-2013 at5.10am.like to go straight to red land & return by 9pm to kunming.will the roads be blocked by snow?will the scenery be beautiful?some sites recommend till November end-some till December end.can anyone recommend chauffer driven minivan/ muv & guide/ driver who understands & speaks English & is familiar with scenic spots & has been there previously.must see lexiagou
Dear Ashok, Thank you for your inquiry. According to the historical data, the road won't be covered by snow, and it is still ok to visit the red land. Although it is not the most beautiful time for the red land, it is not so colorful, but the landform is still beautiful for photography. Doris Huang replied on 2013-11-16
angie
2013-11-06
Show Answer
pls arrange tour to dongchuan red land n hotel on 25/11/13 fr 8 passengers. pick up at Kunming airport n return to Kunming city on 26/11/13.
Dear Angie, It is not recommend that you visit Dongchuan Red land in November since the view is not good and it takes 4 hours one way drive to there. May to October is the best time to visit Dongchuan Red land. If you need us arrange city tour in Kunming, please feel free let me know. Nancy Nancy Deng replied on 2013-11-07
Sam
2013-09-18
Show Answer
I likely will go to Lexiagou in November, Nov. 23 or 24, 1-day trip, from Kunming, mainly to take photos. Any recommendation to a 1-day tour guide/driver, who''s familiar with the picturesque spots? Any tip would be appreciated.
Dear Sam,
Thanks for your tour inquiry. I just send a detail quotation of one day private trip (a private English-speaking tour guide, a driver and a private car serve you) to Luoxiagou for your reference. Please take your time to check it and feel free let me know your idea.
Nancy

Nancy Deng replied on 2013-09-19
April Offer $25 Coupon
Send your inquiry before Apr. 30, 2014, and we will email you a $25 coupon.
The coupon is valid till Dec. 31, 2014, for paying tour packages worth $250 or up.
The coupon cannot be used for paying flight tickets, train tickets, hotel rooms and day trips.
Travel Advice or Question? Ask us here

China Highlights
Kunming Travel Guide