Dongchuan Red Land near Kunming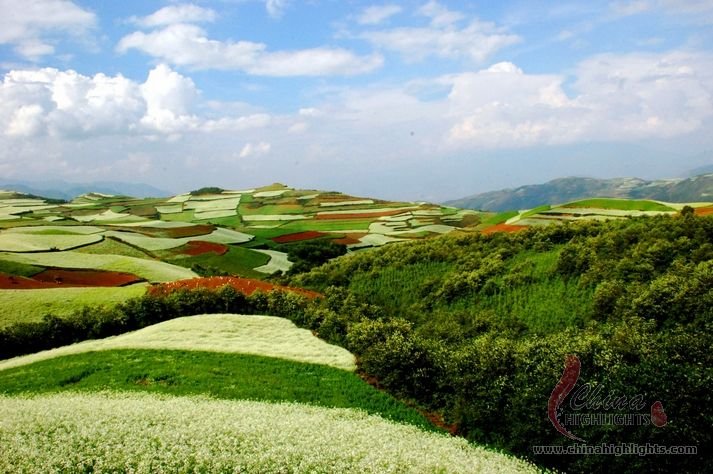 Summary
Luoxiagou, or Luoxia Valley at Dongchuan Red Land near Kunming is considered to be the most magnificent red land in the world besides the red land in Rio de Janeiro, Brazil, with its beauty more sublime than that in Brazil. It is the most massive red land with typical features of Yunnan highland plateau. With gorgeous and colorful hues, Dongchuan Red Land is praised as a palette on earth, and is more and more favored by backpackers, hikers and photographers.
Overview
Yunnan is located in the warm and humid area of Southwest China. The soil there is rich in iron mineral, and after many years of oxidization and sedimentation, it gradually takes on beautiful reddish brown colors.
Dongchuan Red Land refers to a large area of red land located in Xintian Town northeast of Kunming City. Every year from September to December, part of the red land is ploughed for planting, while another part of the red land has already been planted with crops. The whole multi-colored land with the blue sky, white clouds and changing hues create a magnificent view.
Viewed from afar, the hills and fields appear in all kinds of red colors. Flowers blossom on the hill peaks and slopes, together with golden blades of wheat waving with breeze, creating layers of colors that reach far away. People visiting Dongchuan are suggested to get up early and come back late, because the sunrise and sunrise are all so engaging.
Luoxiagou (Sunset Clouds Ditch) is considered one of the most beautiful sites at Dongchuan Red Land. As its name suggests, Luoxiagou is where sunset clouds dwell. Its beauty is beyond description or drawing. Its beauty changes with winds, clouds, sunlight, plantation and viewing angles.
Luoxiagou being the most beautiful sight of Dongchuan Red Land is for 3 reasons. Firstly, it has breathtaking views. Luoxiagou is in fact a ridge, with steep mountains standing at both sides; a village is situated between the high and steep slopes, and its trees, buildings and roads are orderly arranged. Surrounding the village is the vast field. Secondly, it has beautiful curves. The field on the ridge is ploughed according to the terrain contour lines, forming numerous large and small beautiful circles. Thirdly, it has red surfaces. The whole ridge in red shows the typical features of this red land.
Location
Dongchuan Red Land is located about 250 kilometers (155 miles) northeast of Kunming, with an altitude of 1800-2600 meters above sea level.
Best Time to Visit
The best time for photography there is from mid-May to early-June and from mid-October till November each year. In the winter when it snows, the scenery will be quite different, but the road most likely to be frozen and blocked.
In fact, different seasons offer different views. In summer, potato flowers blossom and wheat is ripe, while in autumn some parts of the red land are ploughed, waiting to be seeded while others are covered with green barley or wheat or other crops. Besides, the unique white Cole Flowers are in bloom. According to local villagers, the scenery is the most beautiful on the third day after raining, because then the land is saturated with rain water, which makes the colors look richer, and sometimes rainbows appear above the red land.
Page Rating:
5.00

/

5
based on
6
ratings.

China Highlights
Planning a trip? Ask us here 800-2682918 (USA & CA)
86-773-2831999 (Int'l)
Q:
Chris Wee
Asked on 2013-01-24
Reply
Hi. how long it takes to travel to Dongchuan from Kunming by car? We plan to visit kunming in late feb, what''s the weather like? Thank you and have a great weekend!
Hi Chris, it is about 2.5hrs to Dongchuan from Kunming by car. In late February, the temperature is about 17 °C (63 °F).
Whitney Liao Replied on 2013-01-27
Q:
Aldo Lau
Asked on 2013-01-23
Reply
Hi, I''m already doing a Yunnan tour and will end in Kumming in 9/9, but my tour won''t include Dongchuan. If I want to do a tour to Dongchuan, and possibly Yuanyang and Jiaozi Snow Mountain afterward, do you have such tours available? If yes, what would the costs be, for either 1 or 2 people?
Thank you for your tour inquiry,
China Highlights is good at customizing tours, for sure, we can arrange the Dong chuan,Yuanyang and Jiaozi snow mountain tour for you.
Would you please offer me more information about your plan? Please also answer the following questions so that I can tailor-make a complete tour proposal for you just according to your requirement.
1. Number of people in your group including yourself
2. Length of stay in China
3. City or cities of entry/exit
4. Starting date of Tour
5. Places or attractions that you want to visit
6. Class of Hotel: Deluxe/Comfortable/Budget
7. Estimative total budget excluding international flights
wish to hear from you soon.
Lily Guo Replied on 2013-01-26
Q:
Hien Truong
Asked on 2013-01-07
Reply
Hi, we are 4 adults and will be in Kunming in May 2013 & wonder how much it cost to visit & stay overnight in Dongchuan?Thanks
Dear Hien,
Thanks for your enquiry!
We can arrange two-day tours to Dongchuan from Kunming, Dongchuan is a wonderful place to take nice pictures of sunrise and sunset. As Dongchuan is quite small, there are no decent star rated hotels near the villages. It is about 165 km from Kunming to Dongchuan, and another 88 km to the Huashitou Village, the exact location of taking pictures. The tour for four people would be about US$200 per person, if you have the exact dates, feel free to forward them to us for a more accurate quotation. Thanks for your time!
Candy Wei Replied on 2013-01-08
Q:
carrie
Asked on 2012-12-26
Reply
HI! I''m travelling to Kunming on 6th March and would like to visit Dongchuan red land. wondering is that the right time to visit?
Hi Carrie, it is a perfect time to visit it. We are very glad to assist planning your Dongchuan tour, please kindly advise the number of people, then we will send you a proposal.
Whitney Liao Replied on 2012-12-27
Q:
SL
Asked on 2012-09-13
Reply
Hello. I would like to find out the cost of doing a day trip to Dongchuan Redland for 6-8 persons during late December. Is it a good time to go? Thanks.
Hi SL, thank you for your inquiry. The best time for photography there is from mid-May to early-June and from mid-October till November each year. In the winter when it snows, the scenery will be quite different, but the road most likely to be frozen and blocked. If you come in December, it's possible the road would be blocked. For a group of 6 people, the one day Dongchuan Private tour would cost about US$350-400 in total. The more adults in the group, the lower the price. If you would like to book the tour, please inform the exact date and number of people in the group and contact me at nora@chinahighlights.net. Nice day! Nora Ou Replied on 2012-09-17
Kunming Travel Guide