Yuanyang Terraced Rice Fields
Quick Facts
Location: in South Yunnan Province, 400 kilometers or 7 hours drive from the provincial capital city of Kunming
Features: More than ten thousand hectares of terraced rice fields and some ethnic Hani villages, ideal place for photography
Nearby Attractions: Jianshui Ancient Town, Mengzi Ancient County
Recommended Tour: Yuanyang Rice Terrace Fields Breaking Tour
The terraced rice fields of China are famous, but one place that you cannot miss is Yuanyang, as the terraced fields in Yuanyang are the home of the Hani nationality. They have played a vital role in the life of the Hani since ancient times and remain the fabric of the Hani people's existence.
The best time to see the magnificent terraced rice fields is during February and March. This is when villagers water the terraces in preparation for ploughing. The water in the fields reflects the sunshine and creates many colors. Yet, the terraced fields also have seasonal beauty. In September, when the rice is ripe, the mountains turn a golden yellow color.
The China Highlights team visited Yuanyang in February 2010 to view the flooding of the rice terraces. We rose early to go to Duoyishu to view the sunrise, and then headed to Daba and Qingkou. After lunch, we went to Laohuzui for the sunset.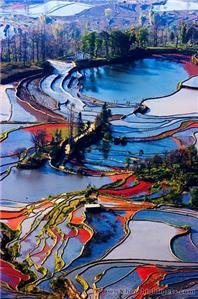 From December to January of the next year, the red duckweed and other plants in the water make Yuanyang Terrace Fields colorful.
Duoyishu is a 50-minute drive from Yuyuan. It is considered the best place to take pictures of the sunrise on the terraces. To reach Duoyishu at dawn, we departed Yuanyang at 6 a.m., when it was still quite cold and windy. Some photographers go very early to get the best spots.
About 7 a.m., the sunlight appears on the horizon, silhouetting the terraces and making for quite an amazing moment. Photographers are smitten by this image and the sounds of their camera shutters opening and closing interrupt the stillness. The sun rises persistently. The village nearby wakes up and people start walking on the ridge, presenting even more photo opportunities. After an hour, the sun has risen on the mountain. Everything is visible and clear, and we have filled our memory cards.
We then moved to the Bada terraces, which extend from the base to the top of the mountain. The ridgeline is quite clear and is extraordinarily beautiful. This is a good place to take pictures at sunset. On the way back to Yuanyang, we stopped at Qaunfuzhuang and Qingkou for a break. These are two ideal places to find a terraced field of some scale. You can also visit the Hani people's village in Gingkou.
By noon, we were back in Yuanyang and that day was market day. According to local customs, the market is held at different villages each week. The Hani people and the Yi people from the surrounding area all come to the market, providing many photo opportunities.
We departed at 4 p.m. for the Laohuzui terraced fields, and took a 40-minute drive to Laohuzui. The terraced fields are larger than we expected.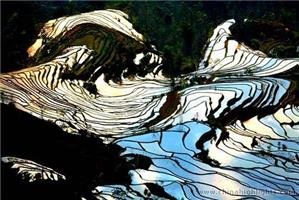 The best time to take photos of Yuanyang Terrace Fields is from November to April of the next year.
The sun slowly descended behind the mountain and the light reflected on the water in fields. Everybody was busy taking pictures of this beautiful scenery. Longshuba is probably the next best place to take photos of the sunset, which was about a 40-minute walk from Yuanyang. The terraced fields in Longshuba grow duckweed; therefore, the water looks shinier. If you are lucky, you might see a sea of clouds while in Yuanyang. The terraced fields are draped in mist, creating an unforgettable impression.
The Yuanyang Hani terraced rice fields are now a World Heritage. Travel with China Highlights to document the beautiful Yuanyang terraced fields with your camera.
Latest Tips on Yuanyang Terraced Rice Fields
During spring, the weather and temperature in Yuanyang vary greatly during the day. It can be cold in the morning and evening and warm at noon and is often raining. Please bring the suitable clothes and camera equipment.
Questions and Answers About Yuanyang Terraced Rice Fields
CP Lee
2013-08-28
Show Answer
Hi. Is Nov/Dec a good time also to see the rice terrance ? Will they be flooded ?
December to March (after the harvest, when the terraces have been irrigated) is good for appreciating Yuanyang Rice Terraces, and the best time is from January to March, when seas of clouds on the terraces are more likely. In early spring (from late February to March), the terraces are decorated with lots of flowers, including pink peach blossom and white pear blossom. Besides an umbrella, warm clothes are necessary, because the temperature differenced there are big. Nora Ou replied on 2013-08-28
Aza Nakagawa
2013-02-04
Show Answer
Hi, we will be travelling to Kunming in July 1 and 2 and what is the best places to visit. What would you suggest? We are from Canada and will be joining a tour from July 3-9 to Kunming, Lijiang and Dali. But, we will arrive 2 days early to explore Kunming city by ourselves (4 of us)Thank you for your assistance.
Hi Aza, you can visit the Stone Forest, Green Lake Park, Yuantong Temple, Bamboo Temple, The Dragon Gate on Xishan/West Hill, etc. We have some Kunming tours here: http://www.chinahighlights.com/kunming/tours.htm If you are interested in it, please feel free to contact me. We can also tailor make the tour for you, as we have been in this field since 1959.
Whitney Liao replied on 2013-02-06
emanuela
2012-12-15
Show Answer
Hello, My companion and I are planning a tour around China in early January, we''ll be in kunming for a few days and we would like to visit yuanyang rice terraces, could that be done in a couple of days or so? can you please quote a tours for us? thanks & regards
Hi Emanuela, Yuanyang is about 6 hours drive away from Kunming city and we always suggest a 7- day trip there including the Kunming highlights. See here: www.chinahighlights.com/tour/yuanyangtour/yn-2/ . The tour price is from $1019 per person based on 2-5 persons. I would like to arrange this tour for you and your companion if you wish. If anything, please contact me at coco@chinahighlights.net Regards, Coco Coco Yang replied on 2012-12-16
Adrian
2012-08-17
Show Answer
Hi, i would like to arrange a 7 day photography tour to cover Yuanyang rice terraces and stopping by Mile for 1 day (for the hotsprings)Can you please quote based on 8 pax?Tks!adrianSGTrekkeradrian@sgtrekker.com
manop
2012-01-09
Show Answer
Can you show me what can i deal biz with Kunming im-export etc garment/agriculture from Thailand
I advise you to consult Thailand Consulate in Kunming. Address: 1/F, South Building, Kunming Hotel, No.145 Dong Feng Dong Road, Kunming 650051 Tel: +86-871-3168916/3149 Fax: +86-871-3166891 Lynn Ye replied on 2012-01-12
April Offer $25 Coupon
Send your inquiry before Apr. 30, 2014, and we will email you a $25 coupon.
The coupon is valid till Dec. 31, 2014, for paying tour packages worth $250 or up.
The coupon cannot be used for paying flight tickets, train tickets, hotel rooms and day trips.
Travel Advice or Question? Ask us here

China Highlights
Kunming Travel Guide