Impression Lijiang
Impression Lijiang is a magnificent outdoor singing and dancing performance demonstrating the tradition and lifestyle of the local ethnic people. It is another creation of famous Chinese director Zhang Yimou. The show is innovatively staged in the morning and afternoon, at 3,100 meters (10,100 feet) above sea level with Jade Snow Mountain as the breathtaking backdrop.
Impression Lijiang lasts for about one hour, consisting of two parts: "Impression of Snow Mountain" and "Impression of the Ancient City". Besides music and dance, the show provides an insight into the tradition and lives of the local ethnic people. Around 400 local ethnic Naxi, Bai and Yi people were selected from nearby towns and villages to participate in the performance. They dress up in their ethnic costumes and accessories to perform the singing and dancing, horse riding and drumming, presenting real ethnic atmosphere to the show.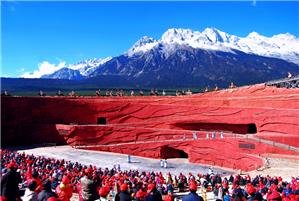 Performance of Impression Lijiang
Tickets and transportation to watch Impression Lijiang can be arranged when you are in Lijiang taking our Lijiang Tours.
Jade Dragon Snow Mountain
Jade Dragon Snow Mountain is located 15 kilometers north of Lijiang City, with a height of 5,596 meters (18,360 feet). Jade Dragon Snow Mountain is famous for its variant and beautiful natural scenes, and is considered a sacred mountain among local Naxi ethnic people. It is also a popular hiking destination.
Show Times
Daily
10:30-12:00
13:30-15:00
Note
1. The show will be cancelled if there is heavy rain.
2. The show is on during daytime outdoors at a high altitude, so it is recommended to wear sun protection such as sun block and hats.
Questions and Answers About Impression Lijiang
April Offer $25 Coupon
Send your inquiry before Apr. 30, 2014, and we will email you a $25 coupon.
The coupon is valid till Dec. 31, 2014, for paying tour packages worth $250 or up.
The coupon cannot be used for paying flight tickets, train tickets, hotel rooms and day trips.
Travel Advice or Question? Ask us here

China Highlights