Lijiang Weather in September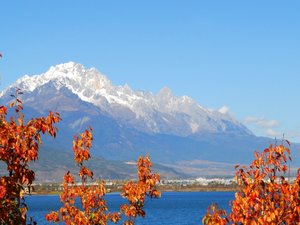 September is a pleasant month, with temperatures between 15 °C (59 °F) and 26 °C (78.8 °F) if it doesn't rain.
Wear a beautiful vest and long pants in the daytime, and if you are climbing the mountains, wear a feather dress. Remember to use sunscreen, and bring a jacket for the evenings.
At the beginning of September is a festival called the zhuàn shān Festival. During the festival, you can see the local people wearing beautiful ethnic minority dresses. They sing and dance to worship the heaven and their ancestors. Meanwhile, prices for hotel rooms and train/plane tickets are lower, as this month comes during the off season. See our Lijiang Tours.
Lijiang Climate Information by Month

China Highlights
Planning a trip? Ask us here 800-2682918 (USA & CA)
86-773-2831999 (Int'l)
Q:
IRENE
Asked on 2011-09-12
Reply
LIJIANG MUST WEAR WINTER CLOTHES?IF GO UP MOUNTAIN , WE HAVE DIFF BREATHING , HOW? IS KUNMING THE SAME?
Hi Irene The temperature is differed by the day time and night time. You may need winter clothes in the evening, while short T-shirt and long pants will be ok for the day time. So, I recommend that you prepare both winter and summer clothes, but focus on summer clothes. The Yulong mountain is 5596meters above the sea level, so you may have a little breathing problem there, but most people feel ok about that. Kunming is not in a high altitude, so there is no breathing problem. The weather is very nice all year around, so T-shirt and pants is Ok for the day time and coat, thin sweater for the night time. Are you planning to visit Lijiang? Have you booked a tour? Please feel free to contact me for a tail-made tour proposal: william@chinahighlights.net William Huo Tour Advisor William Replied on 2011-09-12