Top Eight Places to See Fall Foliage in China — China Travel in Fall
Some places of in China are awesome in the fall season due to the brilliant show of colors there. The leaves show their rich and vibrant hues, with colors ranging from bright yellows to flaming reds. China's foliage season lasts from mid-dle October to early November. Listed below are some of the best places to enjoy fall colors.
Why to Visit China in Fall
The Autumn Colors of Jiuzhaigou
Fall is commonly called "the best season to go to China" because of the combination of dryness and warmth. One tourist called the country's autumns "dreamlike and fantastic". There is also the chance to experience China's deeply significant Mid-Autumn Festival in September or October according to the Chinese calendar.
Many tourists choose autumn as the time to visit China because the summers can be frightfully hot!
China in fall can look as breathtakingly attractive as any place can be. Traditionally, the season is thought of as beginning on September 1, when children go back to school, though the weather can be still hot in September, and pleasantly warm well into November, in much of the south. Winter and autumn come earlier in the north. See China Weather.
1.

Fragrant Hill in Beijing

Best time for viewing: mid-October to early November

Fragrant Hill in the suburbs of Beijing is the most popular, and the most accessible, place to enjoy autumn foliage. The hill is covered by smoke trees and maple trees. Each year after a frost, which usually falls in early October, leaves turn color gradually. By mid-October, the mountain is shrouded by a colorful carpet of red, orange and purple. The Fragrant Hill Red Leaves Festival is held each year on the hill in the middle of October. Local families flock there during the festival to enjoy autumn colors.

Fragrant Hills Park(Xiangshan Gongyuan) is located in the suburbs of Beijing, and every resident of the city thinks of it as his "garden near home." Pine, maple and persimmon trees dot the landscape, as do many traditional Chinese buildings.

The park shows itself at its most colorful and spectacular during the autumn, and in mid-October the park holds an Autumn Leaves Festival. See other best places to see fall colors in Beijing.

Recommended tour: Beijing Fragrant Hill Park Tour
2.

The Yellow Mountains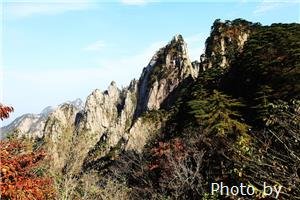 The Autumn Colors of the Yellow Mountains
The Yellow Mountains put on a fabulous show of colors each autumn. Leaves show their rich and vibrant hues, with colors ranging from orange to brilliant red. The Autumn foliage season begins in October and lasts to early November. Except for the red leaves, there are many other highlights which are worth seeing such as the sunrise, rocks, waterfalls, oddly-shaped pine trees and sea of clouds. The Mountains are renowed as the most beautiful mountain in China.
The Yellow Mountains are close to other tourist destinations like Shanghai, Hangzhou and Nanjing. A visit to the mountains can be combined with tours to these cities. See China Highlights Yellow Mountain tours.
Recommended tour: 4-Day Yellow Mountain Classic Tour
3.

Tachuan, Huangshan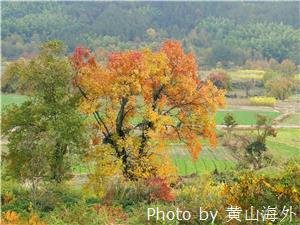 Tachuan Village
Best time for viewing: late October to November
Tachuan is a small village at the foot of the Yellow Mountains. It has been frequented by tourists in recent years for its autumn colors. The area has many old Chinese tallow trees and maple trees, and in autumn, when leaves turn golden and red, it makes a feast for the eyes. Chinese photographers flock there to take photos of the spectacular scenery. What makes Tachuan's autumn scenery stand out is the views of colors interspersed with classic grey houses.
Many travelers combine their trips to the Yellow Mountains with visits to Tachuan. See China Highlights Tachuan tours.
Recommended tour: 4-Day Autumn at Yellow Mountain and Tachuan Village
4.

Kanas, Urumqi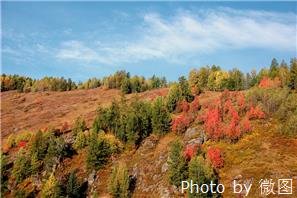 Kanas
Best time for viewing: late September
In south Kanas are birch woodlands, and Kanas River and Hemu River flow into the Irtysh River, both forming a semicircle and flowing around the Altay Mountains to Russia and Mongolia. Forest-clad mountains and limpid streams complete the scene. The peaks of the Altay Mountains is are covered with pure white snow all year round. Few inhabitants live here, and the vegetation is very well preserved.
Every autumn sees an annual performance appearance of a variety of colors: birch leaves turn yellow, maple leaves turn red. When the autumn wind blows, the entire mountain quivers. All you can see is an ocean of golden brown. In this fairytale world, even visitors walk carefully lest they trample the epicormic branch, hurt the grass, and destroy and disturb the tranquility and flawlessness of nature.
Kanas is on the top of China's photography destinations. See China Highlights' Kanas tour to take in the spectacular displays of colors.
Recommended tour: 8-Day Memories of Xinjiang Tour
5.

Miyaluo, Chengdu

Features: thousands of miles of gorgeous crimson leaves

Best time for viewing: mid-October to early November

The Miyaluo area is a typical region covered by subalpine coniferous forests in west Sichuan Province in southwestern China. Miyaluo means "a funny dam" in Tibetan.

Located in Aba Tibetan and Qiang ethnic minority Autonomous Prefecture in Sichuan Province,on the lower slopes of the snowy mountains, facing the Sichuan Basin, Miyaluo has the largest red-leaf landscape area in China. Miyaluo lies on the tourist route between Chengdu and Jiuzhaigou Valley – Huanglong. It is 263 kilometers (163 miles) from Chengdu.

The total area of the scenic spot is 3,688 square kilometers (1,424 square miles), 180 times larger than the famous Fragrant Hill red leaves scenic area in Beijing. It is currently the largest area open to the public and has the most spectacular scenery for a red leaves scenic spot. The mountains and the water are covered with red leaves. What's more, when vehicles pass the road comes alive with swirling leaves like bursts of flame. Snow mountains, hot springs, forests, red leaves, and the culture of the Tibetan and Qiang peoples, together create a magical autumn paradise.

Miyaluo is particularly loved by photographers due to its inspiringly beautiful colors in Autumn. The place is remote and hard to access. You need to take an arranged tour if you want to visit. See China Highlights' tour to Miyaluo and the surrounding areas.

Recommended tour: 8-Day Nature Wonders in Western Sichuan (experience Tibetan culture in Sichuan Province)
6.

Jiuzhaigou Valley, Chengdu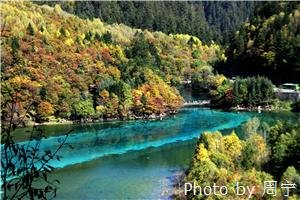 Jiuzhaigou
Best time for viewing: Late October
Features: the most beautiful national park in China.
Jiuzhaigou ('Nine Village Valley') is a nature reserve and UNESCO World Heritage Site in Sichuan, The park's main feature are clear and multicolored lakes surrounded by vast mountain forests whose brilliant autumn colors become reflected in the water.
Autumn in Jiuzhai Valley has the most abundant variety of colors, and it is renowned for displaying all the colors of the world. When autumn comes, bright colors can be found everywhere, as leaves turn yellow from green and from yellow into red. The most wonderful aspect of the area, of course, is the water. Numerous, different sized lakes, ponds, and waterfalls display a dream combination of red, orange, yellow, green, blue, and purple. Visitors feast their eyes on the beautiful scenery.
Transportation: The Jiuzhai loop line from Chengdu to Jiuzhai Valley has been built in the shape of a ring, with the entire route covering 913 km (567 mi). Both east and west routes comprise a 400+ km journey, the trunk road line is a cement road, asphalt in the towns, and a single journey may take eight hours. Starting from Chengdu, tourist buses from Chengdu Xinnanmen Tourism Bus Station go to Jiuzhai Valley. A bus sets out at 8 o'clock every morning. Long-distance buses go directly from Jiuzhai Valley to Huanglong; the day bus starts at 07:30 and there is a night bus that starts in the evening and arrives in the morning.
Jiuzhaigou's breath-taking natural scenery has tempted many travelers to make return trips, If you love impressive nature, you definitely shouldn't miss it. See China Highlights' Jiuzhaigou and Huanglong tour.
Recommended tour: 5-Day Scenic Tour to Jiuzhaigou and Huanglong
7.

Qixia Mountain, Nanjing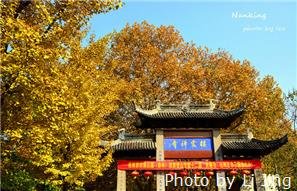 Qixia Mountain
Features: red maple leaves
Qixia Mountain is located in Qixia town, about 22 kilometers (14 miles) northeast of Nanjing, in East China's Jiangsu Province. In late autumn, Qixia is covered with red leaves. People in Nanjing usually enjoy the scenery with their family members.
Entry: 20 yuan for an adult (in late October, the ticket price may increase to 30 yuan per person). Every adult that buys a ticket can bring a child shorter than 1.3 meters (4.2 feet) in height for free.
Transportation:from Nanjing Railway Station, take either the Nanlong or Nanqi bus line.
It is possible to make a day trip from Shanghai to the mountains. Let China Highlights customize a day trip from Shanghai for you to enjoy the red leaves.
Recommended tour: Nanjing History Tour
8.

Yuanyang Terraced Fields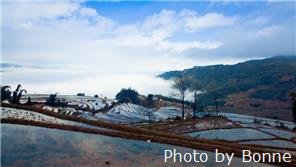 Yuanyang Terraced Fields, in Southwest China's Yunnan Province, is considered one of the best places for photos in China. The terraced paddy fields wind from the mountain bottom up to the top, like, from a distance, great chains or ribbons as they wind their way around the contours of the mountain slopes in parallel, tiered bands. The period from middle September to early October is the best time to visit, as the fields are golden and ready for harvest. See China Highlights photography tour to Yuanyang.
Rice being grown in terraced fields is a familiar sight throughout the Far East. Those in Longsheng in Guilin Prefecture, in south-central China are the most famous. During the autumn the rice ripens, turning the hills a brilliant yellow color, with the terraced structure creating a myriad of golden tiers.
Recommended tour: Yuanyang Terrace Fields Breaking Tour
9.

The Great Wall of China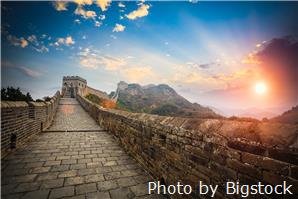 The Great Wall
Features: autumn colors on mountain slopes
Trees line the Great Wall of China for much of its 4,000-mile length. Some of them come up above the wall, so that when you are walking along the ramparts you can see a long, continuous line of red and yellow. Countless tourists have taken pictures of the Great Wall during this time of year — but nothing really matches taking your own!
Recommended tour: One-Day Jiankou to Mutianyu Great Wall Hiking Tour
Visiting China in Autumn
You will not need heavy clothing, because Chinese autumns, except in the northwest and mountains, are rarely that cold. In the far south, though the monsoon has ended, an umbrella may still be required one day in four. You should bring a camera with you, and comfortable walking shoes.
If any of this has inspired you to come to China in autumn, you could follow the links above for more information, or contact us directly for planning a tour. Travel with us to catch a glimpse of fall hues.
For more specific weather information, tips, and ideas, see:

China Highlights
Questions and Answers About Top Eight Places to See Fall Foliage in China — China Travel in Fall
LaVerne
2013-09-10
Show Answer
My husband and I are booked on the Viking for November, what will the weather be like. We start in Shanghai , then Beijing to Hong Kong.
Beijing Weather: In November Beijing slowly begins to turn wintery, and the first snow usually falls in this month, but otherwise it is very dry. The average low and high temperatures are -1 °C (31 °F) and 10 °C (50 °F).
Clothing: Bring winter clothes such as sweaters and a thick winter coat.
Shanghai Weather: During November, the weather gradually turns to winter, with windy and dry conditions. There is a noticeable drop in temperature between day and night. The average low and high temperatures are 8 °C (46 °F) and 17 °C (63 °F).
Clothing:November generally means sweater weather, and one needs a coat for cooler days
Hong KongWeather:The weather is warm and sunny with low humidity. The average low and high temperature is 19 °C (66 °F) and 24 °C (75 °F).
Clothing:Bring long-sleeved shirts and a thin sweater or a light jacket.
Anyway weather condition is out of our prediction. I suggest you check detail temperature from following web site 7 days before.
http://www.weather.com.cn/english/
Carol Wang replied on 2013-09-10
Ann, Kong
2013-06-29
Show Answer
Me and my hubby planning to visit Yunnan this coming September or August . May I know when will be the best time to visit if I would like to enjoy beautiful red leaves. We would spend around 8-10days on this coming trip. Which is the top 10 place will you introduce?
Hi Ann, September is better than August, because August is still the raining season in Yunnan. 10 days is enough to cover all the highlights in Yunnan, such as the Stone Forest, Houses of Bai People in Xizhou, the Ancient City of Dali, Erhai Lake, Lijiang Ancient City, Mural in Baisha Village, Black Dragon Pool, Jade Dragon Mountain, Tiger Leaping Gorge, Songzanlin Lamasery, Lake Bita and Lake Shudu, etc.
Please let me know what kind of hotel you would like to stay in: 3/ 4/ 5 star? Then I will make a proposal for your reference, okay?
Whitney Liao replied on 2013-07-01
Margo Kohl
2013-02-20
Show Answer
We are planning a viking cruise 17 days starting Nov. 2 to 19th, We start the cruise in Shanghai and end the tour in Bejing and then we go to Hong Kong for 4 days. How will the weather be, generally speaking Nov. 2 to 23rd.
Dear Margo Kohl, Beijing is in the north of China, Shanghai is in the middle of China and Hong Kong is in the south of China. So Beijing is coldest than the other cities. During that period, the average temperature will be 2-10℃(35.6-50℉)in Beijing, 10-16℃(50-60.8℉)in Shanghai, 17-23℃(62.6-73.4℉)in Hong Kong. In Beijing, you could wear cotton padded clothes. You could wear thick coat and sweater in Shanghai. In Hong Kong, it is suitable to wear shirt. Lussie Lu replied on 2013-02-20
joyce
2012-12-05
Show Answer
is the fall leaves in season the first week in september and the weater good at that time---besides the computer what is a good source of reading material for-hong kong--shanghai--yichang--xiling gorge--guilin--li river--beijing
Hi Joyce, you can take a tour to all these places to have a true experience. Man who travels far knows more.
Whitney Liao replied on 2012-12-06
John
2012-10-24
Show Answer
hi... I''m planning to see the fantastic autumn season in Beijing in the last week of OCT 2012.. how is the weather.. and has the trees turned glowing yellow?
yes, the trees are turning yellow(we called it red). I checked the weather forecast, it will be fine for the last week of Oct. Leon Long replied on 2012-10-24
April Offer $25 Coupon
Send your inquiry before Apr. 30, 2014, and we will email you a $25 coupon.
The coupon is valid till Dec. 31, 2014, for paying tour packages worth $250 or up.
The coupon cannot be used for paying flight tickets, train tickets, hotel rooms and day trips.
Travel Advice or Question? Ask us here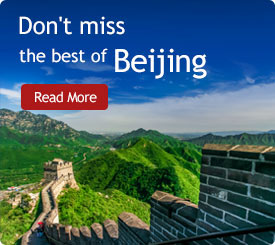 The Most Popular Articles
The Latest Travel Articles