Shanghai World Financial Center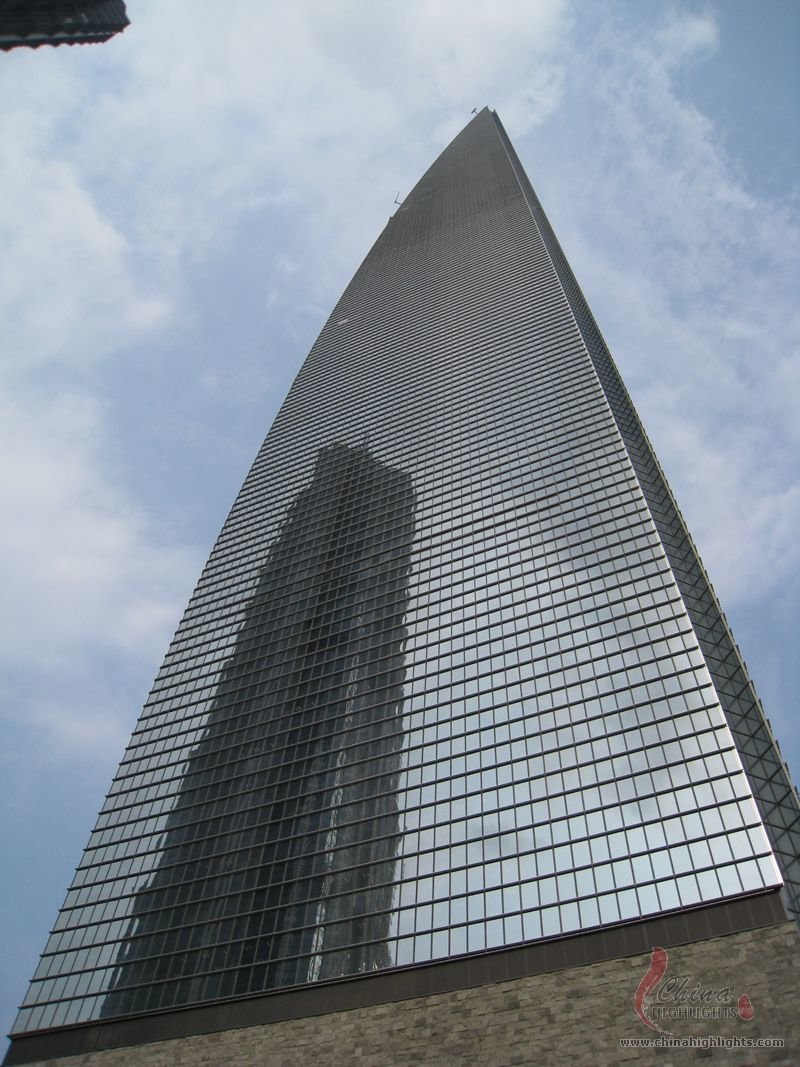 Shanghai World Financial Center was invested more than USD 1 billion mainly by Mori Building Corporation, Japan and other over 40 corporations. It is close to Jinmao Tower, the second high building in Shanghai. The center is 492 meters high with 104 floors, including 3 floors underground.
Address: Financial Trading District, Z4-1, Lujiazui, Pudong, Shanghai
Duration of Construction: the beginning of 1997 -- August 29, 2008
Construction Area: 381600 square meters
Floors: 101 floors overground, 3 floor underground,
Height: 492 meters
Architects: Kohn Pedersen Fox & East China Architecture and Design Institute
Developer: Mori Building Corporation
Contractors: China State Construction Engineering Corporation & Shanghai Construction General Company
The Plan of Building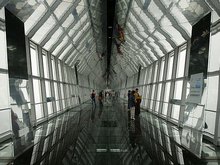 The structure features 3 floors of underground parking, shops and a conference center on floors 1 through 5, offices on floors 7 through 77, a hotel managed by Hyatt Group located on floors 79 through 93, and finally observation and exhibition areas on floors 94 floor through 100 floor. To protect the building from the fierce winds, two tuned mass dampers were settledon 90th floors of Shanghai World Financial Center to reduce the building's sway during windstorms and earthquakes. There are three viewing platforms in 94th floor to 100th floor, of which the 94th floor functions as an exhibition ground with an viewing platform covering an area of 700 square meters, while the 97th functions as an overpass. On the 100th floor stands an viewing pavilion with 55 meters long, boasting the highest one of its kind in China. It is higher than viewing platform of Canadian TV Tower (447 meters overground) and Dubai Tower (440 meters overground), and it will be the highest viewing platform in the world.
Sightseeing on Shanghai World Financial Center
Shanghai World Financial Center is the highest building in Shanghai, becoming a new landmark with Oriental Pearl TV Tower and Jinmao Tower in Shanghai. It takes about 1 minute from first floor to 95th by the elevator with a speed of 10 meters per second.
In the 100th viewing pavilion, visitors can see the peak of Oriental Pearl TV Tower and Jinmao Tower. In the 55 meters long viewing gallery, visitors can see the moving cars and passersby clearly through 3 transparent glass floors. The observation bridge atop the building will be the highest outdoor observation deck in the world.
The admission ticket price
Shanghai World Financial Center was opened to the public on August 30, the present price is CNY 100 for 94th, CNY 110 for 94th and 97th and CNY 150 for 94th, 97th and 100th, and it is expected to receive 300 million person every year.
Related Readings
Latest Tips on Shanghai World Financial Center
There is no lift go to the 100th floor directly, so you need change elevators 2-3 times.

China Highlights
Planning a trip? Ask us here 800-2682918 (USA & CA)
86-773-2831999 (Int'l)
Q:
wicki
Asked on 2012-07-14
Reply
is the entry is free for a person who proves his or her birthday on the date of entry? and is there any discount for students?
Hi Wicki,
Thank you for your inquiry. Yes, it is free for a person to enter the World Financial Center on the date of his birthday. But the validity of this activity is from January 1st, 2012 to December 31th, 2012. If you bring your student's identity card, the price for the Floor100+97+94 is CNY100 per person and CNY80 for the floor 94 per person.
Alice Cai Replied on 2012-07-15
Q:
dnyanesh katruwar
Asked on 2012-05-30
Reply
is there any free entry for the visitors in the morning ?? like the free entry in the petronas towers ?? plz reply. and is it ok to buy the tickets on window ?? or is it necessary to buy online ?? what is the current cost of the ticket?? and does the infant require ticket ??
Dear Dnyanesh, Thanks for your question. Shanghai-World-Financial-Center opens at 8:00am-23:00pm, it has no free entry for the visitors,but has some discounts for elderly and children. Please see the following prices. 94F: adult-CNY100 children(≤1.4m)-CNY50 elderly(>70yrs)-CNY70 74-97-100F: adult-CNY150 children(≤1.4m)-CNY75 elderly(>70yrs)-CNY100 You can buy the tickets on window by cash. Have a nice day! Karen Yang karen@chinahighlights.net Karen Yang Replied on 2012-05-31
Q:
jen
Asked on 2011-03-25
Reply
What time does the building open for visitors in the observation deck?
Dear Jen, The openiing time is from 8:00am to 22:00. In addition, if you would like to visit Shanghai, I am glad to arrange a tour for you. You can send your inquiry to me. I will design a tour at a best possible price. My e-mail address is lussie@chinahighlights.com Lussie Lu Replied on 2011-03-27
Q:
Diane
Asked on 2010-08-12
Reply
Considering the dampers, what is the actual sway for the building?
Hello, Diane, how professional your question is! Maybe you can gat more detailed information in this website: http://en.wikipedia.org/wiki/Shanghai_World_Financial_Center Thank you! Lynn Ye Replied on 2010-08-15
Shanghai Travel Guide