Shanghai Weather in April
Weather: April is a warm month, and the weather is changeable. The average highest and lowest temperatures are 18 °C (64 °F) and 11 °C (51 °F).
Clothing: You may need to bring layers, as the temperature may change during the day. A thin sweater should be enough, but bring also a thin coat and some summer clothes in case the temperature becomes cooler or hotter.
Things to Do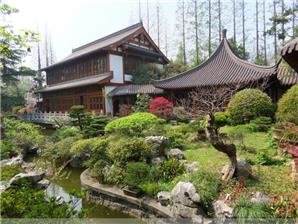 Shanghai Arboretum
April is also a good time to see flowers bloom in the hills and parks.
See the Shanghai Peach Blossom Festival: Early April from the 1st to the 10th is a great time to see peach blossoms in Shanghai. The peach blossom festival is held at the various peach gardens in Nanhui District. Along with enjoying the hundreds of peach trees, traditional Chinese musicians play folk music and people dance. This is also a good time to buy peach products such as jam.
Shanghai Arboretum
One of the biggest municipal botanical gardens in China.
Gain scientific knowledge about plants.
The bonsai garden (Penjing, 盆景) is a highlight.
Almost a square kilometer in size (81 hectares or .3 square miles).
Along with blooming flowers in Shanghai Arboretum, during a stroll around, see the bonsai garden and the tropical greenhouse where there are plants from the tropical areas of China. These are just two of the many many kinds of plants on display.
Shanghai Ocean Aquarium: One of the largest aquariums in China is a modern facility with aquatic creatures from five continents and a special display of habitats and animals found in China.
Travel low season: April is a low travel month, and tourist attractions are less crowded. There are great deals on flights and train tickets.
China Highlights Tours
Let us help you plan a personalized Shanghai tour. If you are interested in touring the region including any of these places, or just want to book reservations for hotels, contact us.
See the best of Shanghai with our Shanghai tours. Our tours are developed through years of experience and customer feedback, reasonably priced, and can be customized to your requirements.
For those planning to take a quick trip or just transit through, see the new Visa-Free Tours.
Also read: Where to Travel in China in April
Shanghai Average Daily Temperatures Based on Historical Data
Date
Average High
Average Low
April 1
60 °F
15.56 °C
46 °F
7.78 °C
April 2
61 °F
16.11 °C
46 °F
7.78 °C
April 3
61 °F
16.11 °C
47 °F
8.33 °C
April 4
61 °F
16.11 °C
47 °F
8.33 °C
April 5
62 °F
16.67 °C
47 °F
8.33 °C
April 6
62 °F
16.67 °C
48 °F
8.89 °C
April 7
62 °F
16.67 °C
48 °F
8.89 °C
April 8
63 °F
17.22 °C
48 °F
8.89 °C
April 9
63 °F
17.22 °C
49 °F
9.44 °C
April 10
63 °F
17.22 °C
49 °F
9.44 °C
April 11
64 °F
17.78 °C
49 °F
9.44 °C
April 12
64 °F
17.78 °C
50 °F
10 °C
April 13
64 °F
17.78 °C
50 °F
10 °C
April 14
65 °F
18.33 °C
50 °F
10 °C
April 15
65 °F
18.33 °C
51 °F
10.56 °C
April 16
65 °F
18.33 °C
51 °F
10.56 °C
April 17
66 °F
18.89 °C
51 °F
10.56 °C
April 18
66 °F
18.89 °C
52 °F
11.11 °C
April 19
66 °F
18.89 °C
52 °F
11.11 °C
April 20
67 °F
19.44 °C
52 °F
11.11 °C
April 21
67 °F
19.44 °C
53 °F
11.67 °C
April 22
67 °F
19.44 °C
53 °F
11.67 °C
April 23
68 °F
20 °C
53 °F
11.67 °C
April 24
68 °F
20 °C
54 °F
12.22 °C
April 25
68 °F
20 °C
54 °F
12.22 °C
April 26
69 °F
20.56 °C
54 °F
12.22 °C
April 27
69 °F
20.56 °C
54 °F
12.22 °C
April 28
69 °F
20.56 °C
55 °F
12.78 °C
April 29
70 °F
21.11 °C
55 °F
12.78 °C
April 30
70 °F
21.11 °C
55 °F
12.78 °C
Shanghai Climate Information by Month
Questions and Answers About Shanghai Weather in April
Sue Allen
2014-04-02
Show Answer
We will be arriving in Shanghai by overnight sleeper train from Xian. We need to transfer to Hangzhou. I understand we would have to change railway stations, so I am wondering if it would be better to just take a taxi from the railway station straight to our hotel in Hangzhou. We are 4 people. What do you think?
Dear Sue Allen, There are two trains from Shanghai railway station, setting off at 18:08pm and 8:08am. If you could book these train, you don't need to change the railway station. If these can't suits your need, you could go to Shanghai long-distance bus station(上海长途汽车客运总站) which is near Shanghai railway station for taking bus to Hangzhou directly. The buses are available from 7:00am to 19:40pm. It takes about 3 hours. Lussie Lu replied on 2014-04-04
kath
2012-07-31
Show Answer
Hi staying in shanghai for 1 week, 12-19th 2013 april looking at doing a tour to the great wall. How is the best way to go and can you please give me a quote for 2 ad and 2 chn 9 & 12 yr olds.\Thanks
Hi Kath,
Thank you for your inquiry. I will send a quotation letter to you, please check it in your e-mail. For the transportation between Shanghai and Beijing, you could take a plane or high-speed railway. It taks about 2 and half hours and costs about CNY1300(US$178) by plane. For the high-speed railway, duration of about 5-6 hours and costs about CNY1000 for the first seat .You can click here to check flight and train information:http://www.chinahighlights.com/china-flights/ . http://www.chinahighlights.com/china-trains/
Alice Cai replied on 2012-08-01
Bernadette
2012-03-12
Show Answer
Hi, I would like to enquiry about the peach blossom festival 2012. I understand that we visitors need to purchase a ticket, where can we get it from? Is there any transport that we can hire to bring us there and back? Thanks in advance!
Hi, the Shanghai Peach Blossom Festival will be hold by Datuanbaoyuan in Nanhui District. You can call and ask them about the ticket. The phone number is 021-58083333 or 021-58080078. The official price is 40 yuan. You can take the taxi or bus to the Datuanbaoyuan. The bus line: take the Hunan line, Zhangnan line, or Chuannan line to Huinan zhen and then change the Nanqi line, Nanmin line, Longda line, or Longlin line to the Datuanbaoyuan. Peter replied on 2012-03-14
Narain Singh
2012-03-05
Show Answer
I would like to know as to how we can make maximum use of two clear day's stay in Shanghai? How to go for sight seeing in Coach with English speaking guide. Secondly, how to reach Hotel Meidu from Pudong airport?
For two day tour in Shanghai, it is suggested to visit Yuyuan Garden, Jade Buddha Temple, The Shanghai World Financial Center, The Bund for one day and visit one of the water twon around Shanghai for another day. You could take subway line 2 from Hotel Meidu to Pudong Airport. We have some Seat in Coach tour in Shanghai and will be gald to quote you the tour if you could tell me your tour date and the number of people in your group. Simon Huang replied on 2012-03-06
We are two persons (Adult Males) reaching Shanghai Pudong airport by 10 a.m. on 09 April and stay at Meidu Hotel. Is it advisable to travel by Subway line no. 2 as we are having two suitcases and two handbags. Also let me know which is the nearest stop to the Hotel Meidu? Secondly, we have two clear days on 10 and 11 April and like to go for sight seeing. What is the cost of SIC seats and what are the places we will be able to visit in this city tour. How much time the city tour takes and from where we will be picked up? guest replied on 2012-03-06
It is not a good idea to take the subway if you have two suitcaes. I have sent you a proposal with two seat in coach tour. Please check your email. Simon Huang replied on 2012-03-07
Iris Strong
2011-01-05
Show Answer
What is the rainfall in April.
Dear Iris Strong, Thank you for visiting our web site and your interest in our services. My name is Nora Ou. I am a travel advisor at China Highlights. It is my pleasure to assist you. The precipitation of Shanghai in April is 4 mm. April belongs to spring, which means it rains sometimes. The average temperature is 11oC-18 oC (51 oF -65 oF). Shanghai, the largest city in China, is an amazing mix of the ancient and hi-tech western civilization. It is a multi-cultural metropolis with both modern and traditional Chinese features. If you would like to explore Shanghai's best at your own pace, accompanied by personal driver and English-speaking tour guide, feel free to contact me at nora@chinahighlights.com. I'm happy to arrange Shanghai tour package or a customized China tour for you. Thank you for choosing China Highlight Travel. We will do our best to serve you. Nora Ou replied on 2011-01-06
April Offer $25 Coupon
Send your inquiry before Apr. 30, 2014, and we will email you a $25 coupon.
The coupon is valid till Dec. 31, 2014, for paying tour packages worth $250 or up.
The coupon cannot be used for paying flight tickets, train tickets, hotel rooms and day trips.
Travel Advice or Question? Ask us here

China Highlights
Shanghai Travel Guide