Silk Road Facts
For ever 2,000 years, traders carried products such as silk and tea through the Gansu Corridor to the countries in the west and east. You can follow trade routes that crossed Xinjiang and the rest of China.
A stunning array of scenery: from the mountain peaks near Kashgar to the Flaming Mountains and hot deserts of Xinjiang, to the high mountain lakes and meadows around Urumqi and its Grand Bazaar for shopping. See the parks, mountains and grasslands around the Gansu Corridor, the Yellow River and its sights, and the large city of Xian.
Ancient places, history, and artwork: See Buddhist grottoes, ancient sites, and museums in Xinjiang and along the Gansu Corridor, and see the Terracotta Army, museums, and ancient mausoleums in Xian.
Learn how the cultures of East and West interacted and how Buddhism,Christianity, and Islam arrived China.
Most Popular Sections
See our Silk Road tours.
History
Most famous legend: The monk Xuanzang and his epic journey that became the Journey to the West novel and Monkey King legends.
Geography
China Highlights
Questions and Answers About Silk Road Facts
kayla
2014-03-05
Show Answer
did you raelly go? i think that your telling a huge story
grace
2012-12-01
Show Answer
hi can i visit the silk road i have 6 people commingwith me our bugget is $60 per person lenght of stay2 days tourist would be good
Hi Grace,
Thanks for your enquiry! We are more than happy to arrange a silk road tour for your group of 6 people, a silk road tour can start from Xi'an, Lanzhou or Urumqi depending on your dates and it also includes visits in the whole Xinjiang province. I am not very sure about the length of 2 days of the tour, will you advise more details of the tour so I can propose a tentative itinerary for your group? I look forward to hearing from you again!
Candy Wei replied on 2012-12-04
trinity
2012-10-03
Show Answer
can i see the silk road
Dear Trinity, Yes, we can arrange a tour for you. Please see the details about the tour packages on our website. (Click: http://www.chinahighlights.com/tour/silk-road-adventure/) Then you could tell me your travel plan, such as how many people will visit, when will you arrive in China, how many days you would like to spend. I will construct an itinerary based on your need and give you an exact quote. My e-mail address is lussie@chinahighlights.com I am looking forward to serving you. Lussie Lu replied on 2012-10-03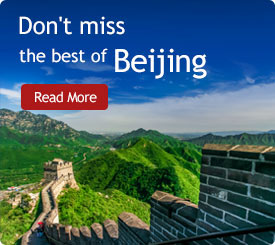 Silk Road Travel Guide
The Most Popular Articles
The Latest Travel Articles