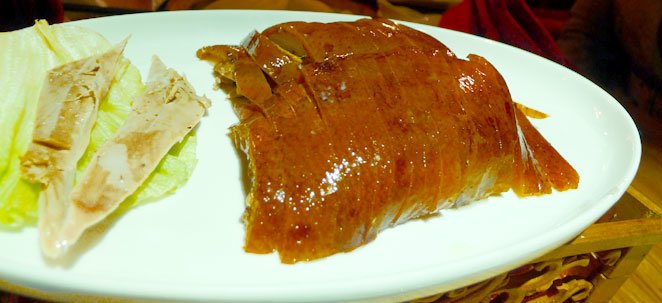 Itinerary
Y our guide will meet you at the airport and take you to your hotel to enjoy free time for rest of the day.
Day 2:
Tiananmen Square, Forbidden City, Hutong Tour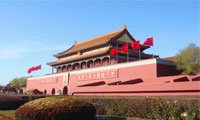 After breakfast, we will visit Tiananmen Square and National Grand Theater. Located to the west Tiananmen Square, National Grand Theater is an arts complex which people describe as a futuristic signature building. And then, we will continue our tour to the Forbidden City where is the Palace of Chinese emperors in Ming and Qing Dynasty 500 years ago.
After enjoy wheaten food of Beijing cuisine at Jing Mian Da Wang Restaurant, we will continue Hutong tours in Rickshaw. Hutong is a maze of historic alleyways and old single storey traditional courtyard houses, now fast disappearing. Dotted around the hutong are the Drum and Bell Towers, Tea House, and local people's houses. Your tour includes a visit with a local family. In the evening, enjoy the Peking Roasted Duck which is renowned as the most delicious food of Beijing.
Day 3:
The Great Wall at Mutianyu, 798 Art District, and Donghuanmen Night Market Tour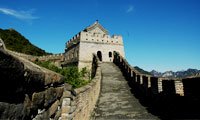 Today we will visit the Great Wall- Mutianyu Section which has some unique characteristics over other section. A cable car takes you to a good section (avoiding a very steep climb), where you can walk along the wall, through the watch towers and enjoy superb views as it snakes across the hills and mountains.
And then, we will enjoy the delicious lunch at the Xing Shuang Quan restaurant. Its specialties include the Huairou specialty rainbow trout, sturgeon, salmon and other many other varieties. We will continue to visit 798 Art District this afternoon. In the evening, enjoy the dinner at Bai Restaurant. It is famous for imperial court cuisine and the unique Baifu dishes.
After dinner, you could explore Donghuamen Night Market by yourself. It is a famous street-food market that starts at the west end of Wangfujing Street. Donghuamen Night Market has black-tiled pavement and pristine-looking stalls selling skewers of meat, shellfish, fruits and vegetables.
Day 4:
The Temple of Heaven and the Learning Course of Chinese Cuisine Tour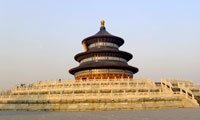 After breakfast, you will go to cooking school to learn Chinese cuisine. Get to know how many ways to cook different dishes. In the 1.5 hours' study, you get this chance to learn one course, and you will enjoy the fruits of your labor in this delightful eating experience.
As for the lunch, we will enjoy Shanxi cuisine at Noodle Loft Restaurant. You could enjoy your delicious food while watch the cooking performance with an open kitchen. You will visit local market-Hong Qiao Market and Temple of Heaven this afternoon.
Temple of Heaven is the place where emperors of the Ming and Qing dynasties would offer sacrifice to heaven and pray for good harvests. And then, you will enjoy the dinner Mongolian Hot Pot at Donglaishun Restaurant. With a nearly 100-year history, the Donglaishun is a well-known Mushlim restaurant famous for its Instant-Boiled Mutton and Barbeque dinner. The mutton meat in Donglaishun is delicate, the mouth feel is soft, and has a strong smelled not oiliness.
Your time is your own, until you are ready to be transferred to the airport for your departure.