Itinerary
Your guide meets you at the airport and takes you to your hotel in the comfort of a private car.
Day 2:
Great Wall at Mutianyu, Temple of Heaven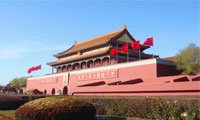 The Mutianyu Great Wall has a cable car to take you to the top, and yet the views of the mountains and valleys are quite unspoiled, which is a rare combination. The Temple of Heaven was created as a sacrificial complex for the most important ceremonies of the year to pray for good harvest; the buildings are remarkable, as is the surrounding parkland with its ancient trees.
Day 3:
Tiananmen Square, Forbidden City, Hutong Tour
Tiananmen Square is the stage for some of the most important events of past and present, and quite literally the center of Beijing. The Forbidden City is now just a museum to the imperial era, but still magnificent with its vast halls and courtyards. The Treasure Houses (located inside the Forbidden City) showcase some of the most precious possessions of the Qing Dynasty emperors.
China Highlights' Hutong Tour gives an insight into everyday living in these narrow alleys leading to tree lined streets of courtyard houses. A rickshaw ride to visit a local family makes the experience much more personal.
Day 4:
Train to Qinhuangdao, Beidaihe Scenic Area Tour
After a train ride to Qinhuangdao your guide takes you to explore the Beidaihe Scenic Area by the sea with stunning beaches and seafood restaurants. Pigeon Nest Park and Lianfeng Mountain Park nearby both have beautiful pine tree lined walkways and views of the city below.
Day 5:
Old Dragon Head, Shanhai Pass, Return to Beijing by Train
Old Dragon Head is the name given to the easternmost point of the Great Wall where it runs to the Pacific Ocean; the original was eroded by the relentless waves but has now been restored. Shanhai Pass is a narrow passage nearby, an ancient important fortification against the northern tribes. This is a chance to explore an area the tourists miss.
In the afternoon your guide will accompany you to the train station back to Beijing.
The day is yours until a transfer to the airport by our driver.