Gluten Free Travel in China
Are you allergic to gluten or sensitive to it? About 0.8 percent of Americans have celiac disease or are allergic to gluten. This allergy mainly affects people in northern Europe or people of northern-European descent.
Here are tips about how to find gluten-free food while traveling in China, and tips about how to order gluten-free food in a Chinese restaurant. Some celiac friendly products and restaurants are listed, and some medical information is presented in case of an allergic reaction. We hope these tips help celiacs or gluten-sensitive people.
Gluten is a protein and starch composite that is found in grains such as wheat, oat, rye, barley and spelt. It isn't present in rice or corn. So these are safe grains for people to eat. When traveling in China, be aware that though rice and rice noodle dishes are a staple of most areas of the country, wheat is often added to rice dishes and is commonly added to soy sauce, fish sauce, oyster sauce and other flavorings.
A Chinese Guide is Helpful
If you travel with one of our tour guides on a personalized tour or take part in a standard tour package, they can try to arrange for the special preparation of dishes you need, or help you find alternatives. For many people, traveling in China is daunting without a good guide. But since you have a special diet, we can help you travel and eat well! Just let us know your needs!
Take Your Food with You
Consider bringing food you like with you so you can eat well. Consider almonds and other nuts, protein powder, canned tuna fish, your favorite breakfast cereal, beverage powders, energy bars, and other foods to supplement the white rice and fresh fruit you'll probably be able to find everywhere.
Bring a Written Request in Chinese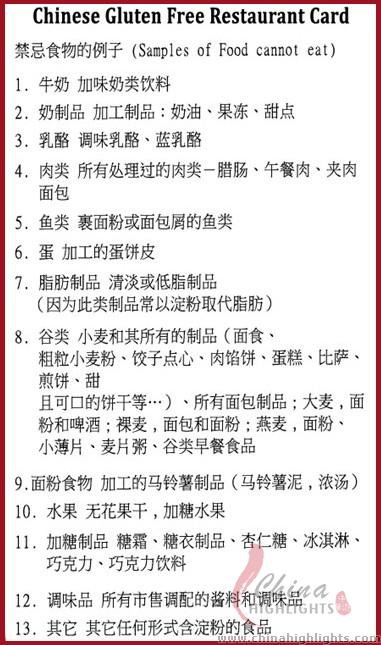 MSG and flavorings with hydrolyzed starch are usually added by Chinese cooks, and wheat flour is often added to soups, stir-fried dishes, and fried dishes. So if you want to eat in Chinese restaurants, it is useful to bring a card or paper with a clear description of your allergy and what kind of food you want to eat. Most Chinese cooks have little or no knowledge of your condition.
You can perhaps print out this page and carry it with you, or show it to the cooks in the kitchen with an iPad or other device.
Celiac disease is written 腹腔疾病(fùqiāng jíbìng).
您好. 我有一个病叫腹腔疾病. Hello. I have a disease called celiac disease.
我必须遵循严格的无麸质饮食. I must follow a strict gluten-free diet.
如果我吃的食物含有小麦、黑麦、燕麦、大麦等麸质,我会生病很严重. If I eat food containing wheat, rye, oats, or barley gluten, I'll get very ill.
我不能吃含任何酱油、面粉、淀粉、面糊、面包、味精的食物. I can not eat foods containing soy sauce, flour, starch, batter, bread or MSG.
我能吃大米、玉米、土豆、蔬菜、水果、鸡蛋、肉和鱼. I can eat rice, corn, potatoes, vegetables, fruit, eggs, meat, and fish.
谢谢您的帮助. Thank you for your help.
Celiac Episodes
If after all your precautions you eat gluten-containing food, you may have a severe reaction and exhibit a range of symptoms, such as abdominal pains or cramps, vomiting, flatulence, fatigue, heartburn, nausea, or pain in the chest or back. If you experience a severe attack and want to go to the hospital, take the information about celiac disease with you that is written above.
Generally, there is no remedy for the attack except rest and drinking fluids (fresh green tea should help), and perhaps taking oral painkillers, antinausea medications, or antidiarrheal medicines such as Pepto Bismol.
However, because this disease is less common than in the the US and Europe, Chinese doctors may think you are having a heart attack. If you are sure your symptoms are from eating gluten, using the written Chinese information below, try to explain about the disease and ask for the medications you think you might need. If you have a doctor, you could suggest that the hospital call your doctor for advice. Then rest and ride it out.
If you are planning to travel to China, you can have us tailor-make a tour for you, and the tour can allow you to choose restaurants where you can order dishes that are cooked separately just for you. Check out our best selling tour: Eight-Day Essence of China Tour
Restaurants and Shops for Celiacs
Beijing: Jenny Lou's at the West Gate of Chaoyang Park and April Gourmet in the Park Avenue complex are two upmarket stores that stock imported US and Australian brands.
Hong Kong
Restaurants: Chairman, SOHO in Central; Yin Yang, Wan Chai.
Organic Supermarkets: ThreeSixty Organic Supermarket at Landmark in Central; ThreeSixty at the Elements Mall.
Related Pages

China Highlights
Questions and Answers About Gluten Free Travel in China
April Offer $25 Coupon
Send your inquiry before Apr. 30, 2014, and we will email you a $25 coupon.
The coupon is valid till Dec. 31, 2014, for paying tour packages worth $250 or up.
The coupon cannot be used for paying flight tickets, train tickets, hotel rooms and day trips.
Travel Advice or Question? Ask us here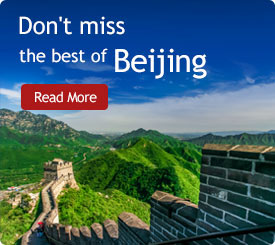 The Most Popular Articles
The Latest Travel Articles